Imagen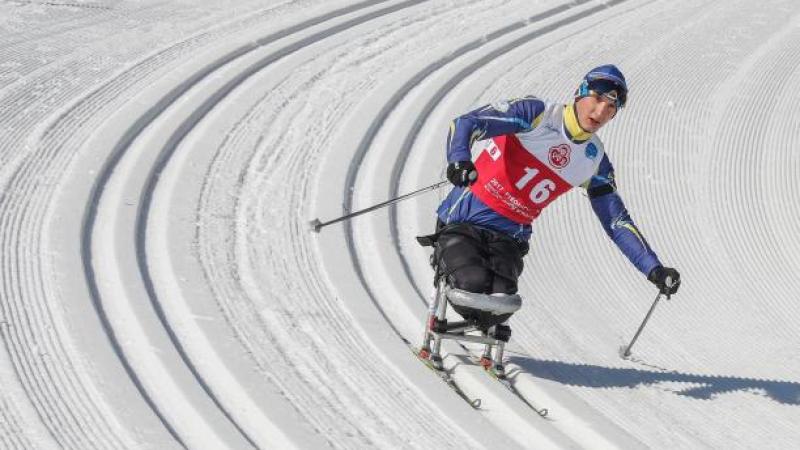 Taras Rad had a Winter Paralympic debut to remember as he claimed gold in the men's biathlon middle distance sitting at PyeongChang 2018. The youngster is the newest man in a long line of prolific Nordic skiers coming from Ukraine.
He had also enjoyed success in the 2016-17 season.
Rad claimed triple silver in the biathlon sprint, middle and long distance events at his first World Championships in Finsterau, Germany. He also finished second in the 2016-17 biathlon World Cup overall rankings.
Rad injured his leg at 14 years old, the wound was not treated properly at the hospital he went to and he caught an infection. Doctors later had to amputate it to save his life.
Soon after, Rad was introduced to cross-country skiing and biathlon through the Invasport Para sports organisation in Ukraine. He had practiced football and athletics before having his leg amputated and wanted to continue being involved in sports.
Coach Viktor Fedorchak encouraged him to start training biathlon more seriously.
Rad now trains 12 times a week on the snow. He also goes to a swimming pool three times a week and cycles to school every day.
Results
2017 IPC Nordic skiing World Championships Finsterau, GER (Finsterau, Germany)

| Event | Medal | Unit | Date | Rank |
| --- | --- | --- | --- | --- |
| Men's Middle Distance Sitting | | Final | 2017-02-11 | 2 |
| Men's Sprint - Free Style Sitting | | Final | 2017-02-12 | 8 |
| Men's Long Distance Sitting | | Final | 2017-02-14 | 2 |
| Men's Sprint Sitting | | Final | 2017-02-18 | 2 |
| Men's Middle Distance - Free Style Sitting | | Final | 2017-02-19 | 6 |
Prince George 2019 World Para Nordic Skiing Championships (Prince George, Canada)

| Event | Medal | Unit | Date | Rank |
| --- | --- | --- | --- | --- |
| Men's Middle Distance Sitting | | Final | 2019-02-16 | 1 |
| Men's Middle Distance - Free Style Sitting | | Final | 2019-02-17 | 3 |
| Men's Sprint - Free Style Sitting | | Final | 2019-02-18 | 3 |
| Men's Sprint Sitting | | Final | 2019-02-20 | 1 |
| Men's Long Distance Sitting | | Final | 2019-02-21 | 1 |
| Men's Long Distance - Classic Sitting | | Final | 2019-02-24 | 2 |
Lillehammer 2021 World Para Snow Sports Championships (Lillehammer, Norway)

| Event | Medal | Unit | Date | Rank |
| --- | --- | --- | --- | --- |
| Men's Middle Distance - Classic Sitting | | Final | 2022-01-13 | 6 |
| Men's Sprint Sitting | | Final | 2022-01-15 | 3 |
| Men's Middle Distance Sitting | | Final | 2022-01-16 | 2 |
| Men's Long Distance Sitting | | Final | 2022-01-20 | 5 |
| Men's Sprint - Classic Sitting | | Final | 2022-01-22 | 5 |
| Mixed Relay | | Final | 2022-01-23 | 1 |