Imagen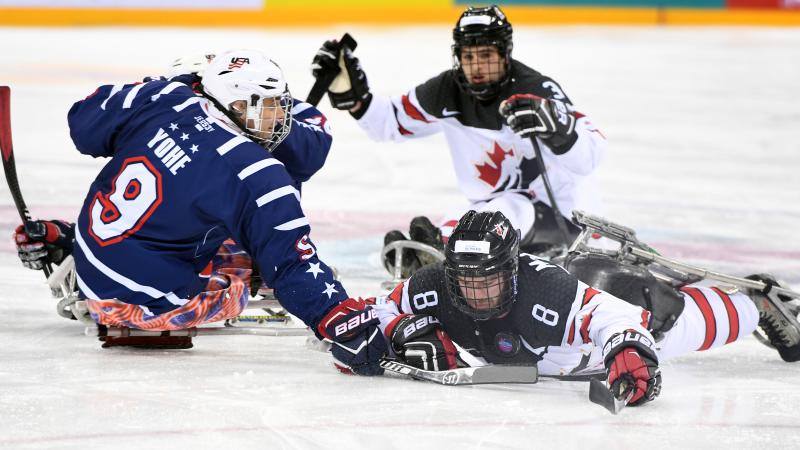 Tyler McGregor
Para Ice Hockey
The forward has arguably been regarded as one of the best players in the sport. As alternate captain, he helped bring Canada all the way to a fierce battle for gold against archrivals USA at the PyeongChang 2018 Paralympic Winter Games. But Canada lost 2-1 in overtime.
At the 2017 World Championships A-Pool in Gangneung, South Korea, McGregor recorded 12 goals to tie as the tournament leader. That included a hat-trick during the gold medal game against the USA. His two goals in 17 seconds helped seal Canada's fourth world title, and second since McGregor debuted on the national team.
Twenty-four years old at PyeongChang 2018, McGregor has come a long way since his international debut in 2012.
The Canadian had his legs amputated due to cancer in 2009. Even after having to endure the tough reality of never playing stand-up hockey again, McGregor was adamant that hockey would be in his future.
He made his national team debut at December's 2012 World Sledge Hockey Challenge, where he recorded two assists in his first game, an 11-0 win over Japan.
The following year, McGregor was the youngest member on the Canadian team that won gold at the 2013 World Championships.
Biography
Impairment information
Type of Impairment
Limb deficiency
Origin of Impairment
Acquired
Further personal information
Residence
Toronto, ON, CAN
Higher education
Commerce, Management - University of Guelph: Canada
Sport specific information
When and where did you begin this sport?
He grew up playing ice hockey, and got involved in Para ice hockey in 2011 at the London Blizzard club in Ontario, Canada.
Why this sport?
A former ice hockey coach introduced him to the sport. "After I lost my leg, I knew I wanted to get back to playing hockey. I started out with the standing amputee team, but I couldn't keep up. Some people guided me on the road to sledge hockey. The first time was extremely difficult. It was extremely frustrating, but I knew that it was going to be hard so I kept up with it and from there just fell in love with it."
Name of coach
Ken Babey [national], CAN
Preferred position / style / stance / technique
Forward
International debut
Location
Calgary, AB, CAN
General interest
Nicknames
Mac (Athlete, 07 Mar 2022)
Hero / Idol
Canadian athlete and cancer research activist Terry Fox. (Athlete, 07 Mar 2022)
Injuries
He broke his collarbone in 2008. (canadianamputeehockey.ca, 01 Feb 2011)
Superstitions / Rituals / Beliefs
He tries to set time aside each morning to meditate. He also keeps a journal. (discover.rbcroyalbank.com, 03 May 2019)
Sporting philosophy / motto
"Hockey was my first love. Since the first time I picked up a stick when I was 18 months old, it has been my passion. My obsession. It's the oxygen I breathe. And in the darkest and loneliest moments of my life, it was my lifeline. My guiding light. It was something to believe in." (hockeycanada.ca, 03 Dec 2020)
Awards and honours
He received the 2018 Athletes in Excellence Award from the Foundation for Global Sports Development. (globalsportsdevelopment.org, 13 Dec 2018)
Other sports
He played able-bodied ice hockey at AAA level as a junior. (NPC Media Guide, 2018)
Ambitions
To compete at the 2022 Paralympic Winter Games in Beijing. (stthomastimesjournal.com, 10 Dec 2021)
Impairment
At age 16 he broke his leg and his ankle playing ice hockey, which required surgery to insert a rod and six pins. After the injury healed he started playing again, but a lump formed at the point of the original fracture. Initially doctors were not concerned, but he was later diagnosed with spindle cell sarcoma, a form of soft tissue cancer. He underwent eight months of chemotherapy and his left leg was amputated. (ctvnews.ca, 30 Oct 2015; canadianamputeehockey.ca, 01 Feb 2011)
Other information
LATE LOSS IN PYEONGCHANG
He was part of the Canada Para ice hockey team that was one minute away from the gold medal at the 2018 Paralympic Winter Games in Pyeongchang. However, two late goals from the United States of America in the final meant the Canadians had to settle for silver. "Honestly, I'm just craving, absolutely craving the opportunity to play them [Team USA] again. Something that made it even more difficult is knowing that it was within our reach - within a minute - to accomplish something that many of us are have dreamed of our whole lives. It was honestly heartbreaking. It led to some of the more difficult, darker days of my adult life. We've worked extensively with our mental performance coach individually and as a group [in preparation for the 2022 Games in Beijing], just in terms of being honest and vulnerable with each other and trying to connect on a deeper, more meaningful level than just being these big, tough hockey players." (paralympic.org, 24 Feb 2021)

CAPTAIN
He began serving as captain for the Canadian Para ice hockey team in late 2019. "Essentially my first year as captain was trying to organise Zoom [video] calls every week to keep our team in touch and trying to find ways to motivate our team to continue training and to continue skating and stay prepared while we couldn't be together [due to the COVID-19 pandemic]. As a high-performance athlete, you gladly accept those added pressures and that responsibility because it ultimately challenges you to become better and to challenge not only yourself but the people around you to get the best of themselves." (theobserver.ca, 04 Mar 2022; london.ctvnews.ca, 24 Feb 2022)

CHARITY WORK
In February 2021 he raised more than 30,000 Canadian dollars for the Terry Fox Foundation by skating 25 kilometres in his Para ice hockey sledge. He completed the challenge at the Woodview Mountaintop Skating Loop in the Blue Mountains in Ontario, Canada. "Even as a young kid, Terry Fox was a huge inspiration to me and many other Canadians. When [McGregor was diagnosed with cancer], he became even more of a personal hero and inspiration for me in my life. [The skate] was certainly challenging at times, I think by about my 10th lap I was starting to get sore shoulders and forearms, and my hands are kind of blistered up. But all-in-all I was so lucky to have people there supporting me." (omha.net, 13 Mar 2021; collingwoodtoday.ca, 24 Feb 2021)

OTHER ACTIVITIES
In 2016 he became an athlete mentor for Classroom Champions, a non-profit organisation that uses Olympic and Paralympic athletes as role models to help children set goals and improve digital literacy. (panasonic.com, 01 Jan 2021)