Imagen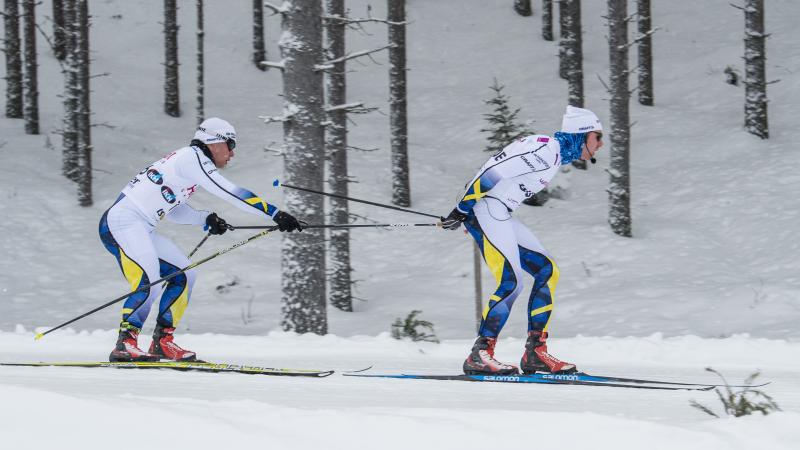 Zebastian Modin
Nordic Skiing
Zebastian Modin will be a skier to look out for in the men's vision impaired as he aims to defend the cross-country sprint world title at Prince George 2019.
The Swede has proven strong this season, winning three golds and one silver in cross-country over two World Cups in Vuokatti, Finland, and on home soil in Ostersund. He is currently leading the overall standings and therefore getting closer to repeating 2018's title.
Modin did not have the expected performance at PyeongChang 2018, having to settle for silver in the cross-country sprint with guides Johannes Andersson and Robin Bryntesson.
He was not able to compete on a regular basis for two seasons due to several injuries and even thought about retiring from the sport.
But he made an outstanding comeback in 2016-2017, winning his first world title in Finsterau, Germany, and finishing top of the cross-country World Cup overall rankings.
Modin took up skiing at 13 years old, encouraged by some friends. Three years later, he competed at his first Paralympic Winter Games in Vancouver, Canada, as the youngest competitor at the Games. He won bronze in the cross-country sprint.
After that, he was named Swedish Radio station Radiosporten's 2010 Rising Star. Modin enjoyed an even better performance at Sochi 2014, where he took two silvers and one bronze.
Results
IPC Nordic Skiing World Championships Solleftea (Solleftea, Sweden)

| Event | Medal | Unit | Date | Rank |
| --- | --- | --- | --- | --- |
| Men's Sprint - Classic VI | | Final | 2013-02-25 | 2 |
| Men's Long Distance - Free Style VI | | Final | 2013-02-27 | 8 |
| Men's Short Distance VI | | Final | 2013-02-28 | 13 |
| Men's Middle Distance - Classic VI | | Final | 2013-03-05 | 4 |
2015 IPC Nordic Skiing World Championships Cable (Cable, United States of America)

| Event | Medal | Unit | Date | Rank |
| --- | --- | --- | --- | --- |
| Men's Short Distance VI | | Race 1 | 2015-01-24 | 9999 |
| Men's Sprint - Classic VI | | Race 1 | 2015-01-28 | 5 |
| Men's Middle Distance - Classic VI | | Race 1 | 2015-01-31 | 7 |
2017 IPC Nordic skiing World Championships Finsterau, GER (Finsterau, Germany)

| Event | Medal | Unit | Date | Rank |
| --- | --- | --- | --- | --- |
| Men's Middle Distance VI | | Final | 2017-02-11 | 9 |
| Men's Sprint - Free Style VI | | Final | 2017-02-12 | 1 |
| Mixed Relay | | Final | 2017-02-15 | 2 |
| Men's Long Distance - Classic VI | | Final | 2017-02-16 | 2 |
| Men's Sprint VI | | Final | 2017-02-18 | 11 |
| Men's Middle Distance - Free Style VI | | Final | 2017-02-19 | 4 |
Prince George 2019 World Para Nordic Skiing Championships (Prince George, Canada)

| Event | Medal | Unit | Date | Rank |
| --- | --- | --- | --- | --- |
| Men's Middle Distance - Free Style VI | | Final | 2019-02-17 | 5 |
| Men's Sprint - Free Style VI | | Final | 2019-02-18 | 1 |
| Men's Sprint VI | | Final | 2019-02-20 | 9 |
| Men's Long Distance VI | | Final | 2019-02-21 | 9999 |
| Open Relay | | Final | 2019-02-23 | 9 |
| Men's Long Distance - Classic VI | | Final | 2019-02-24 | 2 |