Imagen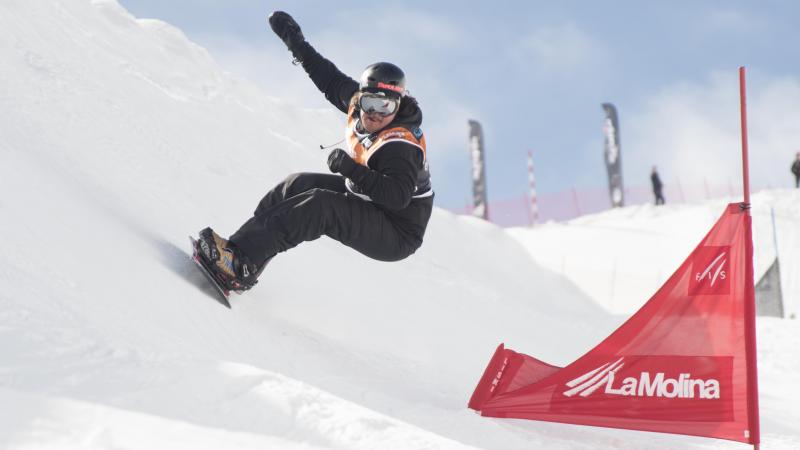 Canadian Alex 'Bubz' Massie had an incredible debut season in 2014-15, riding to bronze in the men's snowboard-cross SB-LL2 at the 2015 IPC Snowboard World Championships.
His best finish before that was on home snow in Big White, where he finished just off the podium in the banked slalom.
He also reached the podium in the prestigious X-Games in 2015, winning a bronze in the adaptive snowboard-cross in Aspen, USA.
Last season, Massie finished sixth in the World Cup overall rankings.
Massie lost his left leg below the knee in a wake-boarding accident in 2011, but continued snowboarding and will now take on the likes of US Paralympic champion Evan Strong and Finnish world champion Matti Suur-Hamari in the 2016-17 World Cup circuit.
He will also get the chance to represent his country on home snow at the 2017 World Para Snowboard World Championships in Big White, Canada.
At the age of just 20, Massie is a promising prospect for his country for the coming seasons and in the lead-up to the PyeongChang 2018 Paralympic Winter Games.
Results
2015 IPCAS Para Snowboard World Championships La Molina (La Molina, Spain)

| Event | Medal | Unit | Date | Rank |
| --- | --- | --- | --- | --- |
| Men's Snowboard Cross SB-LL2 | | Race 1 | 2015-02-24 | 3 |
| Men's Banked Slalom SB-LL2 | | Race 1 | 2015-02-28 | 9 |
2017 IPC Snowboard World Championships Big White, CAN (Big White, Canada)

| Event | Medal | Unit | Date | Rank |
| --- | --- | --- | --- | --- |
| Men's Snowboard Cross SB-LL2 | | Race 1 | 2017-02-04 | 4 |
| Men's Banked Slalom SB-LL2 | | Race 1 | 2017-02-07 | 6 |
Pyha 2019 World Para Snowboard Championships (Pyha, Finland)

| Event | Medal | Unit | Date | Rank |
| --- | --- | --- | --- | --- |
| Men's Banked Slalom SB-LL2 | | Race 1 | 2019-03-27 | 6 |
| Men's Snowboard Cross SB-LL2 | | Race 1 | 2019-03-30 | 4 |
Lillehammer 2021 World Para Snow Sports Championships (Lillehammer, Norway)

| Event | Medal | Unit | Date | Rank |
| --- | --- | --- | --- | --- |
| Men's Banked Slalom SB-LL2 | | Race 2 | 2022-01-14 | 2 |
| Men's Snowboard Cross SB-LL2 | | Race 2 | 2022-01-21 | 4 |