Imagen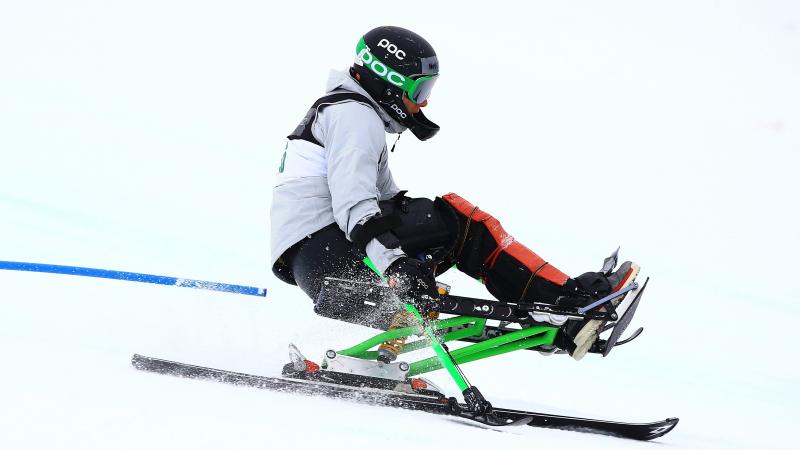 Andrew Kurka
Alpine Skiing
After a series of injuries that prevented him from competing at more events, Andrew Kurka came back stronger than ever for 2017/2018.
At his maiden Paralympic Winter Games in PyeongChang, South Korea, the US sit-skier took gold in the men's downhill and silver in the super-G.
But as a child his dream had nothing to do with slopes and snow. Kurka wanted to become a professional wrestler and one day qualify for the Olympic Games. However, at age 13 an accident while riding an all-terrain vehicle (ATV) severely damaged three vertebrae in the middle of his spinal cord and his dream was over.
Two years later he tried mono-ski for the first time and in 2010 was called up to the USA´s Paralympic team. Since then, he has competed at various World Cups and three World Championships in 2013, 2015 and 2017.
He claimed his first major medal in Panorama, Canada, in 2015, when he took bronze in the men's super-G sitting.
Two years later, Kurka won gold in the downhill, silver in the giant slalom and bronze in the super-G at the Worlds in Tarvisio, Italy.
Kurka is also a bodybuilder, works as a country music DJ and chronicles his adventures in YouTube videos.
Biography
Impairment information
Type of Impairment
Spinal Cord Injuries
Origin of Impairment
Acquired
Further personal information
Residence
Palmer, AK, USA
Occupation
Athlete, Business Owner, Media Professional - Radio, Motivational Speaker
Languages
English, German
Sport specific information
When and where did you begin this sport?
He began skiing at age 15 in Alaska, United States of America.
Why this sport?
His physical therapist Anne Thomas took him to his first monoski lesson. "It was an independent individual sport that my fearless attitude was able to naturally excel at."
Club / Team
National Sports Center for the Disabled: Winter Park, CO, USA
Name of coach
Erik Petersen [club]
Training Regime
He trains for up to six hours a day on the snow. He also does strength training at the gym.
General interest
Hobbies
Fishing, hunting, cooking, family, wrestling, American football. (Facebook page, 27 Nov 2020)
Memorable sporting achievement
Winning gold in men's sitting downhill at the 2018 Paralympic Winter Games in Pyeongchang. (Classroom Champions YouTube channel, 08 May 2020)
Most influential person in career
Steve Wolf, his childhood wrestling coach who has also been a life mentor for him. (Classroom Champions YouTube channel, 08 May 2020)
Hero / Idol
US Para alpine skiers Chris Devlin-Young and Tyler Walker. (adaptivespirit.org, 27 May 2012)
Injuries
He placed fourth in men's sitting downhill at the 2022 Paralympic Winter Games in Beijing despite breaking his thumb and the humerus bone in his upper arm just prior to his run. He pulled out of the rest of his events at the Games. (adn.com, 06 Mar 2022; Instagram profile, 05 Mar 2022)

He sustained a broken nose and fractured a bone in his face after he was involved in a training accident in February 2022. (Instagram profile, 18 Feb 2022)

A broken thigh bone prevented him from competing at the 2015 Winter X Games in Aspen, CO, United States of America. (teamusa.org, 08 Mar 2017; paralympic.org, 27 Dec 2015)

He broke his back during his first training run at the 2014 Paralympic Winter Games in Sochi, and was unable to compete at the Games. (ktuu.com, 09 Mar 2014)

He broke his back on a practice run ahead of the 2011 Winter X Games in Aspen, CO, United States of America. He required six months of rehabilitation. (radiofreepalmer.org, 20 Aug 2012; anchoragepress.com, 03 Nov 2011)

He underwent shoulder surgery in 2010. (IPC, 10 Feb 2018)

He broke his right ankle during the downhill event at the 2009 National Championships in Big Sky, MT, United States of America. (anchoragepress.com, 03 Nov 2011)
Sporting philosophy / motto
"My career has been so serious for so long. When I started getting better is when I started staying calm. It's a big confidence booster to stay relaxed." (si.com, 28 Feb 2022)
Awards and honours
In 2018 he received a Pride of Alaska award in recognition of his consistent excellence in athletic competition. (adn.com, 15 Mar 2018)

He was named the 2018 Adaptive Athlete of the Year by the Colorado Snowsports Museum in Vail, CO, United States of America. (vaildaily.com, 22 Sep 2018)
Other sports
He had ambitions to compete at an Olympic Games in Greco-Roman wrestling before his accident. One year after breaking his back, he won a sixth Alaska state championship by beating able-bodied opponents. (radiofreepalmer.org, 20 Aug 2012; dsusa.org, 30 Dec 2010)
Ambitions
To win gold in the downhill event at the 2022 Paralympic Winter Games in Beijing. (paralympic.org, 16 Feb 2021)
Impairment
He broke his back at age 13 in a four-wheel motorbike accident in Alaska, United States of America. He damaged three vertebrae in his spinal cord, which resulted in partial paraplegia. "I was going out fishing, flipped the four-wheeler which landed on me, and broke my back. I completely lost the feeling and movement in the lower half of my body. It took about six months of hard work to get any sensation back, and then I got a little feeling and a little movement and started being able to get around in leg braces." (IPC, 10 Feb 2018; radiofreepalmer.org, 17 Aug 2012; anchoragepress.com, 03 Nov 2011; dsusa.org, 30 Dec 2010)
Other information
BED AND BREAKFAST
He and his partner Veronica run Golden Standard Bed and Breakfast in Wasilla, AK, United States of America. "I want a bed and breakfast where I am able to take people like myself, who are disabled or adaptive, fishing and I want to be able to take them to go ice climbing, do a lot of the fun outdoor activities that I do that a lot of people with disabilities don't get a chance to do. I want to be a part of that. In the personal portion of my life, I always want to give back a lot of what I do and with my bed and breakfast, I am able to give back. Sport is inherently a selfish thing. It is. That's the way it is. You are 100% focused on yourself, the best that you can do, focused on beating others, it's a purely selfish act in life. But the other portion of my life makes up for that." (paralympic.org, 07 Feb 2020; IPC, 10 Feb 2018; teamusa.org, 08 Mar 2017; ktuu.com, 18 Apr 2018)

CHANGE OF RACING STYLE
After sustaining multiple injuries between 2009 and 2015, he decided to make his style of racing less aggressive in order to avoid crashes. "Someone who crashes is still a loser in the end, and winning is always fun. I want to have fun in my sport and I want to keep going. I still have that all-or-nothing type of spirit. Still, with time on the team, I have learned when and where to push the limits. The way I figured it out was breathing techniques. Staying calm and relaxing, and realising that I wasn't there [just] to win. Being overly competitive is just as much a weakness as it is a strength. If you focus on winning, winning becomes a lot more difficult." (si.com, 28 Feb 2022; teamusa.org, 26 Oct 2021)

DETERMINATION
After being told by a doctor that there would be limits to what he could do following his accident, he was determined to prove the doctor wrong. "I told him I'd walk into his office one day and do a somersault, and he said that I wasn't being realistic. Well, that's someone telling me I can't do something, so three months later, I stood up in his office, took off my leg braces, and did a full somersault. It wasn't pretty, but I did it." (anchoragepress.com, 03 Nov 2011)

OTHER ACTIVITIES
He has worked as a radio DJ and host for Classic Country 100.9, a radio station in Wasilla, AK, United States of America. He has also volunteered as an athlete mentor for Classroom Champions, a non-profit organisation in the United States of America that supports students from underserved communities. (teamusa.org, 07 Mar 2018; Facebook profile, 19 Sep 2017)
Results
IPC Alpine Skiing World Championships (La Molina, Spain)

| Event | Medal | Unit | Date | Rank |
| --- | --- | --- | --- | --- |
| Men's Downhill Sitting | | Race 1 | 2013-02-20 | 9999 |
| Men's Super-G Sitting | | Race 1 | 2013-02-21 | 25 |
| Men's Slalom Sitting | | Race 1 | 2013-02-24 | 9999 |
| Men's Super-Combined Sitting | | Race 1 | 2013-02-25 | 9999 |
| Men's Giant Slalom Sitting | | Race 1 | 2013-02-26 | 9999 |
2015 IPC Alpine Skiing World Championships Panorama (Panorama, Canada)

| Event | Medal | Unit | Date | Rank |
| --- | --- | --- | --- | --- |
| Men's Downhill Sitting | | Race 1 | 2015-03-04 | 6 |
| Men's Super-G Sitting | | Race 1 | 2015-03-05 | 3 |
| Men's Giant Slalom Sitting | | Race 1 | 2015-03-08 | 9999 |
2017 IPC Alpine skiing World Championships Tarvisio, ITA (Tarvisio, Italy)

| Event | Medal | Unit | Date | Rank |
| --- | --- | --- | --- | --- |
| Men's Downhill Sitting | | Race 1 | 2017-01-25 | 1 |
| Men's Super-G Sitting | | Race 1 | 2017-01-26 | 3 |
| Men's Super-Combined Sitting | | Race 1 | 2017-01-28 | 9999 |
| Men's Giant Slalom Sitting | | Race 1 | 2017-01-30 | 2 |
| Men's Slalom Sitting | | Race 1 | 2017-01-31 | 9999 |
Kranjska Gora/Sella Nevea 2019 World Para Alpine Skiing Championships (Kranjska Gora/Sella Nevea, Slovenia)

| Event | Medal | Unit | Date | Rank |
| --- | --- | --- | --- | --- |
| Men's Giant Slalom Sitting | | Race 1 | 2019-01-21 | 6 |
| Men's Slalom Sitting | | Race 1 | 2019-01-23 | 9999 |
| Men's Downhill Sitting | | Race 1 | 2019-01-30 | 9999 |
| Men's Super-G Sitting | | Race 1 (from SC) | 2019-01-31 | 9999 |
| Men's Super-Combined Sitting | | Race 1 | 2019-01-31 | 9999 |