Imagen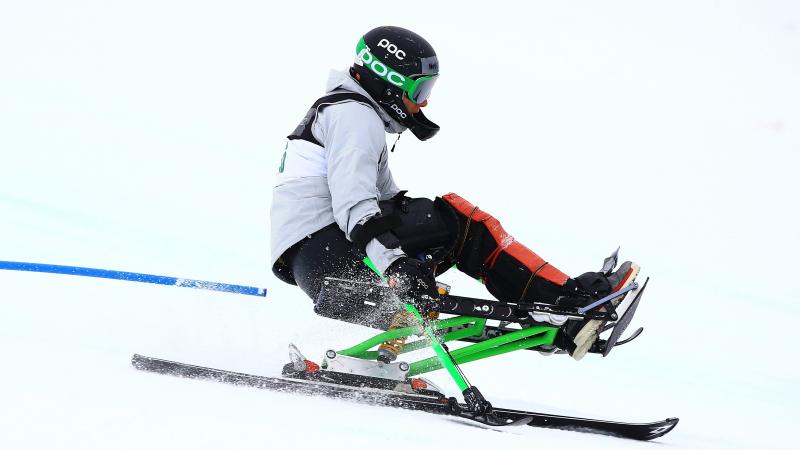 Andrew Kurka
Alpine Skiing
After a series of injuries that prevented him from competing at more events, Andrew Kurka came back stronger than ever for 2017/2018.
At his maiden Paralympic Winter Games in PyeongChang, South Korea, the US sit-skier took gold in the men's downhill and silver in the super-G.
But as a child his dream had nothing to do with slopes and snow. Kurka wanted to become a professional wrestler and one day qualify for the Olympic Games. However, at age 13 an accident while riding an all-terrain vehicle (ATV) severely damaged three vertebrae in the middle of his spinal cord and his dream was over.
Two years later he tried mono-ski for the first time and in 2010 was called up to the USA´s Paralympic team. Since then, he has competed at various World Cups and three World Championships in 2013, 2015 and 2017.
He claimed his first major medal in Panorama, Canada, in 2015, when he took bronze in the men's super-G sitting.
Two years later, Kurka won gold in the downhill, silver in the giant slalom and bronze in the super-G at the Worlds in Tarvisio, Italy.
Kurka is also a bodybuilder, works as a country music DJ and chronicles his adventures in YouTube videos.
Results
IPC Alpine Skiing World Championships (La Molina, Spain)

| Event | Medal | Unit | Date | Rank |
| --- | --- | --- | --- | --- |
| Men's Downhill Sitting | | Race 1 | 2013-02-20 | 9999 |
| Men's Super-G Sitting | | Race 1 | 2013-02-21 | 25 |
| Men's Slalom Sitting | | Race 1 | 2013-02-24 | 9999 |
| Men's Super-Combined Sitting | | Race 1 | 2013-02-25 | 9999 |
| Men's Giant Slalom Sitting | | Race 1 | 2013-02-26 | 9999 |
2015 IPC Alpine Skiing World Championships Panorama (Panorama, Canada)

| Event | Medal | Unit | Date | Rank |
| --- | --- | --- | --- | --- |
| Men's Downhill Sitting | | Race 1 | 2015-03-04 | 6 |
| Men's Super-G Sitting | | Race 1 | 2015-03-05 | 3 |
| Men's Giant Slalom Sitting | | Race 1 | 2015-03-08 | 9999 |
2017 IPC Alpine skiing World Championships Tarvisio, ITA (Tarvisio, Italy)

| Event | Medal | Unit | Date | Rank |
| --- | --- | --- | --- | --- |
| Men's Downhill Sitting | | Race 1 | 2017-01-25 | 1 |
| Men's Super-G Sitting | | Race 1 | 2017-01-26 | 3 |
| Men's Super-Combined Sitting | | Race 1 | 2017-01-28 | 9999 |
| Men's Giant Slalom Sitting | | Race 1 | 2017-01-30 | 2 |
| Men's Slalom Sitting | | Race 1 | 2017-01-31 | 9999 |
Kranjska Gora/Sella Nevea 2019 World Para Alpine Skiing Championships (Kranjska Gora/Sella Nevea, Slovenia)

| Event | Medal | Unit | Date | Rank |
| --- | --- | --- | --- | --- |
| Men's Giant Slalom Sitting | | Race 1 | 2019-01-21 | 6 |
| Men's Slalom Sitting | | Race 1 | 2019-01-23 | 9999 |
| Men's Downhill Sitting | | Race 1 | 2019-01-30 | 9999 |
| Men's Super-Combined Sitting | | Race 1 | 2019-01-31 | 9999 |
| Men's Super-G Sitting | | Race 1 (from SC) | 2019-01-31 | 9999 |
Lillehammer 2021 World Para Snow Sports Championships (Lillehammer, Norway)

| Event | Medal | Unit | Date | Rank |
| --- | --- | --- | --- | --- |
| Men's Downhill Sitting | | Race 1 | 2022-01-14 | 3 |
| Men's Super-G Sitting | | Race 1 | 2022-01-15 | 4 |
| Men's Super-Combined Sitting | | Race 1 | 2022-01-17 | 9999 |
| Men's Super-G Sitting | | Race 1 (from SC) | 2022-01-17 | 1 |
| Men's Giant Slalom Sitting | | Race 1 | 2022-01-19 | 3 |