Imagen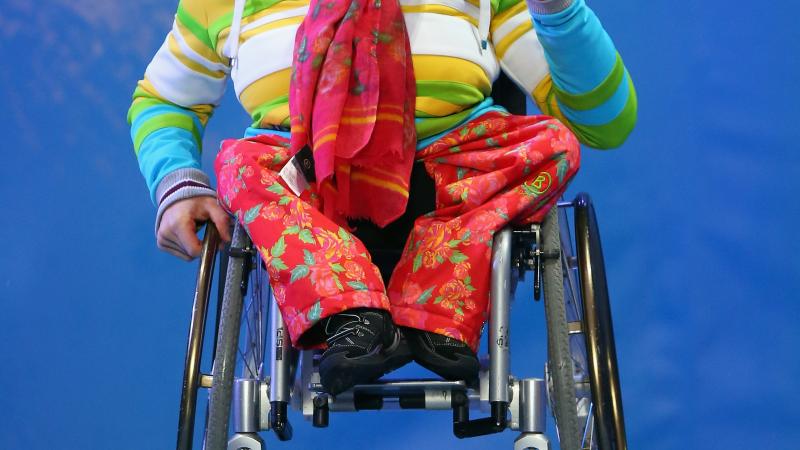 Anja Wicker
Nordic Skiing
Anja Wicker was enjoying the best years of her career after winning her maiden Winter Paralympic title at Sochi 2014. She ended as the Biathlon World Cup overall winner twice and also took gold in the women's biathlon individual sitting at the 2017 World Championships in Finsterau, Germany.
But unfortunately for her, the German Nordic skier performed way below expectations at the 2018 Paralympic Winter Games, leaving PyeongChang, South Korea, without any medal.
Topping the Worlds podium on home soil in 2017 is one of the highlights in her career. Spurred on by her crowd, Wicker won her first world title. She also sealed double silver in the biathlon short and middle distance events.
The German could, therefore, bounced back after a disappointing performance at the 2015 World Championships in Cable, USA, where she left without a medal.
Wicker took up Nordic skiing in 2006 at the tender age of 15 and has barely looked back since.
With her father as her personal coach, the Paralympic champion has shone. But with role models such as multiple-Paralympic medallist Andrea Eskau on the team, it is not hard to see where Wicker gets her motivation from.
Wicker dabbles in cross-country skiing but it is biathlon where her real talent lies. She is a multiple World Cup podium finisher and every season watches her flag raised on more than one occasion.
Her first World Championships podium came in 2013 when Wicker grabbed silver in the biathlon sprint. Clearly she was preparing herself for something bigger, as just a year later Wicker climbed onto the top step of the podium at her first Paralympic Winter Games in Sochi, Russia.
Results
IPC Nordic Skiing World Championships Solleftea (Solleftea, Sweden)

| Event | Medal | Unit | Date | Rank |
| --- | --- | --- | --- | --- |
| Women's Sprint - Classic Sitting | | Final | 2013-02-25 | 4 |
| Women's Long Distance - Classic Sitting | | Final | 2013-02-26 | 6 |
| Women's Short Distance Sitting | | Final | 2013-02-28 | 2 |
| Women's Middle Distance Sitting | | Final | 2013-03-01 | 8 |
| Women's Long Distance Sitting | | Final | 2013-03-03 | 4 |
| Women's Middle Distance - Classic Sitting | | Final | 2013-03-05 | 10 |
2015 IPC Nordic Skiing World Championships Cable (Cable, United States of America)

| Event | Medal | Unit | Date | Rank |
| --- | --- | --- | --- | --- |
| Women's Short Distance Sitting | | Race 1 | 2015-01-24 | 9 |
| Women's Middle Distance Sitting | | Race 1 | 2015-01-27 | 8 |
| Women's Sprint - Classic Sitting | | Race 1 | 2015-01-28 | 9 |
| Women's Long Distance Sitting | | Race 1 | 2015-01-30 | 4 |
| Women's Middle Distance - Classic Sitting | | Race 1 | 2015-01-31 | 13 |
2017 IPC Nordic skiing World Championships Finsterau, GER (Finsterau, Germany)

| Event | Medal | Unit | Date | Rank |
| --- | --- | --- | --- | --- |
| Women's Middle Distance Sitting | | Final | 2017-02-11 | 2 |
| Women's Sprint - Free Style Sitting | | Final | 2017-02-12 | 6 |
| Women's Long Distance Sitting | | Final | 2017-02-14 | 1 |
| Women's Long Distance - Classic Sitting | | Final | 2017-02-16 | 7 |
| Women's Sprint Sitting | | Final | 2017-02-18 | 2 |
| Women's Middle Distance - Free Style Sitting | | Final | 2017-02-19 | 9 |
Prince George 2019 World Para Nordic Skiing Championships (Prince George, Canada)

| Event | Medal | Unit | Date | Rank |
| --- | --- | --- | --- | --- |
| Women's Middle Distance Sitting | | Final | 2019-02-16 | 4 |
| Women's Middle Distance - Free Style Sitting | | Final | 2019-02-17 | 5 |
| Women's Sprint Sitting | | Final | 2019-02-20 | 4 |
| Women's Long Distance Sitting | | Final | 2019-02-21 | 4 |
Lillehammer 2021 World Para Snow Sports Championships (Lillehammer, Norway)

| Event | Medal | Unit | Date | Rank |
| --- | --- | --- | --- | --- |
| Women's Middle Distance - Classic Sitting | | Final | 2022-01-13 | 3 |
| Women's Sprint Sitting | | Final | 2022-01-15 | 1 |
| Women's Middle Distance Sitting | | Final | 2022-01-16 | 8 |
| Women's Long Distance Sitting | | Final | 2022-01-20 | 5 |
| Women's Sprint - Classic Sitting | | Final | 2022-01-22 | 6 |