Imagen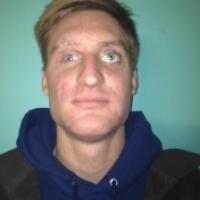 Biography
Impairment information
Type of Impairment
Vision impairment
Origin of Impairment
Acquired
Further personal information
Residence
Baltimore, MD, USA
Occupation
Athlete, Veteran
Higher education
Architecture - United States Naval Academy: Annapolis, MD, USA
Sport specific information
When and where did you begin this sport?
He transitioned from Para swimming to Para triathlon in 2017.
Why this sport?
"When I was injured, the Warrior Games were an ongoing initiative and joint venture between the US Olympic and Paralympic Committee and the Department of Veterans' Affairs. I quickly asked to join the Navy team for the upcoming Warrior Games. I started with shot put and discus throw, and finally someone had the good idea to get me in the pool. Swimming has always been a part of my identity since I was a little kid. I started competitively swimming at the age of 11 and had the opportunity to go to the US Naval Academy. When I finished the 100m freestyle at the 2016 Paralympic Games in Rio de Janeiro [winning gold], I did not feel like there was anything else I wanted to accomplish. However, I was not done being an athlete. I was not done pushing my red line. There was always this lingering idea of switching to Para triathlon. I did not know what I was doing when I first started. I really wanted to go back to the beginning and learn something new, start at the bottom and work my way up. Triathlon offered me that opportunity."
General interest
Hobbies
Collecting flags. (pressroom.toyota.com, 23 Jun 2020)
Sporting philosophy / motto
"Courage means rising above the negativity, even when you've been dealt a bad hand. It means never giving up. Courage isn't shooting guns or jumping out of airplanes, it's standing up for the guy next to you. In sport, courage is taking a risk, doing it the right way and digging deeper than you thought you could. Courage is a habit, it's brotherhood. Courage makes the world a better place. Courage means that I'm never going to give up on you, so don't you ever give up on me." (usada.org, 22 Sep 2015)
Awards and honours
He was named Best Male Athlete of the 2016 Paralympic Games in Rio de Janeiro by the United States Olympic Committee [USOC]. (paralympic.org, 29 Sep 2016)

He was chosen as the honorary torch bearer for the opening ceremony of the 2013 Warrior Games in Colorado Springs, CO, United States of America. (paralympic.org, 10 May 2013)

He was United States of America's flag bearer at the closing ceremony of the 2012 Paralympic Games in London. (navysports.com, 09 Sep 2012)

During his senior year at the US Naval Academy, he was named 2009 Male Swimmer of the Year. (teamusa.org, 01 Sep 2012)
Other sports
He won five gold and two silver medals competing in swimming at the Paralympic Games in 2012 and 2016. (teamusa.org, 02 Jun 2021; SportsDeskOnline, 26 Aug 2021)
Famous relatives
His brother Mitchell swam for Drury University and was named the 2009 NCAA Division II Male Swimmer of the Year. His other brother Russell has represented Embry Riddle University in cross-country and athletics, while his sister Elyse has competed for Saint Leo University in cross-country and athletics. (drurypanthers.com, 01 Feb 2012; teamusa.org, 12 Oct 2015)
Ambitions
To compete in Para triathlon at the 2020 Paralympic Games in Tokyo. (wtsp.com, 12 Oct 2018)
Impairment
In September 2011 he was blinded after stepping on an improvised explosive device [IED] while serving in the US Navy in Kandahar, Afghanistan. The bomb did not affect his arms or legs, but his eyes had to be removed and replaced with prosthetics. "I've been successful because I don't blame anyone and I haven't victimised myself. I was within inches of death, but this is a new go at life and I try to enjoy it to the fullest." (guardian.co.uk, 07 Sep 2012; nbcnews.com, 13 Jun 2012)
Other information
SUCCESS COMES FAST
He admits that he was initially reluctant to try Para sports after his injuries. However, after several invitations from programmes for injured veterans, he tried Para athletics before discovering Para swimming. Thanks to his previous swimming experience at high school and university, he was ranked fifth in the nation following his first Para swim meet at the US Olympic Training Center. Several months later he was ranked first, and ended up winning two gold medals and one silver medal at the 2012 Paralympic Games in London, one year after sustaining his injuries in Afghanistan. "It was like a dream I had about being an Olympian had morphed into now being a Paralympian. Something came true that I didn't necessarily recognise the importance of while it was happening. The gold medal replaces all the negativity of the day that I was blinded. I just needed a vehicle to show people that I am going to be fine, so do not feel sorry for me. Swimming was an awesome opportunity for me to do just that. For me to jump into the pool and swim back and forth, fast and smooth - that showed people that I am going to be fine, I am still me." (people.com, 11 Nov 2015; usada.org, 22 Oct 2015; eatingwell.com, 23 Jul 2021; teamusa.org, 02 Jun 2021)

NAVY SERVICE
He was in high school at the time of the 11 September 2011 terrorist attacks in New York City, NY, United States of America. "I knew from that day forward I wanted to dedicate my life to make it sure that never happened again on our soil." After finishing high school he joined the US Naval Academy and obtained a degree in naval architecture. He was then accepted to the Navy's elite bomb disposal unit, where he spent the next seven years. He served two tours, one in Iraq and one in Afghanistan. As a lieutenant in Afghanistan he was involved in raids on suspected Taliban locations, and it was during one of these raids that he stepped on an explosive device while working to transport two injured fellow soldiers. He medically retired from the Navy in 2013. "After being able to recover, being in the hospital with my family, it allowed me to put it into perspective, that I was very fortunate to still be alive. What I took away from the military is resilience. As athletes, we train to the point of exhaustion sometimes because in Para triathlon, there are hour-long races. You are going to hit that red line somewhere in the race, and if you are not prepared you will crumble. However, if you train and know how that red line feels, you're able to push through it on race day. Being able to learn how to navigate that space, navigate uncertainty and fear, is an integral part of how we train in the military. I have found that sporting arenas are not so different." (people.com, 11 Nov 2015; deloitte.com, 01 Jan 2015; nbcnews.com, 13 Jun 2012; BuzzFeed Multiplayer YouTube channel, 25 Nov 2017; teamusa.org, 02 Jun 2021)

GUIDE
He says running is not his strongest leg of the triathlon, and that this influences who he chooses to work with as a guide. "As the field has matured, so has the caliber of guiding. A number of our competitors in England and Europe all have guides who have competed in World Triathlon, some being former pros and Olympians. For example, being a swimmer, it is important for me to get out in front of the field in the water to get the best advantage I can. I am not the best runner in the field, so it's important to get out ahead as much as possible. So, that's really what I am looking for in a guide. I have been racing with Colin Riley for the past three years [speaking in 2021], he is an outstanding athlete. However, this season I switched over to Greg Billington, a 2016 US Olympian." (teamusa.org, 02 Jun 2021)

SLEEP DISORDER
He has non-24-hour
Results
2015 IPC Swimming World Championships (Glasgow, Great Britain)

| Event | Medal | Unit | Date | Rank |
| --- | --- | --- | --- | --- |
| Men's 100 m Freestyle S11 | | Heat 2 | 2015-07-13 | 1 |
| Men's 100 m Freestyle S11 | | Final 1 | 2015-07-13 | 1 |
| Men's 400 m Freestyle S11 | | Final 1 | 2015-07-14 | 1 |
| Men's 400 m Freestyle S11 | | Heat 2 | 2015-07-14 | 1 |
| Men's 50 m Freestyle S11 | | Final 1 | 2015-07-17 | 1 |
| Men's 50 m Freestyle S11 | | Heat 2 | 2015-07-17 | 1 |