Imagen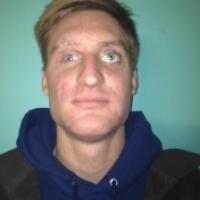 Biography
Impairment information
Type of Impairment
Vision impairment
Origin of Impairment
Acquired
Further personal information
Residence
Baltimore, MD, USA
Occupation
Athlete, Veteran
Higher education
Architecture - United States Naval Academy: Annapolis, MD, USA
Sport specific information
When and where did you begin this sport?
He grew up on the beach in Florida, United States of America, so swimming was a natural activity. At age 11 his father suggested he start regular training as an outlet for his energy. He swam for his high school, and at the US Naval Academy where he captained the swim team in 2005/06. After recovering from his injuries he immediately got back into sport, and started running with his younger brother who would guide him using a piece of rope. Soon after he began swimming again.
Why this sport?
Swimming helped him regain his confidence while he was recovering from the injuries he sustained serving in the US Navy in Afghanistan. "The feeling of swimming, the stroke, the pace, the strategy and most of all, the mental image, sometimes make me forget that I'm blind."
International debut
Competing for
United States
General interest
Nicknames
Brad (washingtonpost.com, 02 Sep 2016)
Sporting philosophy / motto
"Courage means rising above the negativity, even when you've been dealt a bad hand. It means never giving up. Courage isn't shooting guns or jumping out of airplanes, it's standing up for the guy next to you. In sport, courage is taking a risk, doing it the right way and digging deeper than you thought you could. Courage is a habit, it's brotherhood. Courage makes the world a better place. Courage means that I'm never going to give up on you, so don't you ever give up on me." (usada.org, 22 Sep 2015)
Awards and honours
He was named Best Male Athlete of the 2016 Paralympic Games in Rio de Janeiro by the United States Olympic Committee [USOC]. (paralympic.org, 29 Sep 2016)

He was chosen as the honorary torch bearer for the opening ceremony of the 2013 Warrior Games in Colorado Springs, CO, United States of America. (paralympic.org, 10 May 2013)

He was United States of America's flag bearer at the closing ceremony of the 2012 Paralympic Games in London. (navysports.com, 09 Sep 2012)

During his senior year at the US Naval Academy, he was named 2009 Male Swimmer of the Year. (teamusa.org, 01 Sep 2012)
Other sports
He represented the United States of America in Para triathlon at the 2019 World Series Grand Final in Lausanne, Switzerland. (SportsDeskOnline, 07 May 2020)
Famous relatives
His brother Mitchell swam for Drury University and was named the 2009 NCAA Division II Male Swimmer of the Year. His other brother Russell has represented Embry Riddle University in cross-country and athletics, while his sister Elyse has competed for Saint Leo University in cross-country and athletics. (drurypanthers.com, 01 Feb 2012; teamusa.org, 12 Oct 2015)
Ambitions
To compete in Para triathlon at the 2020 Paralympic Games in Tokyo. (wtsp.com, 12 Oct 2018)
Impairment
In September 2011 he was blinded after stepping on an improvised explosive device [IED] while serving in the US Navy in Kandahar, Afghanistan. The bomb did not affect his arms or legs, but his eyes had to be removed and replaced with prosthetics. "I've been successful because I don't blame anyone and I haven't victimised myself. I was within inches of death, but this is a new go at life and I try to enjoy it to the fullest." (guardian.co.uk, 07 Sep 2012; nbcnews.com, 13 Jun 2012)
Other information
OTHER ACTIVITIES
In January 2019 he was appointed to the United States Olympic Committee [USOC] board of directors as a representative of the Athletes' Advisory Council. (apnews.com, 02 Jan 2019; teamusa.org, 02 Jan 2019)

SUCCESS COMES FAST
Despite getting back into sport just weeks after recovering from his 2011 injuries, he admits that he was reluctant to try organised Para sports at first, but after several invitations from programmes for injured veterans, he tried Para athletics before discovering Para swimming. Thanks to his previous swimming experience at high school and university, he was ranked fifth in the nation following his first Para swim meet at the US Olympic Training Center in Colorado Springs, CO, United States of America. Several months later he was ranked first, and ended up competing at the 2012 Paralympic Games in London, exactly one year after sustaining his injuries in Afghanistan. "It was like a dream I had about being an Olympian had morphed into now being a Paralympian. Something came true that I didn't necessarily recognise the importance of while it was happening. The gold medal replaces all the negativity of the day that I was blinded." (people.com, 11 Nov 2015; usada.org, 22 Oct 2015)

NAVY SERVICE
He was in high school at the time of the 11 September 2011 terrorist attacks in New York City, NY, United States of America. "I knew from that day forward I wanted to dedicate my life to make it sure that never happened again on our soil." After finishing high school he joined the US Naval Academy and obtained a degree in naval architecture. He was then accepted to the Navy's elite bomb-disposal unit, where he spent the next seven years. He served two tours, one in Iraq and one in Afghanistan. As a lieutenant in Afghanistan he was involved in raids on suspected Taliban locations, and it was during one of these raids that he stepped on an explosive device while working to transport two injured fellow soldiers. He medically retired from the navy in 2013. "After being able to recover, being in the hospital with my family, it allowed me to put it into perspective, that I was very fortunate to still be alive." (people.com, 11 Nov 2015; deloitte.com, 01 Jan 2015; nbcnews.com, 13 Jun 2012; BuzzFeed Multiplayer YouTube channel, 25 Nov 2017)

TRIBUTE
He has several tattoos on his body. One is dedicated to a friend killed in Iraq and another who committed suicide after serving in the US armed forces. "These are memorials to the people who don't have the opportunity to do what I get to do." (guardian.co.uk, 07 Sep 2012)

BOOK
In 2016 he published his autobiography entitled 'Fire in My Eyes'. (jtcc.org, 06 Apr 2018)
Results
2015 IPC Swimming World Championships (Glasgow, Great Britain)

| Event | Medal | Unit | Date | Rank |
| --- | --- | --- | --- | --- |
| Men's 100 m Freestyle S11 | | Heat 2 | 2015-07-13 | 1 |
| Men's 100 m Freestyle S11 | | Final 1 | 2015-07-13 | 1 |
| Men's 400 m Freestyle S11 | | Final 1 | 2015-07-14 | 1 |
| Men's 400 m Freestyle S11 | | Heat 2 | 2015-07-14 | 1 |
| Men's 50 m Freestyle S11 | | Final 1 | 2015-07-17 | 1 |
| Men's 50 m Freestyle S11 | | Heat 2 | 2015-07-17 | 1 |