Imagen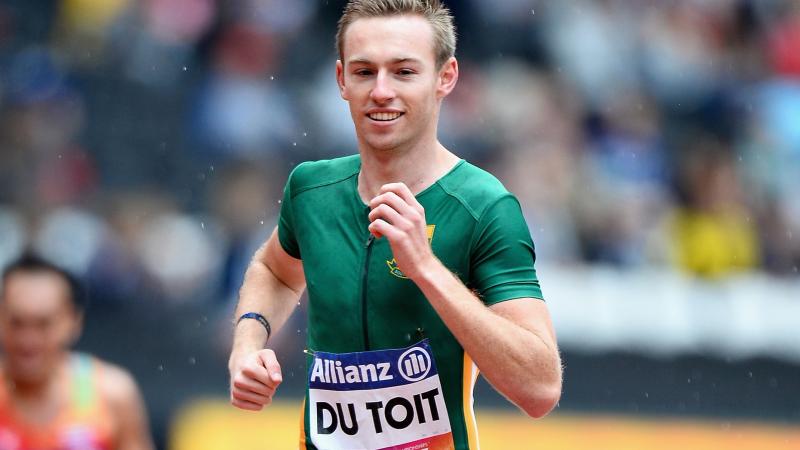 South African du Toit won double gold at London 2017, his first time at the top of the World Championship podium after winning individual silver in 2015 and two bronze medals in 2013.
In fact, du Toit's success in London came as no surprise after his performances at the Rio Paralympic Games the previous year.
The Stellenbosch Para athlete struck double gold at Rio 2016, his second Paralympics, winning both the 100m and 400m T37 events.
Du Toit had shown great form ahead of Rio 2016, setting a new 100m T37 (11.43) world record at the Nottwil Grand Prix in Switzerland three months earlier. The record did not last long with du Toit lowering it further to 11.42 in the heats at Rio 2016. Although 11.45 in the final was slightly slower, it was enough to win him gold.
In the 400m final, he lowered the Paralympic record to 51.13 on his way to a second gold.
For his achievements at Rio 2016, he was named Sportsman of the Year with an Impairment at the 2016 South African Sports Awards.
Born with cerebral palsy, Du Toit took up Para athletics in 2011 and a year later competed in the 100m and 800m T37 events at London 2012. He also won silver over 100m at the Glasgow 2014 Commonwealth Games.
Photo Gallery
Imagen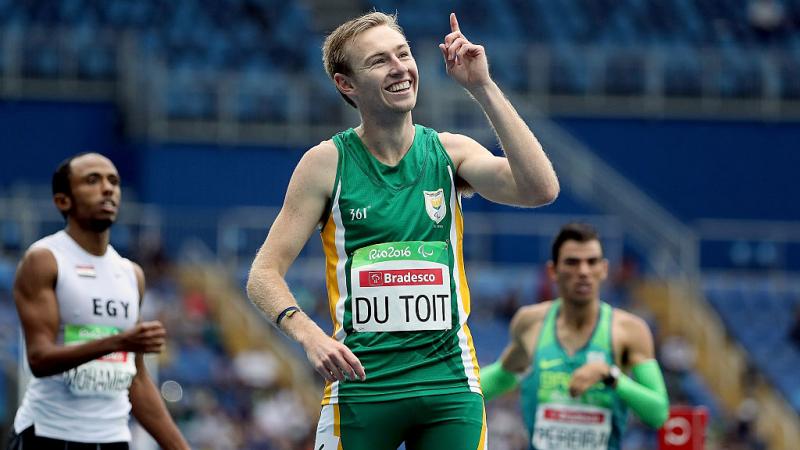 Imagen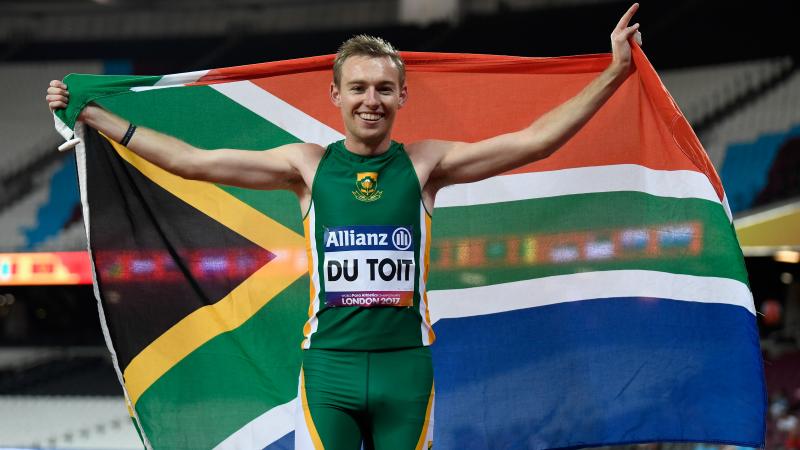 Biography
Impairment information
Origin of Impairment
Congenital
Further personal information
Residence
Stellenbosch, RSA
Languages
Afrikaans, English
Higher education
Education - University of Stellenbosch: South Africa
Sport specific information
When and where did you begin this sport?
He took up athletics at age 17 at high school in Pretoria, South Africa. He began competing in Para athletics at age 26 in 2011.
Why this sport?
"I come from an athletic family. Both my parents were provincial athletes and my dad has been an athletics coach for more than 40 years and I always loved the sport. I think my parents knew I had cerebral palsy, but we never gave it a name. I was at an able-bodied school in Pretoria. I had competed against able-bodied guys in my youth, then suffered a groin injury and went to see a physio. She asked me why I didn't compete in Para sports. 'Why do I want to compete in disabled sports, because I don't think there is anything wrong with me,' I replied. But I took some tests and things started to make sense – why I can't use my right hand properly, why I don't have control over my right arm and why my calves differ; one is bigger than the other. Around that time, I was also starting to think about university. I knew that Suzanne Ferreira was coaching at Stellenbosch University, so it was a no brainer."
Club / Team
Maties ParaSport Club: Stellenbosch, RSA
International debut
Competing for
South Africa
General interest
Nicknames
Smiling Lightning ["I got it after the 100m final at the 2016 Paralympic Games."] (Athlete, 06 Nov 2019)
Hobbies
Spending time with his friends, watching sports. (Athlete, 06 Nov 2019)
Memorable sporting achievement
Winning gold in the T37 100m and the T37 400m at the 2016 Paralympic Games in Rio de Janeiro. (Athlete, 06 Nov 2019)
Most influential person in career
Coach Suzanne Ferreira. (Athlete, 06 Nov 2019)
Hero / Idol
Swiss tennis player Roger Federer. (Athlete, 06 Nov 2019)
Injuries
He sustained a fracture to his ankle after stepping into a ditch at the 2019 South African Championships. He was out of competition for four months. (Athlete, 06 Nov 2019)

In 2016 he sustained a torn hamstring that kept him out of training for four weeks. He also was out for four months due to torn cartilage in his right knee. (Athlete, 06 Nov 2019)

In 2013 he was out of action for six months after sustaining a slipped disc injury in his spine. (Athlete, 06 Nov 2019)

As a child he required a number of operations, including one in which his Achilles tendon needed to be lengthened. (paralympic.org, 06 Jun 2018)
Superstitions / Rituals / Beliefs
"At the start of a championship I pick out my socks that I am going to race in on the first day of arrival at the event." (Athlete, 06 Nov 2019)
Sporting philosophy / motto
"Everything happens for a reason, so just enjoy the moment." (Athlete, 16 Jul 2017)
Awards and honours
He was named Sportsman of the Year with an Impairment at the 2016 South African Sports Awards. (sascoc.co.za, 28 Nov 2016)
Famous relatives
His parents Wessel and Elmarie were both athletes who competed at regional level in South Africa. (paralympic.org, 06 Jun 2018)
Ambitions
To win gold at the 2020 Paralympic Games in Tokyo. (timeslive.co.za, 25 Jan 2018)
Impairment
He was diagnosed with cerebral palsy after complications at birth. "I was born six weeks premature with my umbilical cord around my neck and due to lack of oxygen I got cerebral palsy, which means that one part of my body isn't as well developed as the other parts. So my right arm is a little bit shorter than my left. I also have spasticity to deal with, so when I get tired my coordination isn't as fluent as what it should be." (Eyewitness News YouTube channel, 18 Oct 2018; Athlete, 16 Jul 2017, 06 Nov 2019)
Other information
RIO TRIBUTE
After winning gold in the T37 100m at the 2016 Paralympic Games in Rio de Janeiro, he dedicated his victory to his uncle Johan, who was shot and later died following a house robbery earlier in the year. "Me and my family have been through a few tough months but hopefully I did my country proud." (sascoc.co.za, 16 Sep 2016; iol.co.za, 11 Sep 2016)

YOUTH ORGANISATION
He has worked with a non-governmental body named Living Legends South Africa. The organisation offers a youth development programme that focuses on empowering children to take responsibility for their actions through interaction, sport development and life skills. (Living Legends SA Facebook page, 05 Aug 2019; Facebook profile, 12 Mar 2019; tyi.co.za, 16 Aug 2017)

FURTHER EDUCATION
He has studied for a master's degree on the impact of physical education on the attitudes and motivational changes of learners with a physical impairment. (Athlete, 06 Nov 2019)
Results
IPC Athletics World Championships (Lyon, France)

| Event | Medal | Unit | Date | Rank |
| --- | --- | --- | --- | --- |
| Men's 800 m T37 | | Final 1 | 2013-07-21 | 3 |
| Men's 400 m T37 | | Semifinal 2 | 2013-07-25 | 5 |
| Men's 400 m T37 | | Final 1 | 2013-07-26 | 3 |
| Men's 4x100 m T35-38 | | Final 1 | 2013-07-27 | 2 |
IPC Athletics 2015 World Championships (Doha, Qatar)

| Event | Medal | Unit | Date | Rank |
| --- | --- | --- | --- | --- |
| Men's 200 m T37 | | Final 1 | 2015-10-22 | 4 |
| Men's 200 m T37 | | Heat 2 | 2015-10-22 | 6 |
| Men's 400 m T37 | | Final 1 | 2015-10-29 | 2 |
| Men's 100 m T37 | | Heat 2 | 2015-10-30 | 3 |
| Men's 100 m T37 | | Final 1 | 2015-10-31 | 5 |
World Para Athletics Championships London 2017 (London, Great Britain)

| Event | Medal | Unit | Date | Rank |
| --- | --- | --- | --- | --- |
| Men's 200 m T37 | | Heat 1 | 2017-07-17 | 2 |
| Men's 200 m T37 | | Final 1 | 2017-07-18 | 1 |
| Men's 100 m T37 | | Heat 1 | 2017-07-19 | 1 |
| Men's 100 m T37 | | Final 1 | 2017-07-20 | 2 |
| Men's 400 m T37 | | Heat 2 | 2017-07-22 | 4 |
| Men's 400 m T37 | | Final 1 | 2017-07-23 | 1 |