Imagen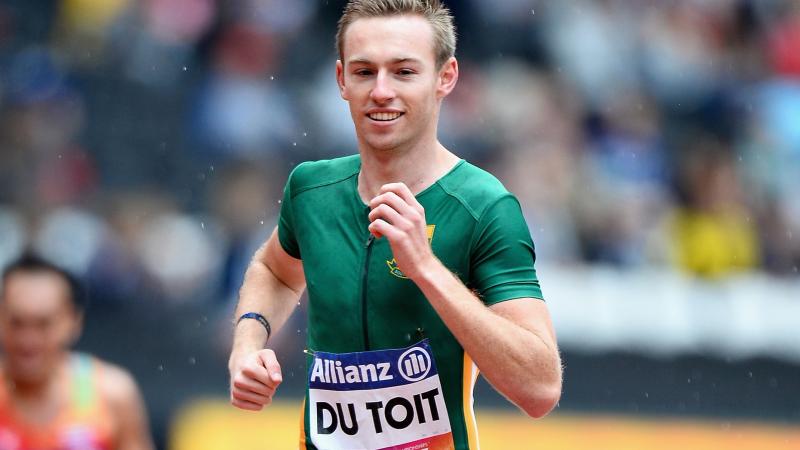 South African du Toit won double gold at London 2017, his first time at the top of the World Championship podium after winning individual silver in 2015 and two bronze medals in 2013.
In fact, du Toit's success in London came as no surprise after his performances at the Rio Paralympic Games the previous year.
The Stellenbosch Para athlete struck double gold at Rio 2016, his second Paralympics, winning both the 100m and 400m T37 events.
Du Toit had shown great form ahead of Rio 2016, setting a new 100m T37 (11.43) world record at the Nottwil Grand Prix in Switzerland three months earlier. The record did not last long with du Toit lowering it further to 11.42 in the heats at Rio 2016. Although 11.45 in the final was slightly slower, it was enough to win him gold.
In the 400m final, he lowered the Paralympic record to 51.13 on his way to a second gold.
For his achievements at Rio 2016, he was named Sportsman of the Year with an Impairment at the 2016 South African Sports Awards.
Born with cerebral palsy, Du Toit took up Para athletics in 2011 and a year later competed in the 100m and 800m T37 events at London 2012. He also won silver over 100m at the Glasgow 2014 Commonwealth Games.
Photo Gallery
Imagen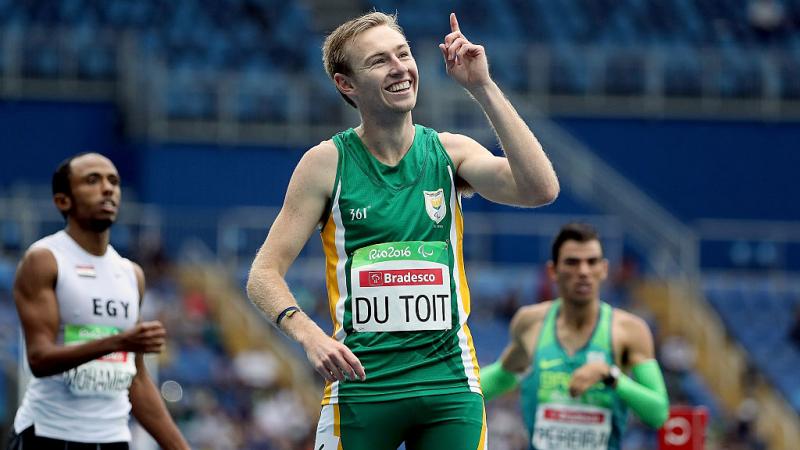 Imagen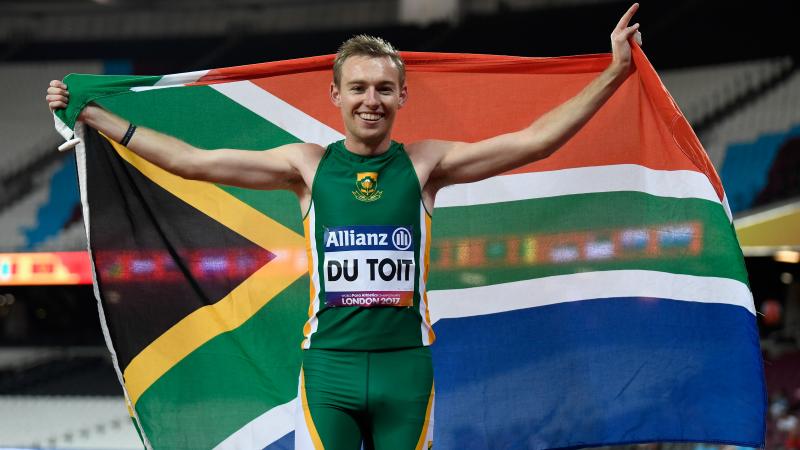 Results
IPC Athletics World Championships (Lyon, France)

| Event | Medal | Unit | Date | Rank |
| --- | --- | --- | --- | --- |
| Men's 800 m T37 | | Final 1 | 2013-07-21 | 3 |
| Men's 400 m T37 | | Semifinal 2 | 2013-07-25 | 5 |
| Men's 400 m T37 | | Final 1 | 2013-07-26 | 3 |
| Men's 4x100 m T35-38 | | Final 1 | 2013-07-27 | 2 |
IPC Athletics 2015 World Championships (Doha, Qatar)

| Event | Medal | Unit | Date | Rank |
| --- | --- | --- | --- | --- |
| Men's 200 m T37 | | Final 1 | 2015-10-22 | 4 |
| Men's 200 m T37 | | Heat 2 | 2015-10-22 | 6 |
| Men's 400 m T37 | | Final 1 | 2015-10-29 | 2 |
| Men's 100 m T37 | | Heat 2 | 2015-10-30 | 3 |
| Men's 100 m T37 | | Final 1 | 2015-10-31 | 5 |
World Para Athletics Championships London 2017 (London, Great Britain)

| Event | Medal | Unit | Date | Rank |
| --- | --- | --- | --- | --- |
| Men's 200 m T37 | | Heat 1 | 2017-07-17 | 2 |
| Men's 200 m T37 | | Final 1 | 2017-07-18 | 1 |
| Men's 100 m T37 | | Heat 1 | 2017-07-19 | 1 |
| Men's 100 m T37 | | Final 1 | 2017-07-20 | 2 |
| Men's 400 m T37 | | Heat 2 | 2017-07-22 | 4 |
| Men's 400 m T37 | | Final 1 | 2017-07-23 | 1 |
Dubai 2019 World Para Athletics Championships (Dubai, United Arab Emirates)

| Event | Medal | Unit | Date | Rank |
| --- | --- | --- | --- | --- |
| Men's 400 m T37 | | Final 1 | 2019-11-09 | 3 |
| Men's 400 m T37 | | Heat 2 | 2019-11-09 | 6 |
| Men's 200 m T37 | | Heat 2 | 2019-11-12 | 4 |
| Men's 200 m T37 | | Final 1 | 2019-11-13 | 4 |