Imagen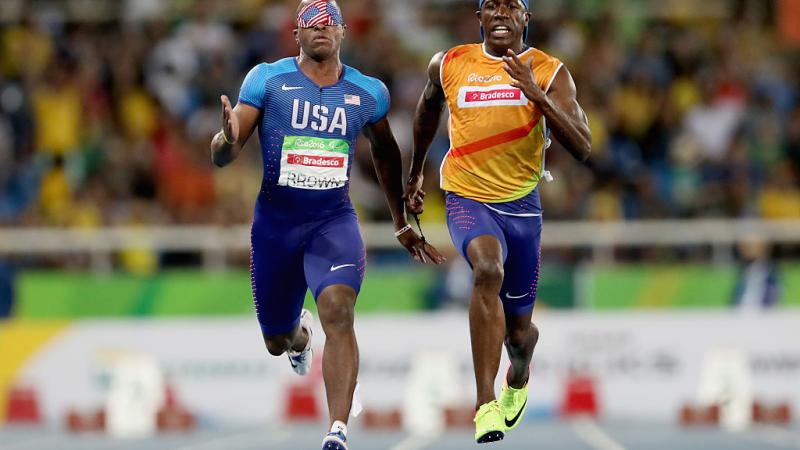 Brown, together with guide Jerome Avery, enjoyed mixed fortunes at the Rio 2016 Paralympic Games. The pair won 100m T11 gold but failed to make the finals of the 200m and 400m.
In the 100m, Brown clocked 10.99 seconds to smash the Paralympic record and win his first Paralympic title ahead of Brazil's Felipe Gomes.
Brown originally showed he had the potential to become a Paralympic champion in 2014, setting new world records in the 100m and 200m T11 events.
Coached by Brazilian middle distance legend Joaquim Cruz, Brown became the first man in his class to go under 11 seconds when he ran 10.92 seconds at a meeting that April 2014 in California, USA. On the same day he also smashed the 200m record, finishing in 22.41.
That impressive form continued in 2015 as he won double gold at the Parapan Games in August, beating the likes of Brazil's Lucas Prado and Felipe Gomes to gold in both the 100m and 200m T11.
The American then headed to the 2015 World Championships in Doha, Qatar, as the favourite for sprint gold once again – and sure enough he opened his campaign with gold over 100m. Victory in the 200m did not go his way as Gomes took the top spot, with Namibia's Ananias Shikongo claiming silver and another Brazilian, Daniel Silva, finishing third – leaving the American out of the medals.
Brown failed to make it past the 100m and 200m semi-finals at London 2012 but will be hoping for better fortunes at the London 2017 World Para Athletics Championships.
Results
IPC Athletics World Championships (Lyon, France)

| Event | Medal | Unit | Date | Rank |
| --- | --- | --- | --- | --- |
| Men's 200 m T11 | | Semifinal 2 | 2013-07-20 | 3 |
| Men's 200 m T11 | | Heat 3 | 2013-07-20 | 5 |
| Men's 200 m T11 | | Final 1 | 2013-07-21 | 4 |
| Men's 4x100 m T11-13 | | Semifinal 2 | 2013-07-22 | 2 |
| Men's 4x100 m T11-13 | | Final 1 | 2013-07-23 | 2 |
| Men's 400 m T11 | | Semifinal 1 | 2013-07-26 | 2 |
| Men's 400 m T11 | | Final 1 | 2013-07-27 | 2 |
IPC Athletics 2015 World Championships (Doha, Qatar)

| Event | Medal | Unit | Date | Rank |
| --- | --- | --- | --- | --- |
| Men's 100 m T11 | | Semifinal 3 | 2015-10-22 | 1 |
| Men's 100 m T11 | | Heat 1 | 2015-10-22 | 1 |
| Men's 100 m T11 | | Final 1 | 2015-10-23 | 1 |
| Men's 200 m T11 | | Heat 4 | 2015-10-28 | 1 |
| Men's 200 m T11 | | Semifinal 1 | 2015-10-29 | 1 |
| Men's 200 m T11 | | Final 1 | 2015-10-29 | 4 |
World Para Athletics Championships London 2017 (London, Great Britain)

| Event | Medal | Unit | Date | Rank |
| --- | --- | --- | --- | --- |
| Men's 100 m T11 | | Final 1 | 2017-07-15 | 1 |
| Men's 100 m T11 | | Heat 3 | 2017-07-15 | 1 |
| Men's 200 m T11 | | Heat 2 | 2017-07-20 | 2 |
| Men's 200 m T11 | | Final 1 | 2017-07-21 | 2 |
| Men's 4x100 m T11-13 | | Final 1 | 2017-07-23 | 9999 |
Dubai 2019 World Para Athletics Championships (Dubai, United Arab Emirates)

| Event | Medal | Unit | Date | Rank |
| --- | --- | --- | --- | --- |
| Men's 100 m T11 | | Heat 2 | 2019-11-12 | 4 |
| Men's 100 m T11 | | Semifinal 1 | 2019-11-12 | 6 |