100 things to know about the Paralympic Winter Games (1-25)
Countdown to Beijing 2022 with 100 days to go, from the origins of the Winter Paralympics to the most successful winter Para sports country!
21 Nov 2021
Imagen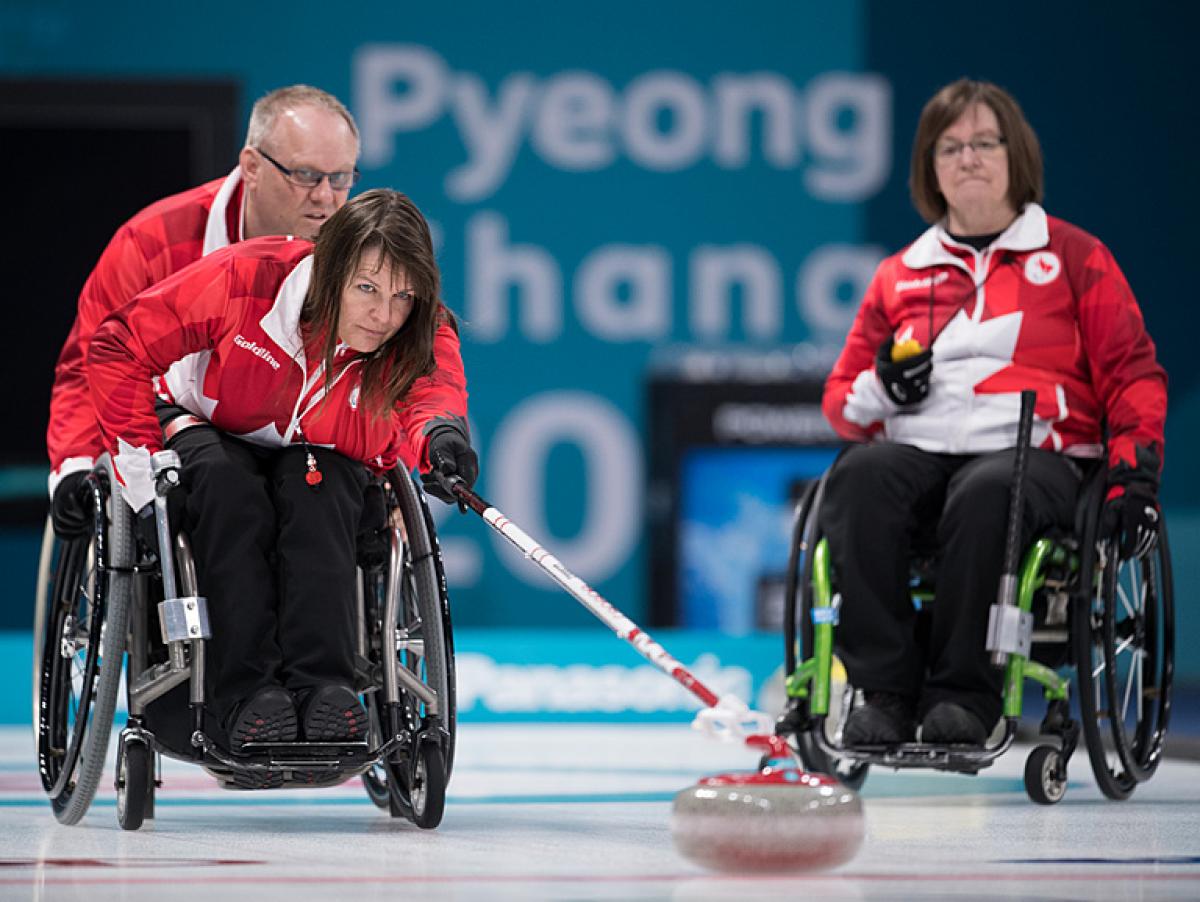 ⒸOIS Photos
By Lucy Dominy | For the IPC
If you are on the hunt for facts about the Paralympic Winter Games, look no further.
From how skiers with vision impairments carve their way down snow-topped mountains to who dominates in wheelchair curling, here is everything you need to know with 100 days to go to Beijing 2022.
1. Beijing is set to become the first city to host both the summer and winter Paralympics after staging the Summer Games in 2008.
Ⓒ Getty Images

2.  Para snowboard is the youngest Paralympic winter sport, added in Sochi, Russia, in 2014.
Ⓒ Getty Images
 
3.  Para alpine skiers combine speed and agility while racing down slopes at speeds of around 100km/h.
Ⓒ OIS Photos
 
4. The Beijing 2022 torch features a colour scheme of gold and silver. The lower section is engraved with Beijing 2022 Paralympic Winter Games in Braille. Not only will torchbearers be able to exchange the flame by touching the ribbon constructions together, the torch is also fuelled mainly by hydrogen to lower emissions.
Ⓒ Beijing 2022
 
5. Alpine skiing and cross-country skiing for 198 athletes with amputations and vision impairments formed the programme of the first Winter Paralympics in Sweden, in 1976.
6. In wheelchair curling, athletes do not sweep the ice to manoeuvre the stone to its final position like in Olympic curling. This means the throw must be very precise.
Ⓒ OIS Photos

7. In Para ice hockey, instead of skates, players use double-blade sledges to manoeuvre around the ice that also allow the puck to pass beneath.
Ⓒ Karl Nilsson/Parasport Sverige
 
8. In biathlon, the target size has a diameter of 21mm for vision impaired athletes and 13mm for athletes with a physical disability. 
9. Like the summer Paralympics, the winter edition is always held after the Olympics in the same city. This has happened since Albertville 1992 due to an agreement between the International Paralympic Committee (IPC) and the International Olympic Committee (IOC).
Ⓒ Handikappidrott
 
10. Beijing 2022 will take place just six months after the postponed summer Games in Tokyo, Japan, which closed on 5 September.
Closing Ceremony of Tokyo 2020
 
11. Winter sports for athletes with physical disabilities emerged after World War II, as large numbers of injured soldiers and civilians tried to return to their skiing activities.
Ⓒ Handikappidrott
 
12. Six sports make up the Beijing 2022 Paralympic programme: Para alpine skiing, Para biathlon, Para cross-country skiing, Para ice hockey, Para snowboard and wheelchair curling.
Ⓒ Luc Percival

13. Para ice hockey burst onto the Paralympic winter schedules at Lillehammer 1994 with a gold medal match that ended 1-0 in sudden death to Sweden against hosts Norway.
14. In 2014, ahead of the Sochi Winter Paralympics, the 'Heritage Flame' was lit at the Stoke Mandeville Stadium in Aylesbury. This kicked off a new Paralympic Games tradition which now takes place before each summer and winter edition.
Ⓒ Matt Fowler Photography on behalf of Buckinghamshire Council

15. The most decorated winter Paralympian is Norway's Ragnhild Myklebust with 27 medals – 22 golds, three silvers and three bronze– from biathlon, cross-country skiing and ice sledge speed racing.
Ⓒ Getty Images

16. Nagano 1998 was the first Paralympic Winter Games to benefit from the age of the internet – according to historic records, the official Games website recorded a total of 7.7 million hits between the opening and closing ceremonies.

17. Innsbruck, Austria, hosted back-to-back editions of the winter Paralympics in 1984 and 1988.
Innsbruck 1984 gold medals Ⓒ IPC
 
18. Canadian Lauren Woolstencroft won all five alpine skiing events at a single Paralympic Winter Games on home soil in Vancouver in 2010 – a historic first.
Ⓒ Getty Images

19. Norway are the most successful country at the Paralympic Winter Games with 136 golds, 106 silvers and 85 bronze.
Ⓒ OIS Photos

20. At Beijing 2022, wheelchair curling will take place in the Water Cube which staged Para swimming at Beijing 2008. The National Indoor Stadium – which hosted wheelchair basketball – will feature Para ice hockey.
Water Cube Ⓒ Getty Images

21. The origins of competitive winter Para sports can be traced back to the 1940s when three-track skiing – using crutches as 'outriggers' - was invented. 
22. The USA will be hoping to win a fourth successive Paralympic title in Para ice hockey at Beijing 2022.
Ⓒ Getty Images

23. Sports such as ice sledge racing and speed skating have featured at the winter Paralympics in the past, either as full medal events or demonstrations.
Ice sledge racing at Lillehammer 1994

24. Tofiri Kibuuka became the first African athlete to compete at the Paralympic Winter Games when he represented Uganda in cross-country skiing in Ornskoldsvik in 1976.
Tofiri Kibuuka acquired Norwegian citizenship and was named flagbearer for Atlanta 1996, where he competed in Para athletics Ⓒ Tofiri Kibuuka

25. The USA have topped the Para alpine skiing medals table at four Paralympic Winter Games, more than any other country.
US Paralympic champion Alana Nichols in action Ⓒ Malcolm Carmichael / Alpine Canada

CLICK HERE TO DISCOVER THE NEXT 25 THINGS TO KNOW ABOUT THE PARALYMPIC WINTER GAMES (26-50)
CLICK HERE TO DISCOVER THE NEXT 25 THINGS TO KNOW ABOUT THE PARALYMPIC WINTER GAMES (51-75)
CLICK HERE TO DISCOVER THE NEXT 25 THINGS TO KNOW ABOUT THE PARALYMPIC WINTER GAMES (76-100)