Adermann wakes up a champion
Mareike Adermann was the driving force behind Germany's women's wheelchair basketball team securing gold.
08 Sep 2012
Imagen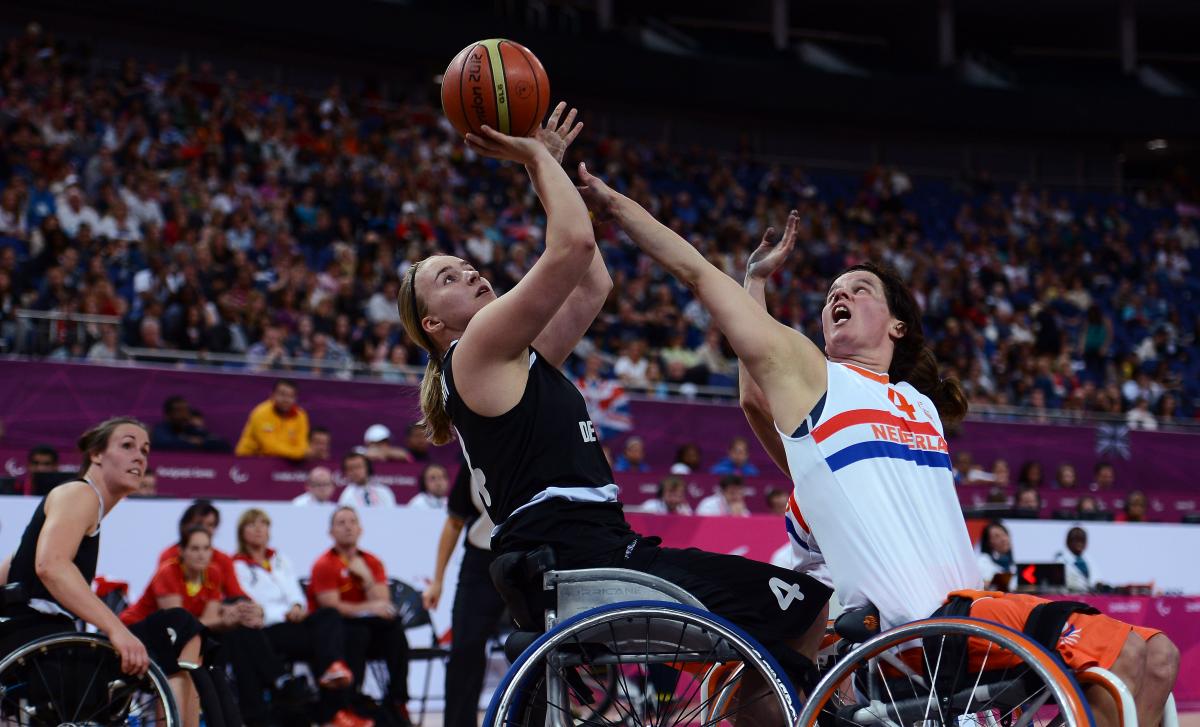 ⒸGetty Images
Before London 2012, Germany had not won gold in women's wheelchair basketball since 1984.
Mareike Adermann was 18 years old when her basketball career came crashing down.
Four times in as many years she suffered the agony of rupturing the anterior cruciate ligament on her knee. Each bout of surgery meant an eight-month recovery process, and within weeks she had suffered the same injury again.
Now, four years after being forced to call time on her basketball dreams, she wakes up as a wheelchair basketball champion, having scored 19 of Germany's points in their 58-44 win over Australia in the women's gold medal match at North Greenwich Arena.
"I can't even realise how good it is right now," she says. "Standing up there being the top team in the world is going to take a while to settle in.
"This is the first Paralympic Games for me. When I started in wheelchair basketball I did not even think about the national team, but I was part of the national team after my first year and from then on this was my dream.
"It surprised me in some ways to get into the national team so quickly, but I practiced every day and did a lot of hard work to get there."
That hard work has certainly paid off.
Adermann, 22, will return to her studies at the University of Wisconsin-Whitewater in America with a gold medal around her neck and a sporting achievement few ever get the privilege to experience.
"It felt as though we were in control because we were leading from the start and were always up, but it was close at times and it felt very tough.
"We won most of the preparation tournaments throughout the year against all the top teams. We met every team and knew we could do it, but we knew we had to play well to get there and win anything."
Adermann's haul of 19 points was the highest individual tally in the gold medal match, and she believes she crept under the radar.
"I'm always one of the shooters, but I think Australia underestimated me and didn't defend me as well as some of the other girls. They left me open a lot and I got some big shots, so it went well for me. It just worked out that I scored the most points in the final, but it wasn't deliberate."
In a physical match that saw numerous players upended – "Australia plays very physically because they press the whole time in defence, but it happens a lot in every tough game" – Adermann and her teammates excelled.
"Most of us are friends off the court and the team's been together a long while, so that helps when we're out there," she said.
With gold medals around their necks, Germany's women's wheelchair basketball team is now likely to forge some lifelong friendships.
Before London 2012, Germany had not won gold in women's wheelchair basketball since 1984. Few will forget this remarkable final, or Adermann's equally remarkable part in her country's triumph.