Arly Velasquez ready for his fourth Winter Paralympic appearance
Mexican Para Alpine skier set to compete in the men's giant slalom sitting on 10 March
07 Mar 2022
Imagen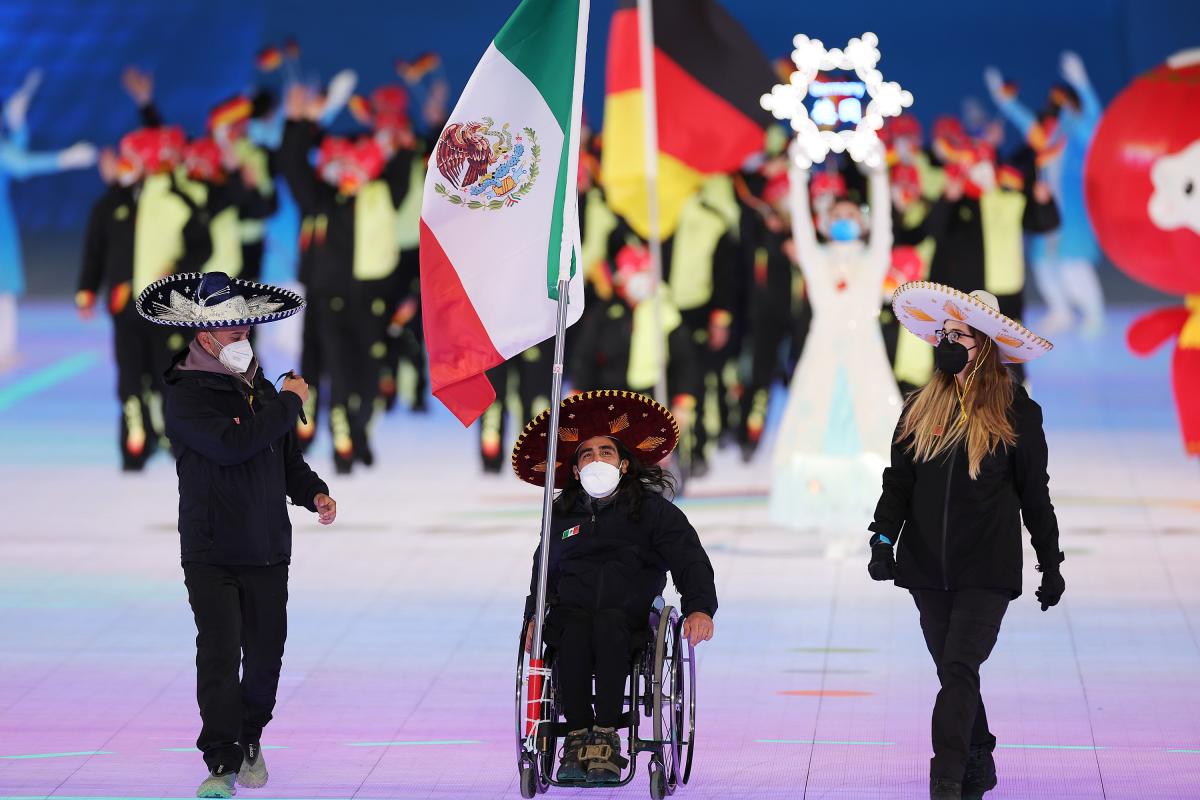 ⒸGetty Images
By Mary Barber I For The IPC
Arly Velasquez and his large sombrero stood out from the hundreds of athletes on parade at the Opening Ceremony of the Beijing 2022 Paralympic Winter Games.
All eyes turned to the sole competitor from Mexico when he made his entrance as a flagbearer at Beijing's National Stadium. His nation's red, white and green flag was proudly displayed on top of a pole attached to his wheelchair.
"It's amazing, it just can't get any better than this," the Para Alpine skier said after the ceremony. "I thought after the pandemic things would be quite different, but then to end up having the opportunity to come here and represent my country again is super inspiring."
It is Velasquez' fourth Winter Games and the third time he has competed alone. But what he lacks in teammates, he more than makes up for any shortfall with his talent, determination and personality.
"It's the fifth time [Mexico have appeared at a Paralympic Games] but it's my fourth Paralympics," said the 33-year-old.
"If it was not for my stubbornness to keep competing, pushing, challenging myself on the mountain, Mexican representation wouldn't be here. I love it."
After a mammoth journey from his home in Mexico City to Beijing, he is looking forward to powering down the slopes in his quest for his first medal in the men's giant slalom sitting on 10 March. His best ever result was at Sochi 2014, when he placed 11th in the super-G.
"It was 54 hours to get from my place all the way to the Athletes Village, but it's cool," said Velasquez, whose campaign gets underway at the Yanqing National Alpine Center. 
"It's an amazing environment. And I guess after two years of being so locked-down, to be out here, representing Mexico, in the mountains, the races, being back again with all the community, this is amazing. What an incredible feeling."
What makes Velasquez' journey even more extraordinary is the fact that he is his own team manager, as well as his own ski technician. In the past, he has built his equipment to keep costs down.
Mexico does not have an official Para Alpine skiing team, which as the athlete is reported to have said, means: "I'm my own team manager, my administrative assistant, also my own marketing person, my own everything. That's the most challenging part."
But he is determined to succeed, as he has always been throughout his life. As a 12-year-old, he was a national junior mountain bike champion and looking forward to a career in the sport. But soon after he won the competition in 2001, he broke his back in a mountain bike accident. 
After three years of rehabilitation, he tried many Para sports before he discovered mono-skiing during a holiday in Canada in 2009, and he has never looked back.
Despite a fall at Sochi 2014, which meant he needed back surgery, he returned more determined than ever to do well for a country that does not have a winter sports culture. 
Velasquez' ambition is to win Mexico's first medal at a Paralympic Winter Games, this time at Beijing 2022. He also hopes victory could inspire his compatriots to take up snow sports. 
On the road to China's capital, he did well in competition, which has boosted his confidence. "Three weeks ago, I got the chance to compete again, and I had a really good result, so it's motivating for what is coming here at this Paralympics, and I'm super excited."