Athlete's dining hall hits the spot in London
More than 10,000 guests are being catered to in the Paralympic Village dining halls.
05 Sep 2012
Imagen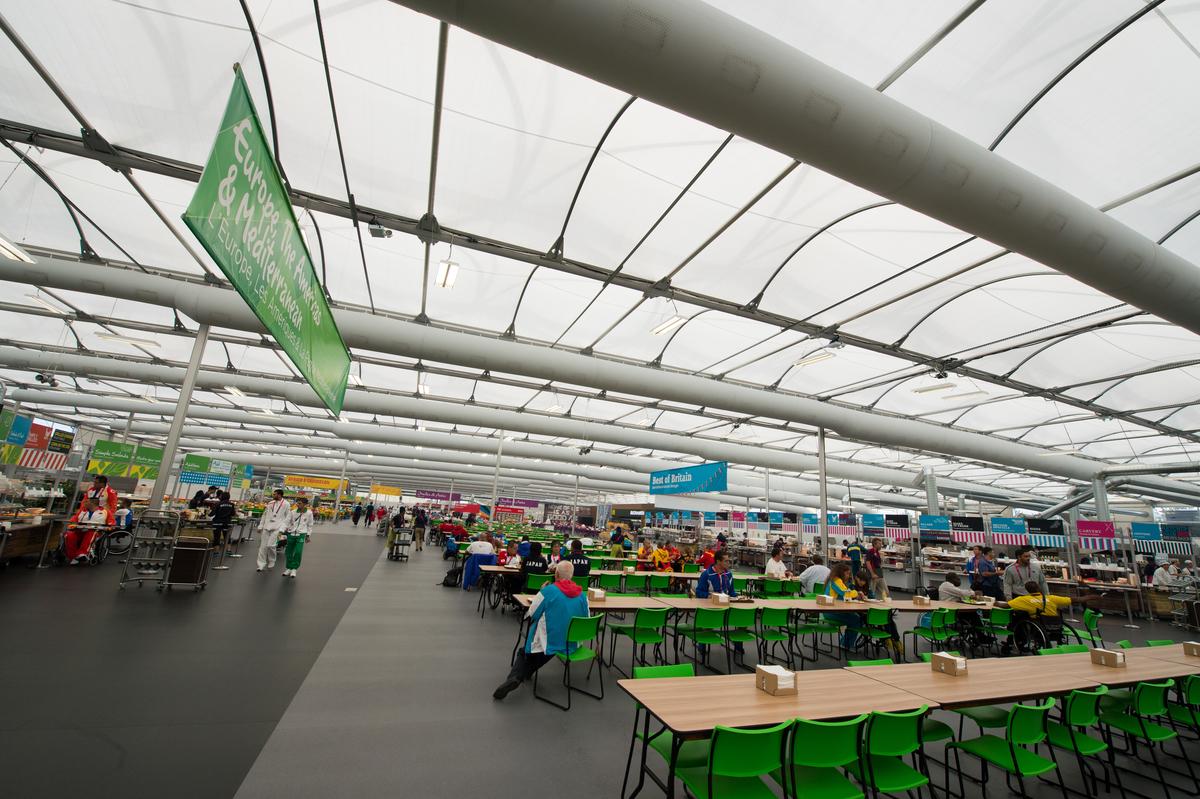 ⒸLieven Coudenys
"Everyone has an option and you see athletes trying food they wouldn't normally."
According to Adrian Mowl, head chef at the London 2012 Paralympic Village dining hall, every competitor leaves the 5,000-seated room with a full stomach.
"They are spoilt for choice," he said. "Everyone has an option and you see athletes trying food they wouldn't normally."
The dining hall offers breakfast, lunch and dinner menus and is open 24 hours so that athletes never go hungry.
Over 10,000 guests are catered by a young kitchen staff, who are mainly based in Stratford studying at University and are using this experience as a launchpad for their careers.
"Our staff are fully motivated and we acknowledge their hard work by entering them into prize draws for certain prizes like tickets to different sporting events," said Mowl.
The catering team serves around 8,000 meals a day with choices available from five different stations, which include: Best of Britain, Europe, Mediterranean, Asian and Afro-Caribbean.
Halal, Kosher, low-salt and allergen-free food are also available as it is clear that the overall setup has been made with everyone in mind.
Chinese and British courses are constantly needing to be refilled and favorites such as cheeseburgers, pizza, jerk chicken and curry are always sought after by many athletes.
Menus supply detailed nutritional information for each dish, so that athletes know exactly what they are eating.
With over 1,300 different types of dishes on offer there can be no complaints whatsoever about limited choice.
Mowl explained that some food is more popular with certain countries rather than others. He claimed the eastern Europeans are more favourable to high-protein meals with a large helping of meat of vegetables, and that chicken is always the highest dish in demand.
He said the morale of the village could not be any higher.
"The atmosphere is great, everyone is mingling with each other and all the staff feel apart of whole operation," he said.
"We have had no complaints and we have received only positive feedback, especially from (LOCOG Chairman) Sebastian Coe."
Obviously the most important view is that of the athlete's and they only have good words about the food.
Canadian wheelchair basketball player Tyler Miller is trying things he has never eaten before.
"I've been having samosas and falafel, things I wouldn't normally eat back home," he said.
"I have no complaints whatsoever, there is everything we need to compete food wise and also plenty of water."
Jamaica's athletics competitor Sylvia Grant is also delighted with such a wide range of choice and that there are some home comforts to choose from.
"The food is lovely," she said. "Sometimes there is too much choice and you end up too full.
"I'm happy that you can get jerk chicken, which is my favourite back home in Jamaica."
LOCOG's Director of Paralympic Integration, Chris Holmes, is also a former Paralympian, is in awe of the catering facilities in the village.
"The athletes are the heart of Paralympics, so the services available to them need to of the highest caliber.
"Having stayed in other Paralympic Villages when I competed, the food in our village is one of the best I have ever come across."