Australian wheelchair basketball ace Amber Merritt proves her worth
Coach Triscari: "I see Amber being the best 4.5 in the world over the next couple of years."
02 Sep 2012
Imagen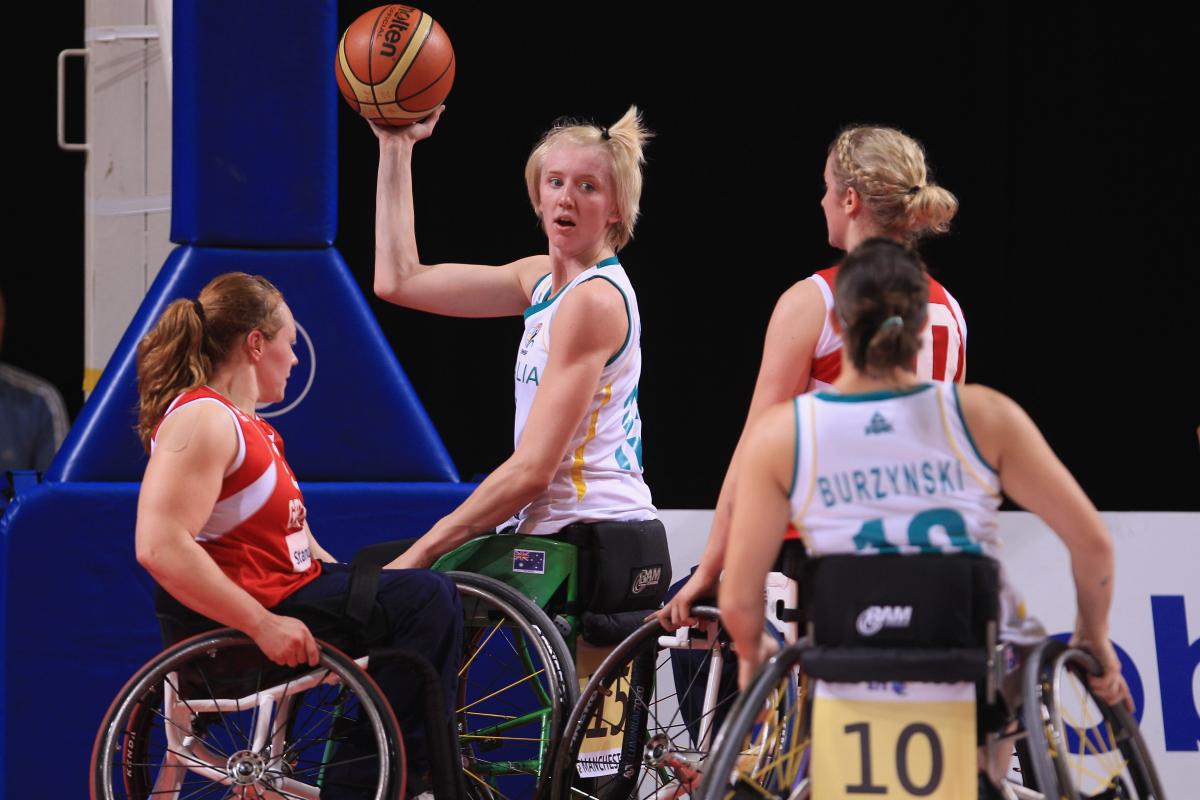 ⒸGetty
"Everything I throw at her, every new technique and bit of development, she just soaks it up. She's the perfect athlete for me."
With 42 points from just three games at London 2012, Australian wheelchair basketball player Amber Merritt is deservedly getting the plaudits.
British-born Merritt moved to Perth in Western Australia when she was 10 after her parents decided they wanted to see what else the world had to offer. Beginning to play the sport shortly after arriving, she did not take to it immediately and her movements on court inspired a not particularly complimentary nickname.
"When I first started playing, I was quite the gangly young child and very uncoordinated," she explained. "Everyone called me 'Ambi', which soon turned into 'Bambi'."
Those traits are not something you can associate with her anymore, and she has become one of the team's most important players since making her debut in 2009, aged only 16. She is also a huge fan of Hollwood star Audrey Hepburn, who inspired her collection of more than 60 vintage dresses from the 1920s to the 1960s.
"I just wear them out," said Merritt. "The fancy ones go away for special events like sports awards and parties, but I wear some of them every day."
Current Australia coach John Merritt has been training her since her early teens, and has seen the transformation from awkward youngster into one of the best players in the world.
"She's like a sponge," Triscari said. "Everything I throw at her, every new technique and bit of development, she just soaks it up. She's the perfect athlete for me."
Merritt is careful to credit team mates for helping her grow as a player, and she got her highest score of the tournament in the Group A Preliminary round victory against Great Britain. Although she still has family there, she has not been back other than for competitions and there are no questions of divided loyalties for her when it comes to playing the country of her birth.
"It was a really good move," she said. "I am really happy in Australia and I always go out playing Great Britain like I would any other team. It is a game of basketball and I am Australian through and through now."
There is no trace of a British accent as she speaks, and the huge smile on her face as she talks about Australian boyfriend Shaun Norris, who represents the men's wheelchair basketball team, suggests that life down under is pretty good. Norris is playing in his third Paralympics and while she is happy she has someone to lean on in the athlete's village, she is also conscious of the reason why they are both here.
"It's very nice to experience it with him, because it is my first Games. I am not going to worry him though with my troubles – he is focusing on what he has got to do.
"Every now and then we might meet up for coffee, but we do not like to bother each other too much. We are here to do a job."
That approach has worked so far, with the Australian women winning two out of their three matches. Canada turned them over for their first defeat of the tournament on Saturday (1 September), but Merritt was insistent the team would bounce back in their next match against the Netherlands.
"We are going to regroup, come back out and we will be proud wherever we come. We obviously want to get up there, but there are no expectations."
The gold medal might be a step too far in London, but Merritt is sure to be a huge part of the Australian team that competes in Rio 2016.
"I see Amber being the best 4.5 in the world over the next couple of years," said coach Triscari. "She needs to fill out a little bit and get a bit more muscular, but she's developing really well. Come Rio, she is going to be really important for us."