Beijing 2022: Top Moments of the Winter Paralympics
Sporting highlights that will never be forgotten
18 Mar 2022
Imagen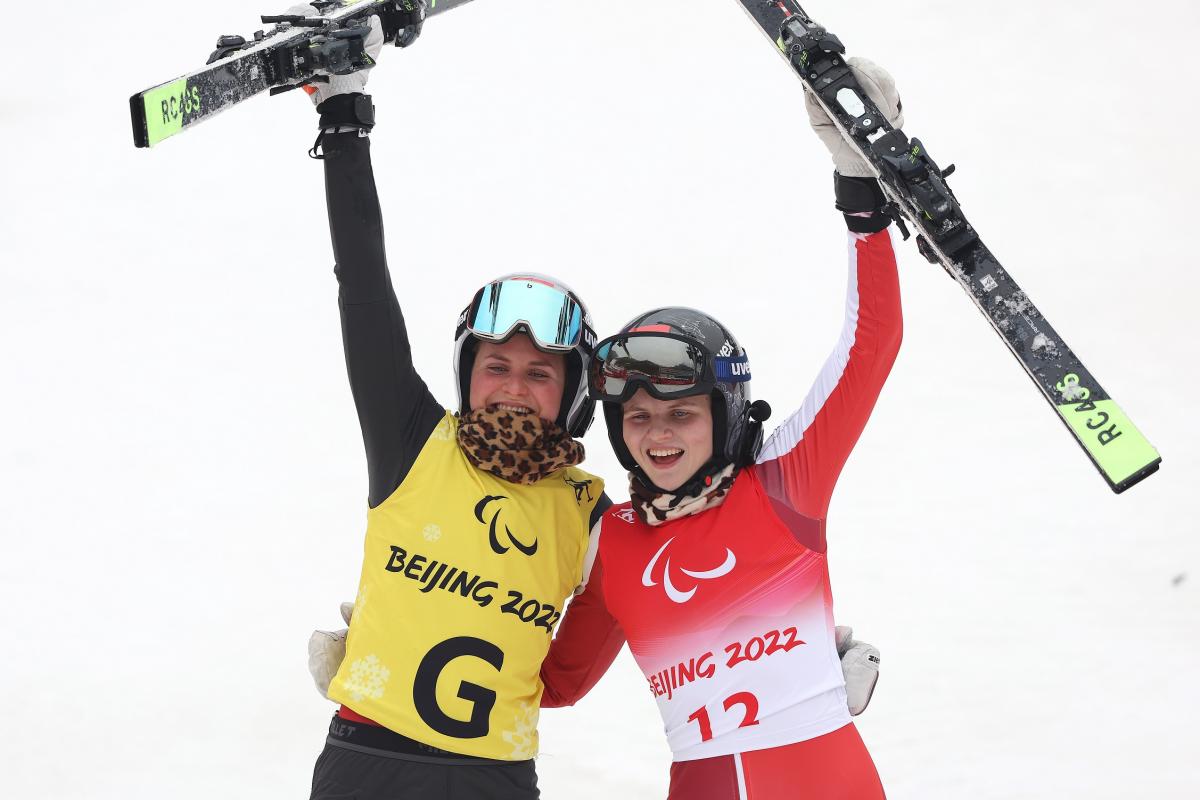 ⒸGetty Images
By Kirti Patil and IPC
The 10 days of action at the 2022 Winter Paralympic Games in Beijing produced many memorable moments. But some will remain with us for years to come. Here are a few of them.
The success of Aigner Family
Austria's Aigner family made the world take notice of them as the vision impaired Para Alpine Skiing siblings bagged nine medals.
It was Johannes who won the first gold for the family on the opening day of Beijing 2022 in the men's downhill vision impaired. "The feeling is indescribable," admitted Aigner back then. The 16-year-old skier went on to win medals in all four events he had entered, including one more gold, two silvers and one bronze.
The Aigner sisters too joined the party with 19-year-old Veronika and 16-year-old Barbara winning gold and bronze, respectively in the women's giant slalom vision impaired. A day later in the slalom, Veronika claimed a second straight gold while Barbara won silver. For Veronika, her sister Elisabeth is the guide, making it a complete Aigner family package.
Veronika said: "It's very crazy that all the sisters and brother got a medal. We are so proud of the sisters and brother."
Barbara added: "It's very special for me because it's not normal that the whole family is here and I can ski against and with them, so I am very proud of everybody."
McKeever equals record with 16th gold 
Not to be omitted is legendary Para Cross-Country skier Brian McKeever, who completed a hat-trick of titles in Beijing to bag a record-equalling 16th Winter Paralympic gold for a male athlete.
He is now tied with Germany's Gerd Schonfelder -the most decorated men's Paralympian- in terms of gold medals won, although the Para Alpine skier holds two more medals overall (four silvers and two bronze, while McKeever secured two silvers and two bronze). Schonfelder competed in six Winter Paralympics from 1992-2010. 
However, McKeever admits his focus is not on achieving records. "To be perfectly honest, it doesn't mean a damn thing (laughs). It's never been about any of it. It has always been about enjoying the process and I love representing the country. 
"We love getting lost in the mountains then to come home after 10 hours slogging and suffering… then look at the picture later and say, that was fun. If records happen to come it will come. Trying to do what you know to do best is what mattered to me all through my career."
ⒸMichael Steele/Getty Images
 
Ukrainian strength in Para Biathlon
Ukrainian biathletes dominated the tracks at the National Biathlon Centre, topping the medals table with eight gold, nine silver and five bronze – their best ever performance at a Paralympic Winter Games.
Headlining their efforts were Oskana Shyshkova and Vitalii Lukianenko in men's and women's vision impaired.
Guided by Andriy Marchenko, Shyshkova put her head down on the opening day to win the sprint and never looked back. The Ukrainian only dropped gold in one event – the middle distance – but still managed to claim silver.
Lukianenko took two titles in a row in the sprint and middle, before his spell only slightly faultered in the individual where he got second place with guide Borys Babar.
"Every time we go to the start we understand that we (want to) protect the honour of our country," Shyshkova said. "That is maybe what is motivating us to focus and do all the best that we can during the race. Maybe that is the secret."
ⒸFred Lee/Getty Images
 
China's historical bronze in Para Ice Hockey 
As China topped the medals table with 18 golds as many silvers and 23 bronze, the host nation will also remember the Beijing 2022 Winter Paralympics as the breakthrough Games after winning a bronze medal in Para Ice Hockey, a sport in which they lacked pedigree. 
China, who had topped their preliminary group and lost to the USA in the semi-finals, defeated South Korea 4-0 on Saturday to finish third in the competition. In the process, they also introduced the sport's third female Paralympian.
Chinese star Shen Yifeng said: "I am very, very excited. It's honourable for us to have won a medal in these Paralympics," said Shen. "Despite the fact we could not change the colour of the medal from bronze to gold it's still a big achievement and our efforts made our dreams come true."
Pedersen cements status in Para Alpine Skiing
Jesper Pedersen won the men's slalom sitting, becoming the most successful Paralympian at Beijing 2022 by winning his fourth gold medal.
 
The Norwegian finished six seconds ahead of the Netherlands' Niels de Langen and Italian Rene de Silvestro. Pedersen had previously taken the top spot in the giant slalom, super-G and super-combined, and silver in the downhill. 
 
"I exceeded all expectations. Of course, this is what I've been dreaming for the last couple of years, but to be able to have such good events here and in Hafjell [2022 World Championships] as well, it's been just amazing for me," the 22-year-old said. "I'm just so happy and now I'm ready to go home and take a well-deserved rest."
 
The 22-year-old shared he skied in memory of his late father Bjorn, who passed away in November 2020.
Ⓒ Getty Images
 
Sweden achieve best ever Wheelchair Curling finish
Reigning Paralympic champions China defeated Sweden in the Wheelchair Curling gold medal match, to prove that their maiden triumph at PeyongChang in 2018 was no fluke.
Sweden's silver is their best ever finish in Wheelchair Curling at a Paralympic Winter Games, having won bronze at Torino 2006 and Vancouver 2010.
"We made a big journey. We achieved a lot of experience over the years. It has been a fantastic ride," Viljo Pettersson-Dahl said.
"You can't make any mistakes against them, not when they play like this. They had a perfect game today. So yeah, they deserved to win. Congrats to them.
"Of course I'm satisfied with a silver medal, but I was hoping for more, so I'm a bit disappointed right now."
 Ⓒ OIS Photos / Bob Martin
 
A Masters-class by Oksana 
The Para Nordic skier won seven medals in seven starts at the Beijing 2022 Winter Paralympics, thus leaving the Chinese capital as the most decorated female Para athlete of the Games and USA's most decorated Winter Paralympian ever. 
Masters took one gold and three silvers in Para Cross-Country Skiing, and two golds and one silver in Para Biathlon.
The 32-year-old now has 14 medals from three Paralympic Winter Games, surpassing the previous record of 13 held by Para Alpine skiers Sarah Will and Sarah Billmeier. 
Tyler Turner makes history for Canada in Para Snowboard
The 33-year-old became Canada's first-ever Paralympic medallist in the sport and cemented his position as one of the best SB-LL1 riders the world has seen.
Turner followed up his snowboard cross world title from January's Lillehammer 2021 with the men's SB-LL1 snowboard cross Paralympic title at the Genting Snow Park.
"This is incredible. I don't even know if it's sunk in yet. This is crazy," said the Canadian rider.
"Four years ago I didn't even think I'd snowboard, and now standing on top of the podium, it's unbelievable."
ⒸMichael Steele/Getty Images