Debutants shine as 2022 Para Badminton World Championships wrap up
The BWF Para Badminton World Championships came to an end after a week of exciting competition in Tokyo
07 Nov 2022
Imagen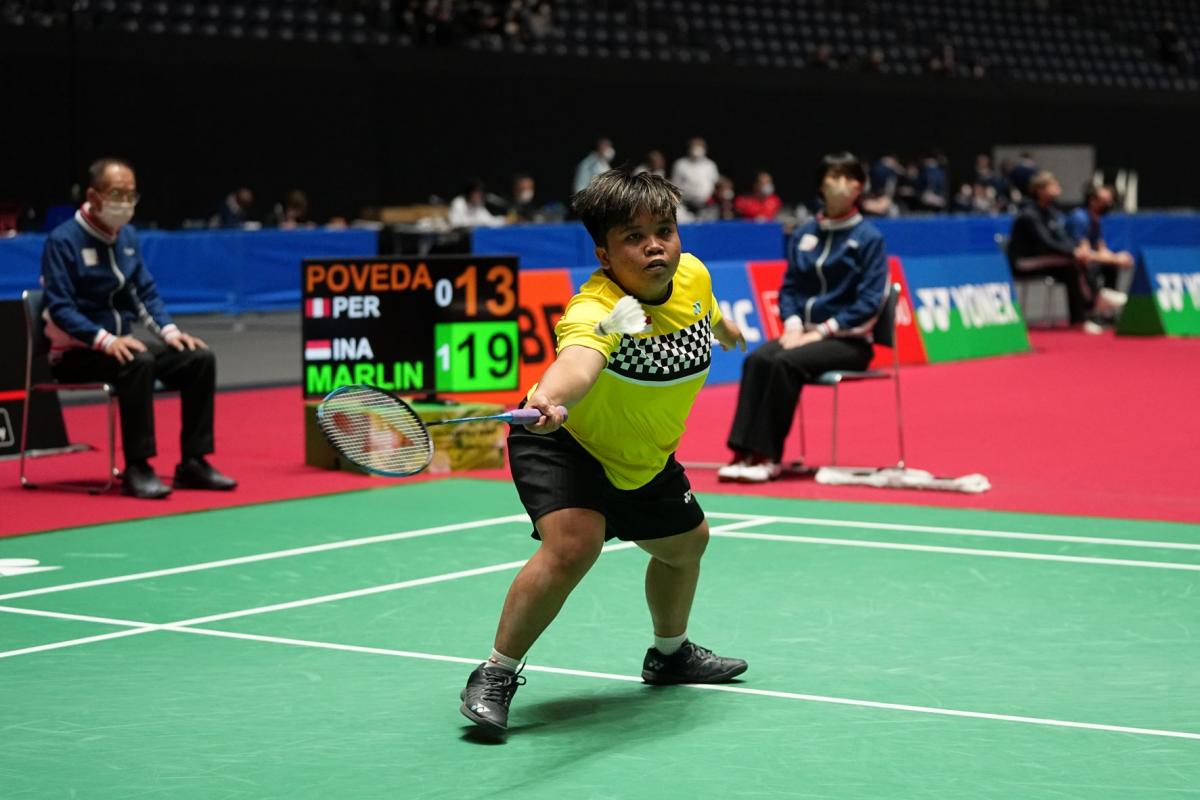 ⒸBWF/Parabadmintonphoto
By BWF and IPC
The BWF Para Badminton World Championships 2022 drew to a close on Sunday, 6 November, with Indonesian athletes capturing six of the 22 gold medals at the weeklong tournament in Tokyo.
World championship debutants made a strong impression at Tokyo's Yoyogi National Stadium. Indonesia's Rina Marlina continued her meteoric rise with double gold in women's singles and mixed doubles Short Stature SH6.
Another debutant, Oksana Kozyna made history for Ukraine as the first Para badminton world champion from the country, following her victory in the women's singles SL3 event.
Taking place at the same venue as last year's Tokyo Paralympic Games, Sarina Satomi picked up two gold medals for hosts Japan. Satomi, who won two Paralympic gold medals last year, won the women's singles WH1 and women's doubles WH1-WH2. 
Debutant Marlina leads Indonesia
Making her debut at the BWF World Championships, Marlina led Indonesia's successful campaign at the tournament. 
Competing in the women's singles SH6 event, she proved too strong for Giuliana Poveda Flores in the final, sealing a 21-14, 21-14 over the Peruvian defending champion.
Earlier, she combined with Subhan to dispatch Poveda and Nilton Quispo Ignacio in the mixed doubles 21-9, 21-15.
Poveda, competing in three different finals on Sunday, did however taste glory in women's doubles with Ruby Milagros Fernandez Vargas of Peru, defeating Polish pair of Daria Bujnicka and Oliwia Szmigiel 21-13, 21-14.
"Yes, my opponent was too strong for me today, but I played my best this time and I'll try to do better the next time," Poveda said of Marlina. "This was the first time I was playing her in singles and also in mixed doubles."
A history for Ukraine
Kozyna's pre-tournament wish of wanting to "get the gold medal" came true as she fought back from one game down against Turkiye's Halime Yildiz to deliver a historic and poignant moment for her country.
Kozyna, who turns 28 this Thursday, immediately cried out in jubilation and ran straight for her coach as she celebrated her 20-22 21-18 21-14 victory. It's the first medal of any kind for Ukraine at the BWF Para Badminton World Championships or BWF World Championships.
"I have written history for Ukraine badminton. No one has ever been first at the badminton World Championships. Oksana Kozyna is the first to get a gold medal for Ukraine badminton. This is like wow," she said.
"I'm so thankful for everyone who has supported me this week and from back home."
Much of Kozyna's family is still in Ukraine, and she dedicated her performance to those close to her.
"I will celebrate tonight. I will call my parents and my friends. I win for them," she said. 
A winning streak
Cheah Liek Hou of Malaysia stretched his unbeaten streak to 14 consecutive titles as he dominated his Indonesian opponent and defending champion Dheva Anrimusthi in straight games in the men's singles SU5.
Cheah added a World Championships gold to go with his Paralympic title won at the same venue last year, making it an impressive seven individual gold medals at the World Championships, to go with an additional five men's doubles SU5 titles.
Anrimusthi, however, exacted revenge on Cheah shortly after as he and his men's doubles partner Hafizh Briliansyah Prawiranegara defeated the Malaysian pair of Cheah and Mohamad Faris Ahmad Azri in straight games to add to Indonesia's clutch of world titles on Sunday.
Oldest Para badminton world champion
Germany's Rick Cornell Hellmann helped make it a birthday to remember for Thomas Wandschneider clinching the men's double WH1-2 gold in straight games, making Wandschneider the oldest badminton or Para badminton world champion of all time.
The German duo defeated Noor Azwan Noorlan and Muhammad Ikhwan Ramli of Malaysia 21-11, 21-15 in Sunday's final. 
"Tomorrow I'll be 59 years old and I'm a world champion. It's crazy. I'm now the oldest world champion in badminton of all time. It is a record. I want to now become the first German and the oldest Para badminton medallist at the Paralympics," Wandschneider said.