Finnish couple find sparks on wheelchair curling ice
Markuu Karjalainen and his wife Sari will compete for Finland in Sochi as husband and wife after meeting in 2008 through wheelchair curling.
05 Mar 2014
Imagen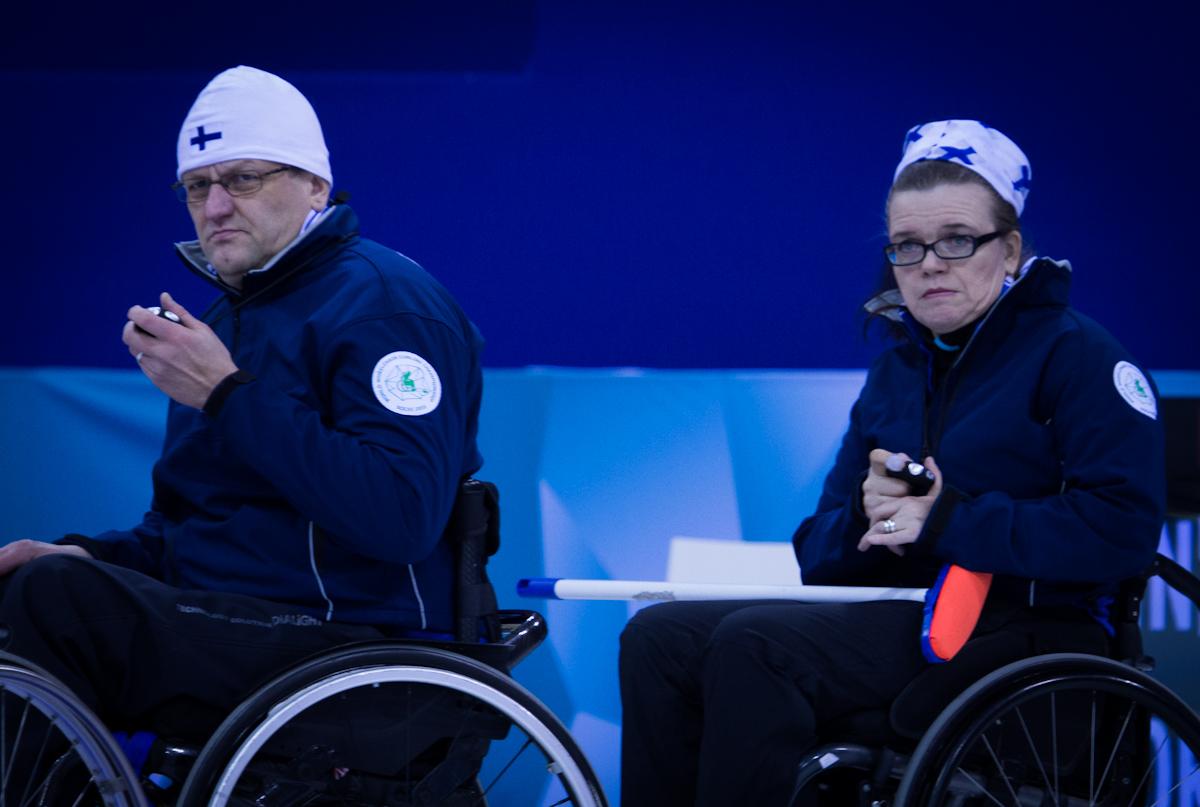 ⒸWorld Curling Federation
By Nate Williams| For the IPC
"You could say wheelchair curling is our life; playing curling, training together and travelling the world together. We like it very much."
Wheelchair curling serves two purposes for many of its players on the international stage. It is a very competitive and tactical sport but if you ask any wheelchair curler, particularly from the Scandinavian countries, what do they enjoy about the game? They will probably say they enjoy the social side both on and off the ice.
It is for this reason that Finland's skip Markku Karjalainen fell "in love" with the sport and his wife Sari Karjalainen, who introduced him to the sport in 2008.
" I first touched a curling stone in 2008 and it was in that period where I fell in love and met my wife and she asked me to join in with the curling," Markku Karjalainen said.
"You could say wheelchair curling is our life; playing curling, training together and travelling the world together. We like it very much."
The Karjalainens will travel to Sochi 2014 Winter Paralympic Games as husband and wife, and as part of an improved Finland team. Veterans Vesa Hellman and Tuomo Aarnikka will join them on the ice along with newcomer Mina Mojtahedi as an alternate.
Finland will make their Paralympic debut on 8 March when they begin their campaign against Sweden at 15:30 local time in Sochi.
The 10 wheelchair curling teams that will compete at Sochi 2014 have been travelling across the world in preparation for their biggest tournament of the year.
Despite finishing eighth at last year's world championships in Sochi, Finland showed their capability to pull off big victories when they beat Vancouver 2010 Paralympic silver medalists in a close 8-7 win.
Karjalainen says he has been impressed with his team's progress and the kind encouragement they have received from other participating nations.
"Having games before Sochi with the other teams that will be competing at the Paralympics has been very good for us," he said.
"It has allowed us to get into our shape and perform well at these training camps and different tournaments across the world.
"When we went to Stockholm in Sweden for training competitions, everybody was supportive of us and other teams and that shows how sociable curling is.
"In Norway, all teams trained and played very well so the medals in Sochi will really depend on the performances each day. We are coming to win as many games as we can and we are looking forward to what will be a very interesting games including top level teams at their best."
After Sochi 2014, Finland will host the 2015 World Wheelchair Curling Championships in Lohja and their coach, Lauri Ikävalko says it is a very popular venue for visiting teams.
"This is the same venue where we train and the last world championships qualification," he said.
"We have practiced here for the last six years so it is our home where the players live when they come to practice. This is a very good situation and it has motivated our players to do their best at the world wheelchair curling championships in their home country.
"We have received very good feedback from other countries in qualification tournaments about what good facilities we have in Finland. They have often said they would like to come to Finland to play again and it is maybe why we have so many tournaments. They want to play here and they have their wish granted in 2015."