Great Britain's Ricky Balshaw back in business
After smashing his ribs, bruising his kidney and dislocating his knee, Ricky Balshaw is ready to turn the page and start his road to Rio 2016.
27 Sep 2013
Imagen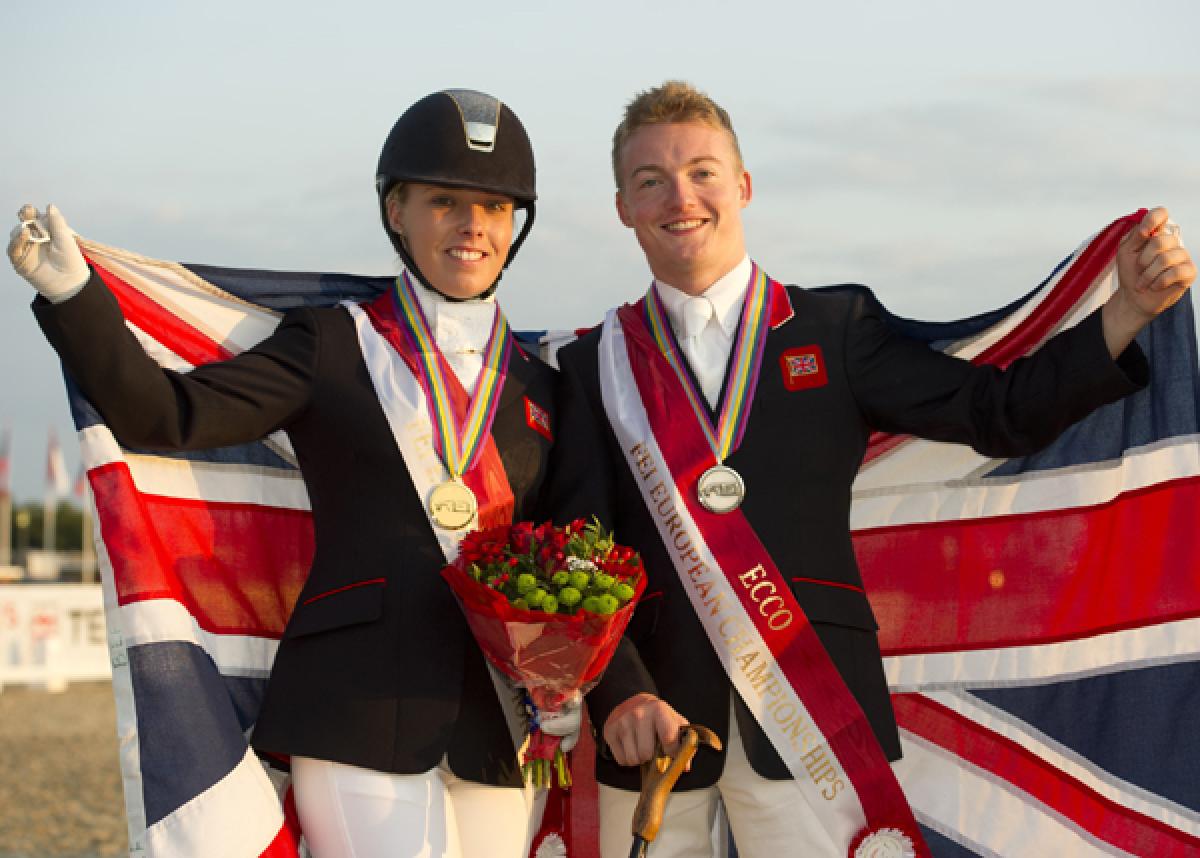 ⒸKit Houghton
By Rob Howell | For the IPC
"He's put in a lot of work these past six months which was tough, but he gets himself to the gym and he works to fit in everything else. If you want something, you've got to work."
At the Beijing 2008 Paralympic Games, British para-equestrian rider Ricky Balshaw burst on to the scene to take silver in the Grade Ib freestyle.
Two years later, at the 2010 Alltech FEI World Equestrian Games in Kentucky, he obtained silver again in the individual competition.
That victory had followed a serious injury just weeks after his Beijing 2008 triumph.
Then, in 2011, Balshaw was injured again.
But at this year's JYSK FEI European Para-Dressage Championships in Herning, Denmark, the 27-year-old returned to international competition with a further two silver medals in the individual and freestyle, and now has his eyes firmly set on the 2014 Alltech FEI World Equestrian Games in Normandy, France, as well as the Rio 2016 Paralympic Games.
Competing in grade Ib will be extremely competitive, though, as it includes 10-times Paralympic gold medallist Lee Pearson, Olympic and Paralympic sensation Puch, and 2010 European Champion Stinna Tange Kaastrup of Denmark.
'The most stupid of falls'
Describing his difficult few years Balshaw said: "Two weeks after Beijing, I fell off a young horse and smashed three ribs, splitting the bottom one, bruised my kidney and dislocated my knee."
After that setback, Balshaw returned to competition in 2010 for that silver at the Alltech FEI World Equestrian Games, but disaster struck again and another fall broke his back.
"To be honest it was the most stupid of falls," he said, in his disarmingly honest fashion.
"Some dogs got away from their owner, ran towards the arena and my horse cantered off. He turned sharply and I fell off and landed upside down on the back of my shoulder which kind of snapped in the middle."
One constant throughout Balshaw's career and his rehab period has been the support of his mother, Julie.
"He's very determined," she said. "He's put in a lot of work these past six months which was tough, but he gets himself to the gym and he works to fit in everything else. If you want something, you've got to work."
Despite the seriousness of the injury, Shropshire-based Balshaw was back riding after three months, hoping to qualify for London 2012.
"If I'm honest, it was too soon to get back on," he said. "It's only this year that I've been riding pain free and able to graft a bit. But it was London, so I had to try."
That did not work out, so during the Games Balshaw worked for both Great Britain's radio and television London 2012 broadcasters.
"It was nice," he said, "but I was just the wrong side of the judges so it was a bit heartbreaking."
Never backing down
Balshaw's rehab regime was guided by British powerlifting coach Arun Singh. He worked on developing his core strength and back during regular sessions at the gym.
An old school friend and qualified physiotherapist, Ben Lannie, helped as well.
"He was round my house three or four times a week doing soft tissue work to keep all the muscles and ligaments mobile," Balshaw said. "He and Arun are legends."
After regaining his fitness, Balshaw was introduced to a new horse, LJT Enggaards Solitaire, known affectionately as Sid.
After a 14-week "getting-to-know-you" period, Balshaw took Sid to a major international para-equestrian competition in Deauville, France.
There they came second to Austria's Pepo Puch on the first day and beat him on the second day.
Balshaw joked: "He made a few mistakes but I'll take a cheap victory over a great loss any day."
The pair then competed at Hickstead and then at the British Festival of Dressage at Hartpury.
Two more second places were enough to convince British Chef D'Equipe David Hunter to take Balshaw to Herning.
"It had been a terrible couple of years and, with a new horse, I wasn't expecting to get selected," he said. "But David just shook my hand and said 'Rick we need you to go to the Europeans.'
"It was awesome."
Related Images