The indomitable spirit of Shauna-Kay Hines
"I wasn't fully aware about disability communities [but], it's not as if my parents were hiding from it. I wasn't exposed to the wider disability in Jamaica."
16 Sep 2020
Imagen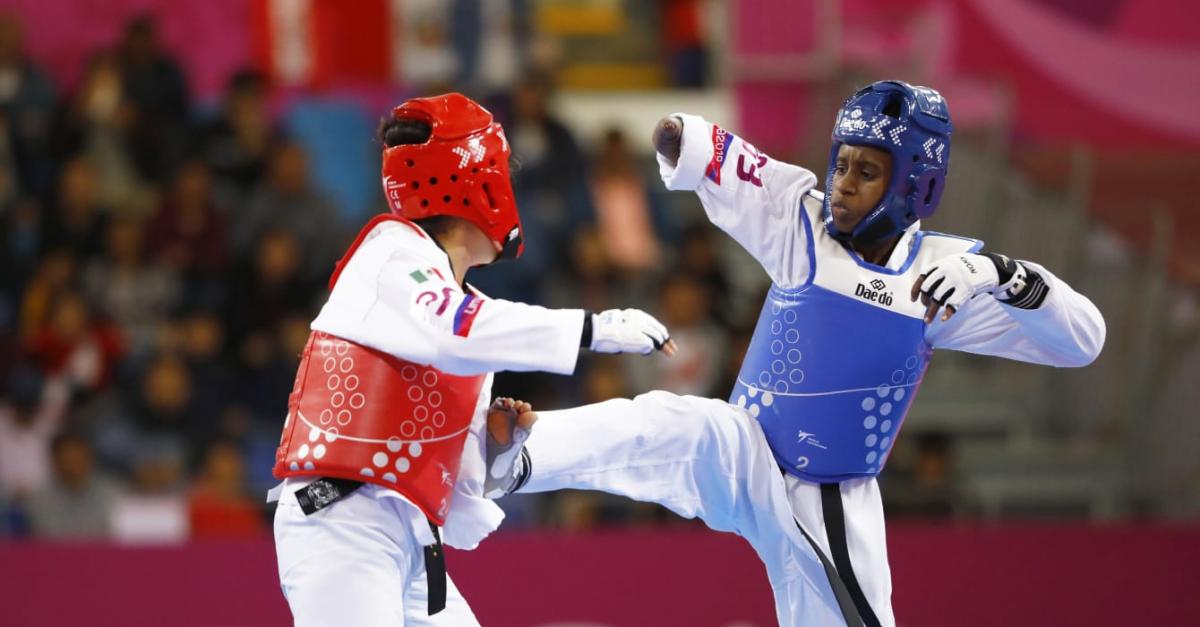 ⒸLima 2019 Pan American Games
By Tokyo 2020
When Shauna-Kay Hines joined the Instagram live interview of the International Paralympic Committee for the One year to go countdown, she broke the ice by belting out a song from Chronixx, who is a popular reggae singer from Jamaica.
"Oh every morning, Oh every morning. I rise, I stare at the sun. I know it is a blessing so when the evening comes I lift up my eyes to the hills. I'm blessed, oh man. With my two hands in the air as far as I can," - Chronixx
The Para taekwondo athlete says this song embodies her personal philosophy. "Personally, it is a reminder that I can do anything. Once I believe and have trust and have faith and also with support, I can," Hines said.
A figure in Para sports in her country Jamaica, Hines is one of the country's best for taekwondo next year when the sport makes its the Paralympic debut at Tokyo 2020.
Even though Tokyo 2020 has been postponed for a year, Hines remains positive. "[The postponement] is not a major disappointment - its just more time and preparation," she said.
"Our health and our safety come first. It will give athletes more time to prepare mentally, physically, emotionally."
Hines also said the one-year wait will help countries like Jamaica and those with financial difficulties "to get their finances in place" to send their athletes to the Paralympic Games.
Hines still needs to earn qualification for the Games next year, so she continues her training amidst the lockdown in the country due to COVID-19 whilst juggling a day job in IT services.
"I do my work at home and do my regular training. Running has always been a part of me so I know that I need to go out and run, so I do jogs and just to stay active until training resumes."
Despite her full schedule, Hines has taken time to share her video exercises on You Tube "to help persons along the way".
"I know people/persons close to me too have more fitness, get in shape."
From athletics to Para taekwondo
Sports had always been part of Hines' life growing up with a grandfather, who was a boxer, and in an environment like Jamaica where it dominates society.
Born without her right forearm, Hines started in athletics - distance running to be precise - like most Jamaicans who dream of bringing Olympic glory to the country.
"We [Jamaicans] are fast just like the great Usain Bolt," Hines said about the Olympian whom she looks up to.
She was on her way to following Bolt's footsteps when she learned that her discipline would not be part of Rio 2016. That's when she turned to Para taekwondo as her new sport of choice.
She was a natural talent, and just in her first two weeks into training session, she represented Jamaica at the 2017 World Taekwondo US Open Para taekwondo Championships in the -58kg division Class K-44. The newbie taekwondo athlete stunned the world by winning silver, losing only by a point to American Brianna Salinaro.
Asked what was the secret to her early victory, Hines said: "[I am] natural athletic too and [I have] my endurance because of the running. When you do a fight in sports, you have to have your endurance up and it contributed to that," and added, "and [also] my indomitable spirit."
"One of the five [tenets] for taekwondo is indomitable spirit and I hold that one close." And her fighting spirit shone through all the more at the 2019 Lima Parapan American Games.
"When I entered the ring and when I saw the flag, I said, 'ok I am the reason the flag is there'. I know I can do it and if I stay focussed, I will definitely execute and represent well."
She competed with an ankle injury, but that didn't stop her from winning a bronze medal in the women's 58kg category - Jamaica's first medal in Para taekwondo at the Lima Parapan American Games.
Growing Para sports in Jamaica
Before going into Para taekwondo, Hines was not aware that disability communities exist in Jamaica.
"I wasn't fully aware about disability communities [but], it's not as if my parents were hiding from it. I wasn't exposed to the wider disability in Jamaica."
However, since learning more about Para sports, it had become her personal calling. "My next passion is to grow Para sports in Jamaica, I personally want to see our country and government to give the community a lot more support."
For Hines having access to a training facility with the right equipment is key to increasing the popularity of Para sports in Jamaica.
Hines is actively collating funds from corporate organisations and from the public to make training equipment and facilities available for Para athletes.
"You see all this facility and it will motivate [para athletes]. Even if they know they won't earn big time, their lives will be transformed."
Asked which Para discipline which she wants to see develop in Jamaica, Kay-Hines said: "Rowing, powerlifting, swimming definitely - all the disciplines. If we can cover all the disciplines and participate in all of them that would be great for us."
"We don't only have to perform or participate in athletics, we have other disciplines and that we can widen our medal [scope in sports]."
But sky is the limit for Hines who also sees herself developing the Paralympic Movement not just in Jamaica but worldwide. "I want to be one day on the board for IPC - I want to spread my wings."
"I realise sports transforms lives in a positive way, especially for persons with a disability and generally."