Israeli Sonar Sailing Team Gives Hope to Nation
From war zone to Paralympic dreams, trio inspires those along their journey to the top.
21 Jun 2012
Imagen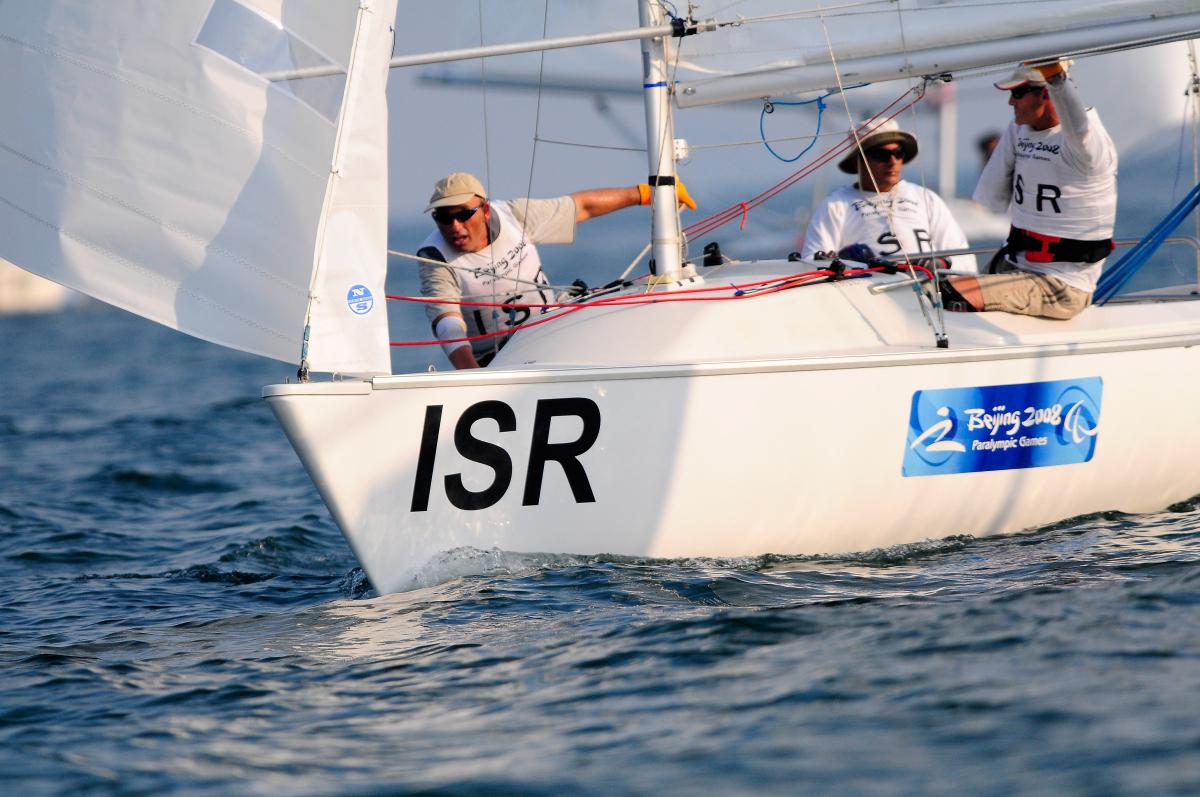 ⒸGetty Images
"I'm a believer in people that do things. I'm a doer. If I want to go do something, I just go do it. I try to live my dreams and not just think about them, and that's what's inspiring."
Editor's Note: This article was originally published on 13 February, 2012, but the IPC is bringing it back to the forefront for its Paralympic Sailing week in the lead-up to London 2012.
Israel has a long, dark history.
But for three members of its Paralympic Sonar Sailing team, their service to their country is about the present.
It just so happens that the trio's recent successes are directly linked with their pasts.
Dror Cohen was paralyzed from the waist down after he was flung out of a vehicle in 1992 during his military service at the Israeli Air Force's Flight School when his driver fell asleep, lost control of the car and it flipped.
Arnon Efrati's arm was amputated when his tank received a direct hit during the 1973 Yom Kippur War.
Benny Vexler had a hand grenade explode in his right hand during the first Lebanon War in 1982, leaving him with a shortened right arm.
"I was very lucky. It could have been much worse," Vexler said.
"But OK, it's history now."
The three today are light years ahead of those dark moments. In September, they will seek their second gold at their fourth Paralympic Games in London.
"We're coming to win," Cohen said. "There's no other expectation."
Forming the trio
Cohen, now married with twin girls on the way, is an adrenaline junkie. He made his way through his rehabilitation by sky diving, bungee jumping, scuba diving, motor racing and the like.
"I was so occupied with that, that it blocked the misery of the accident and everything else out," Cohen said. "That's me, and I love it.
"I'm a believer in people that do things. I'm a doer. If I want to go do something, I just go do it. I try to live my dreams and not just think about them, and that's what's inspiring."
In 1995, Cohen became one of the founders of "Challenger," a non-profit Israeli group that promotes outdoor sports and recreation activities for the disabled. He met Efrati – who had been Sailing since age 12, and two years later, they paired up and started entering Sailing competitions.
For adrenaline junkie Cohen, it was perfect. He could participate in an elite sport year-round while continuing to live his life at home in Israel.
"It's really very competitive, and it's really very challenging because it's like playing chess in the water," Cohen said of the sport.
"I've loved it since the second I've done it. The things that you feel in your body and your soul – that you know what you're doing and you're attached to it – Sailing does that for me."
In 2001, Cohen and Efrati went to Vexler's home to turn the pair into a trio.
They have been a band of brothers ever since, solid as a rock in a sport where teams are known to break up often.
Efrati said they are now so close that it is almost as if they can read each other's minds, so they do not even need a leader among them.
"We just say one word and everybody knows what we think," Efrati said.
What perhaps makes the team so special is their ability to pass on their wisdom to others.
Cohen is a motivational speaker in Israel, sharing his own story, which he has titled, "He Who Dares, Wins."
"I share with them how it is to be the king of the world, and then to go down to the lowest part of the world and then try to get out and put your targets at the highest you can think of and just go and just do them," Cohen said.
"Everybody has his own place where he feels close to the story."
Vexler does the same for school children, raising their awareness of persons with a disability and allowing them to touch his shortened arm.
"I try to make them feel like I'm just an ordinary person," he said.
Giving hope to a nation
With Efrati nearing 60 and Cohen about to start a family, London 2012 could be the pinnacle for a team that has changed so many perceptions and given those in their Israeli communities hope.
The team trains in a private arena in Tel Aviv and is coming off a first-place finish at last year's World Championships in Weymouth, Great Britain, the same venue where they will aim to defend their Paralympic title later this year.
The crew has a couple of warm-up regattas before London 2012, including June's Sail for Gold in Weymouth, giving them one final opportunity to test themselves against the strong, shifty British winds.
There is no better feeling than winning gold and showing their fellow countrymen that anything is truly possible, despite what conflicts their nation may be involved in.
The trio is a walking example of just this.
"We represent Israel, our country," Vexler said. "When we win, we sing aloud the Hatikva and cover ourselves with the Israeli flag."
But the Paralympics are not about politics.
They are about coming together as one to inspire and excite the world.
"It's not the place to start talking about who is right and what's right to do or not to do," Cohen said. "We all have the same boats, the same sails, the same weather.
"The best man will win in the water."
Related Images