Lee Pearson: 'I have a lot of pressure to do well'
The most decorated Equestrian rider in Paralympic history feels the pressure ahead of the London 2012 Paralympic Games.
21 May 2012
Imagen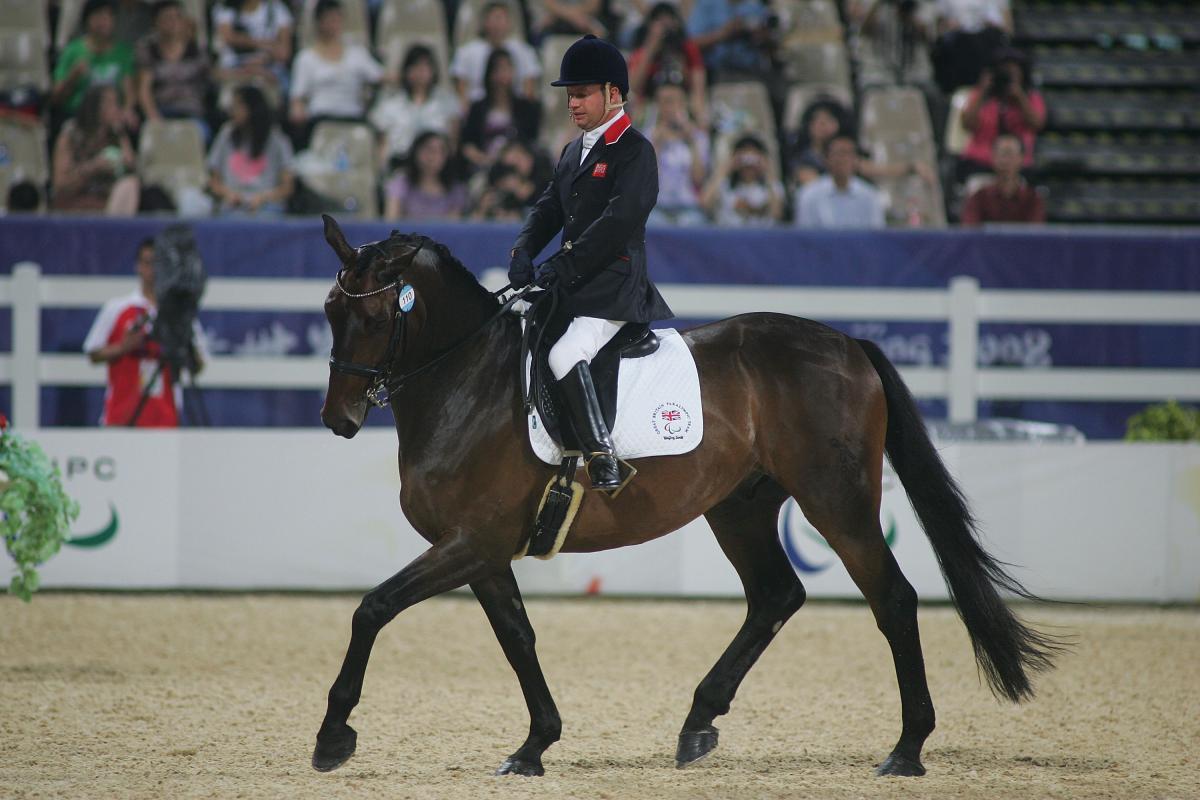 ⒸGetty Images
"I think the Paralympics in Great Britain are going to be phenomenal."
Lee Pearson, the most decorated Equestrian rider in Paralympic history, feels the pressure rising with under 100 days to go to the London 2012 Paralympics.
Talking to www.paralympic.org, Pearson said: "It's a bit strange for me, I am excited but I am more nervous because I have a lot of pressure to do well.
"The ideal situation would be two individual gold medals and a team gold but that's obviously down to the gods, lady luck on the day and how my horses perform.
"But that's what the British public and the Equestrian public are kind of expecting. What I can do is giving my best. If I ride to my best ability I will be very happy with my result, whatever my result is. If I ride badly then I'll be disappointed."
The London 2012 Paralympics will be the fourth Paralympic Games for Pearson, who had won a total of nine Paralympic gold medals and a further 19 World and European Championships gold medals. But it's the first Games on home soil and he is in great demands these days.
"I am very, very busy. Busy with doing lots of media functions, television work, lots of radio work, lots of newspaper work, lots of charity work," Pearson said.
"I have decided it's a window of opportunity now and I would be silly to say 'no I am not doing anything anymore than what I normally do.' That would not help to pay the mortgage and would not help to pay the horse bills.
"What I am trying to do is be really busy making most of these opportunities now and I've decided come the day when I am hopefully selected, which will be in the week of the 9th July, the horses will become a priority."
Pearson officially still has to be selected for the British squad for the London Games after struggling with accidents and injuries during the past year. He broke his back in four places when falling off one of his horses in June last year and just three months later Pearson tripped over a chicken and cracked one of his ribs.
"I joke around that I got all my accidents out of the way last year so I have no problems this year," Pearson said.
The British Equestrian superstar was born with a condition referred to as arthrogryposis multiplex congenitor, in which the muscles in his arms and legs grew as scar tissue in the womb. He took his first riding lessons as an 8-year-old and started his Equestrian career in 1998.
To prepare himself for the Paralympic Games, Pearson is currently training on two horses, Gentleman and Zion, but might be looking at buying a third one.
"I may travel to Denmark next week and may get another horse. If he is a good horse, and if I think I can bond with the horse and strike a good partnership with him, we might be campaigning with three horses for the selection.
"I can only bring one horse to London, but I want to make sure that's the best horse I can be on."
On his way to further Paralympic success on home soil, the 38-year-old will face stiff competition.
"What's kind of strange is that my best friend is probably going to be my biggest rival. He is called Ricky Balshaw and he is a British rider.
"And on the international scene I have a great friend also, called Stinna Kaastrup, she is a Danish rider with no legs. She would be a huge rival as well."
Nonetheless, Pearson is looking forward to be performing in front of a home crowd at Greenwich Park, London's oldest Royal Park dating back to 1433.
"The support will be phenomenal," he said.
"I think the Olympics are going to be good. It's going be different. It's not going to be Sydney or Beijing or Athens, but I think the Paralympics in Great Britain are going to be phenomenal.
"I am really proud to be part of that."