No. 22: Germany bucket first gold since 1984
After settling for silver at the previous Paralympics and World Championships, Germany's women's wheelchair basketball team got their gold at London 2012.
10 Dec 2012
Imagen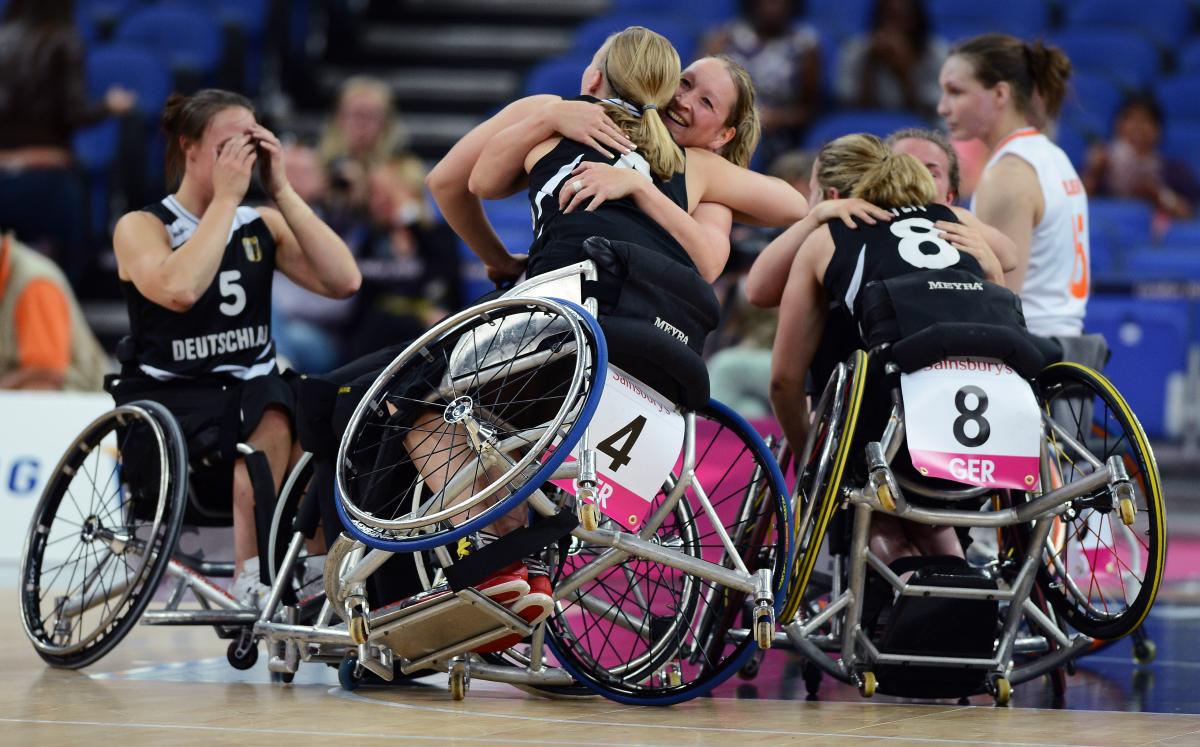 ⒸGetty Images
By IPC
Find out which other stories made it into the Top 50 Paralympic Moments of 2012.
Before she could catch her breath after helping Germany's women's wheelchair basketball team win their first Paralympic gold since 1984, Marina Mohnen found herself face-to-face with a reporter at London's North Greenwich Arena.
"Is this the best moment of your career?" he asked her bluntly.
"I don't know," she said, almost shocked at the question.
"Ask me later."
After settling for silver at the last Paralympic Games and World Championships, the team captain was almost in disbelief after Germany defeated Australia in the title game, 58-44.
"Immediately after, it felt really weird," Mohnen said. "Nobody realised we had won. Of course we celebrated and partied, but it took a while to sink in that we had actually won."
Germany went undefeated at the London 2012 tournament, beating Great Britain in the quarter-finals and the Netherlands in the semi-finals before pulling off a comeback win against Australia in the championship game.
The squad became known in London for their come-from-behind victories, and a different player lit up the stat sheet nearly every game.
Germany started off their preliminary round games against China and the USA at an especially slow pace until their shooters stepped up in the second quarter, and they ended up winning both contests by just six points each.
"We played very well when it was important," Mohnen said. "We always played our best during the last five minutes."
The nail-biters continued, as Germany won their semi-final against the Netherlands by just three points and then found themselves down 10-2 early in the final against Australia.
That's when head coach Holger Glinicki substituted in Mareike Adermann, who would end up leading the team to the title with 19 points.
"Most of my shots weren't even any crazy shots or any outside shots," Adermann said. "They were the same shots I took in the others games, but I played more in this game and I had many more easy opportunities getting into the paint.
"I had in the back of my mind 'There's nothing to lose at this point.' I had the confidence of my coach and of my team on the court.
"Once we caught back up in the beginning and had that lead, we knew how to keep it. Once that scary moment at the beginning was over, everyone was just doing their job."
The nine-time European champions finally got their Paralympic gold after nearly a two-decade drought, and it was a team effort.
"I think one of the greatest things that we just managed as a team to do is that we always had someone step up each game," Adermann said.
"The team developed over the last four years, and we've been working on every one of our 12 players. We were just able to have someone step up each game."
Some reporters had named Germany the team to beat before the competition, as they had proved victorious against all the other teams at some point earlier in 2012.
But Adermann did not want to get sucked into the hype.
"I don't think you can always go into a tournament talking about winning a gold medal," she said. "That's not how you win a tournament. You win a tournament one by one, and that's just how we started it and how we finished it.
"It's crazy to even think that between gold and silver, it's just that one basketball game, and it can always happen that you lose it.
"Gold is just the ultimate and highest point that you can reach. Having reached that, it's incredible for what doors it's opened in regards to money, sponsorships, recognition countrywide, newspapers and media in general.
"People are understanding that we've accomplished a huge thing."
Editor's Note: For the final 50 days of the year, the IPC will count down the year's top moments in Paralympic sport, culminating with the year's best moment on 31 December.
The 50 moments were selected by nominations from National Paralympic Committees and International Federations and are based on sport performance, emotional moments, media attraction and athletes' personal stories.
The IPC would also like to call on the public to submit their own nominations for what they believe was the top Paralympic moment of 2012. They can do so by emailing ipc.media@paralympic.org, or by leaving a comment on www.Facebook.com/ParalympicGames or sending a tweet to @Paralympic.
Related Images