No. 22 IPC innovates on digital
As digital media continues to play an important role in fan experiences, the IPC has led the way with innovative projects in 2014.
10 Dec 2014
Imagen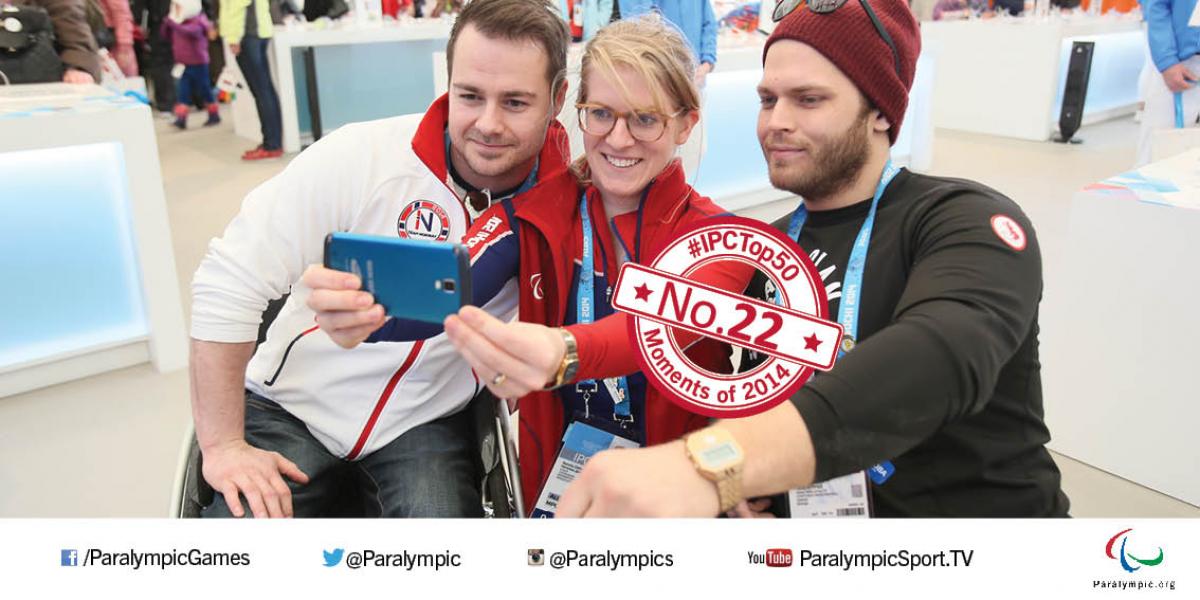 ⒸIPC/Samsung
By IPC
"Athletes have always been at the centre of the IPC's Digital Media Strategy. We recognise, that they – above all – can help to promote the Paralympic Movement and communicate the Paralympic values."
The International Paralympic Committee continued to lead the way in digital media in 2014, by delivering exclusive and innovative content, bringing fans closer to the athletes and increasing the reach of its social media platforms to deliver value to sponsors.
Its success has been highlighted in the Top 50 Moments of 2014.
The numbers speak for themselves. In 2014, the IPC increased its social media audience by more than 1,000 per cent on some accounts, with an average increase of 75 per cent across the nine IPC sport accounts on Facebook and Twitter.
The Sochi 2014 Paralympic Winter Games played a big part in this success.
For the second Games running, the IPC worked with Worldwide Paralympic Partner Samsung to provide 30 leading para-athletes with a mobile phone to record and publish behind-the-scenes video blogs. These blogs could be browsed using an interactive map on paralympc.org.
"I think that this partnership with Samsung was an amazing experience," said one of the bloggers - US Nordic skier Oksana Masters. "It's very important for viewers who see us on course to also connect more to the athletes behind the scenes."
The bloggers took fans into the lives of athletes – in training and in down-time, giving exclusive behind-the-scenes access that could not be seen on TV, an initiative that helped to raise media exposure at the Paralympic Winter Games.
Direct contact with athletes
The IPC also introduced a variety of initiatives that allowed fans to interact directly with para-athletes, such as Google Hangouts and Facebook Q&As.
"Athletes have always been at the centre of the IPC's Digital Media Strategy. We recognise, that they – above all – can help to promote the Paralympic Movement and communicate the Paralympic values," said Natalia Dannenberg-Spreier, the IPC's Digital Media Manager.
"So giving fans a vehicle to communicate directly with them was a natural step – and it worked really well."
Google Hangouts were hosted throughout the year, but in particular with medallists in Sochi, who were surprised on air with video messages of congratulations from friends or family who were not able to make it to Russia. Fans could post questions, which were answered live by the athletes. The videos were uploaded automatically to the IPC YouTube channel afterwards.
In addition, fans were able to post questions to selected athletes on Facebook Q&As, allowing fans to gain unique insights and get unrivalled access to the Paralympians.
More languages
The IPC also began to post on Facebook in more languages in 2014, thus reaching more audiences speaking Japanese, Korean, Chinese, Portuguese and Spanish.
"The languages were chosen based on future Games and where there is a large audience. Our language posts often ranked the highest for engagement, showing that people really value being addressed in their native tongue," said Dannenberg-Spreier.
"We couldn't have done it without a dedicated group of volunteers who helped to translate the posts."
Increasing sponsorship value
The IPC also delivered more live sport than ever before, securing major TV broadcast deals and showing not just the Sochi 2014 Paralympics, but also major world and region championships live on paralympic.org.
The events proved popular with both the IPC Swimming and IPC Athletics European Championships both attracting more viewers than the World Championships in 2013.
As the sports continue to grow their reach, they generate more media value – which is increasing interest from sponsors. For the first time, IPC Athletics signed a 12-month global partnership agreement with Allianz SE, and other deals were signed in powerlifting and shooting.
"As the sports continue to develop their competitions and grassroots initiatives, we hope to generate more media interest through innovative digital projects, thus attracting the attention of potential sponsors to secure the long-term progress of para-sport," said Dannenberg-Spreier.