No. 32: Woman of waves sails past Paralympic greats
One athlete's fight against three Paralympic gold medallists to take the top of the podium at the London Games is Paralympic moment No. 32 of 2012.
30 Nov 2012
Imagen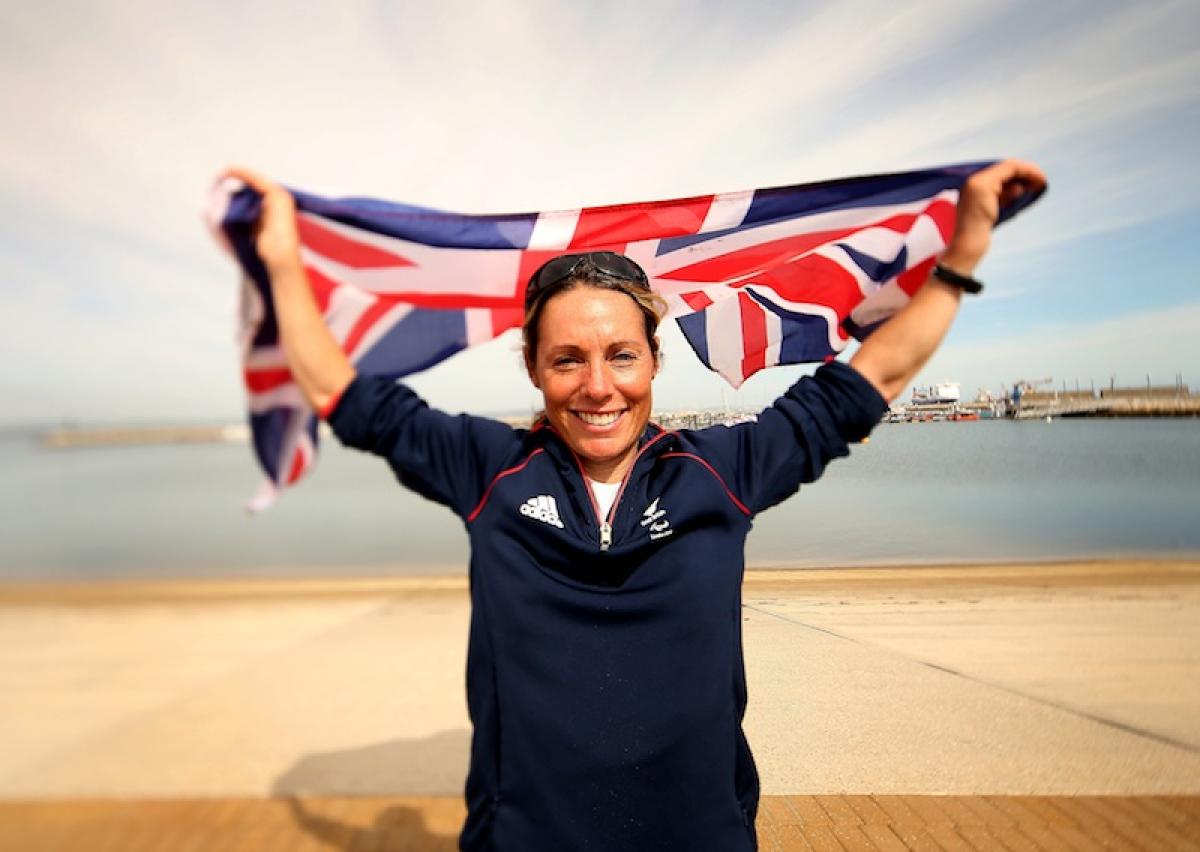 ⒸGetty Images
By IPC
"I wasn't intimidated but kind of excited and ready for the fight, I guess."
Great Britain's Helena Lucas was the only female athlete sailing in the 2.4mR class at the Paralympic competition in Weymouth in this year.
To add to the pressure, she was sailing against three Paralympic gold medallists: Germany's Heiko Kroger (2000), France's Damien Seguin (2004) and Canada's Paul Tingley (2008).
Undaunted, Lucas vowed to fight for every point and give it her all.
"I wasn't intimidated but kind of excited and ready for the fight, I guess," said the 37-year-old.
Lucas was expecting the competition to be a full scrap between her and the Paralympic champions, but instead she finished nine points ahead of her nearest rival, Kroger.
The competition began quite well for Lucas, finishing second and first to start the 11-race competition.
But on the second day, Lucas was yellow-flagged and given a penalty of a 720-degree turn downwind. Officials thought she was pumping downwind, rocking her single-person keelboat.
"I thought it was a pretty harsh penalty at the time," she said. "Obviously there is that frustration and feeling hard done by, but in that race, I just got on with it and fought as hard as I could to pass as many boats as I could, because you can't just assume this is going to be your discard."
Lucas, who had done a lot of work with her sport psychologist leading up to the games, accepted the curveball and mustered the strength to move on.
The next day, she came first in both races.
"Whatever happened in the regatta, there were going to be no regrets because I was just going to give it my all," she said.
The rest of the week went well for Lucas, building up an 11-point lead. But on the fifth day, she changed her strategy. The weather conditions were tricky with shifty winds and huge pressure differences.
Lucas decided to stick close to her main rival, Heiko Kroger. They both got locked into a speed race and ended up sailing out to one side of the course.
"We got a bit too caught up with each other," admitted Lucas, who finished eighth and Kroger 10th.
"I thought, 'Right, I need to stop messing around with Heiko and go and set out my own race and forget about him.'"
In the next race, Lucas picked up a breeze to sail past four boats and came fifth. Although Kroger was first, Lucas still had a nine-point lead with just one race to go.
"Even though it doesn't show in the results, I was actually really pleased with the day. I came away at the end of the day having only lost two points.
"It was just really crazy conditions. It was quite easy to have had a completely disastrous day."
The final day was a dead calm and Lucas did not get to race due to the lack of wind.
She spent most of the morning watching "Top Gun" before heading over to the dingy park. When the flags went up and she was told she had won gold, it took a few moments to sink in.
"It's not how you envisaged you're going to win it. You think you're going to be on the water. It was quite bizarre becoming a gold medallist in the dingy park."
But despite the strangeness of her winning experience, the London Games will always have a special place in her heart.
"I'm sure Rio will be fantastic, but it will never quite have the sparkle of a home Games and having the crowds behind you," she said.
"For Paralympians as a whole – not just for the British – it was a really special Games, too, because the British public embraced the Paralympics and for the first time I feel that a Parlaympic medal has the same worth as an Olympic medal."
Editor's Note: For the final 50 days of the year, the IPC will count down the year's top moments in Paralympic sport, culminating with the year's best moment on 31 December.
The 50 moments were selected by nominations from National Paralympic Committees and International Federations and are based on sport performance, emotional moments, media attraction and athletes' personal stories.
The IPC would also like to call on the public to submit their own nominations for what they believe was the top Paralympic moment of 2012. They can do so by emailing ipc.media@paralympic.org, or by leaving a comment on www.Facebook.com/ParalympicGames or sending a tweet to @Paralympic.
Related Images