No. 42 Nemati addresses UN panel on sport
The Iranian archer Zahra Nemati is a role model to all after her London 2012 Paralympic gold, and she urged those with impairments not to give up on their aspirations
20 Nov 2014
Imagen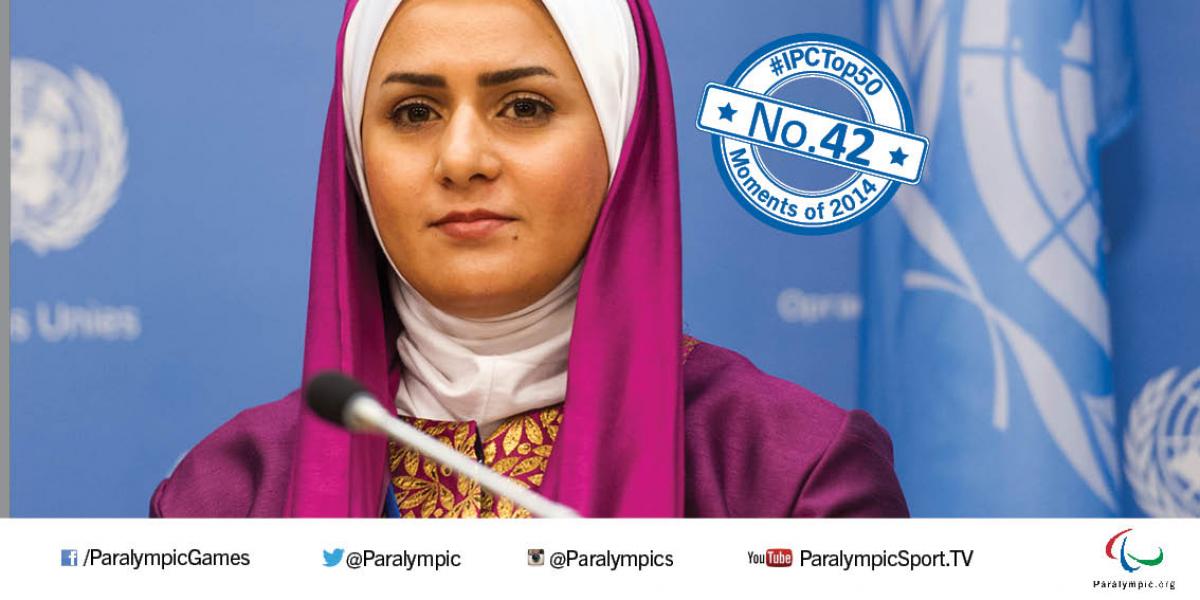 ⒸUN Mark Garten
By Billie Marshall | For the IPC
"I believe that sport is one of the best ways of empowerment for people with disabilities all over the world," she said to the UN."
It was one of the defining moments of 2014 as Iranian archer Zahra Nemati addressed the United Nations (UN) on 9 June, at a panel called "Sports for inclusive development: Empowering persons with disabilities through sport" in New York, USA.
At the London 2012 Paralympic Games, the influential Iranian made history as she became the first ever woman from her country to win an Olympic or Paralympic gold medal, projecting her as a role model for all.
Nemati spoke freely to the panel about the barriers you can overcome through sport and urged those with impairments not to give up on their goals.
"I believe that sport is one of the best ways of empowerment for people with disabilities all over the world," she said to the UN.
"I hope that by 2030, for all persons with disabilities, full employment and decent jobs are provided and secured, and I hope that by 2030, all cities of the world are accessible to persons with disabilities.
"In the end, I have an important message for all people around the world, never surrender to your disabilities."
Encouraging involvement
Despite being a Paralympic champion and winning the Spirit of Sport award in 2013, the 29-year-old is looking to go one step further and positively impact millions around the world.
Speaking about addressing the panel, she said: "In that panel, I counted sports as one of the best tools to conquer the challenges that come with disability; my aim was to invite all to get involved with sport and increase their motivation to succeed."
Nemati's words resonated to those in attendance, and her commitment to the cause is without doubt, unquestioned. Although she continues to prepare for competition, the Iranian is aware that her role in sport is now changing.
"I see myself as a role model because I tend to have a positive impact with my own words on people who are yet to embrace their disabilities" she said.
"I am so sorry to hear about people isolating themselves and I believe we only get one chance given to us so it should be utilised in the best manner."
High flyer
Although there have been improvements in recent years, Nemati is well aware more work is needed in the future for rights for persons with an impairment to be truly accepted by all.
She explained: "Until now, all is not perfect. In different countries including Iran, people with impairments are the focus and there are lots of expectancies to change people's perceptions."
The Paralympic gold medallist is also now member at the Mofid Children's Hospital Charity, with the desire to further develop the understanding of autism amongst Iranian people and across the world.
But despite all of her outstanding achievements off the archery field, Nemati still remains fully focused on improving on it.
"I hope to set a new record and be at the top of the world rankings," she said. "I want to continue my career in the Paralympic Games."
Visit the IPC's Top 50 Moments of 2014 campaign page for more information.
Related Images