Paralympics dominate front pages
London 2012 Games capture the imagination of host nation's media at unprecedented levels.
08 Sep 2012
Imagen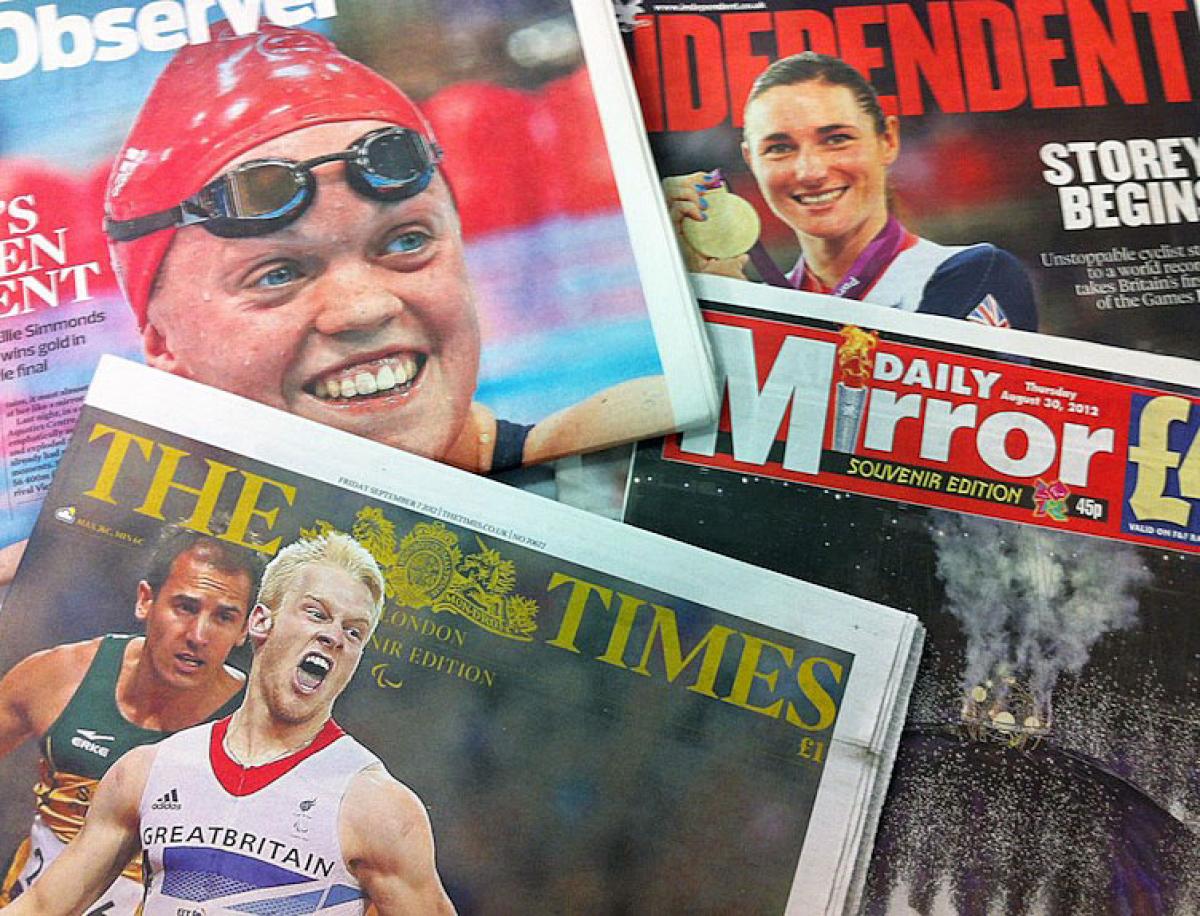 "The level of exposure across all media outlets has been fantastic."
The London 2012 Paralympic Games have gripped audiences across the globe – and dominated the front pages of Britain's newspapers.
Some of the oldest and most famous newspapers in the world have regularly dedicated entire front and back pages to the Games, which have grasped the imagination of the host nation.
The Times – established in London in 1785 – has produced wrap-around covers for its paper on a daily basis, showcasing the likes of British sprinter Jonnie Peacock and USA wheelchair rugby player Will Groulx in full colour photographs. The centre pages are completely covered by one of the best photographs of the day, whether it be from sailing or table tennis.
Other newspapers have been similarly dedicated to the Games, producing special pull-outs and giving entire sections to Paralympic events each day.
The London Evening Standard and Metro, two newspapers that are distributed for free in the capital city, have provided extensive coverage each day.
And the reaction of the journalists to the action in the Games has been one of almost universal acclaim.
The morning after Peacock's win and the crowd's reaction to it, the Guardian's Andy Bull noted in an eight-page pull-out that: "No athlete, not Usain Bolt or Mo Farah or Jess Ennis, has been treated to a reception like it in the Olympic Stadium this summer".
The Fleet Street Fox columnist in The Mirror, the third biggest selling newspaper in the UK, went one step further.
The column read: "The Olympics were glorious, and the Paralympics even better."
It hasn't been restricted just to the newspapers either – over 6million watched Peacock's 100m final victory on Channel 4, who have provided extensive coverage of the Games throughout.
Craig Spence, the International Paralympic Committee's director of media and communications, has been delighted with the exposure given to the Games, and wants to ensure that a presence remains in the media once they have finished.
"London 2012 has attracted more media coverage than any of its predecessors," Spence said.
"The level of exposure across all media outlets has been fantastic.
"To see Paralympic sport on the front page of every national newspaper on a daily basis is unprecedented, and illustrates the continuing rising profile of the Games.
"The aim now is to ensure that the media does not turn its back on the Paralympic movement in coming months and years."