Pollock not done with wheelchair basketball yet
Jon Pollock, captain of Great Britain's wheelchair basketball team, is leaving the sport as an athlete but hopes to return to the court as a coach.
20 Jan 2013
Imagen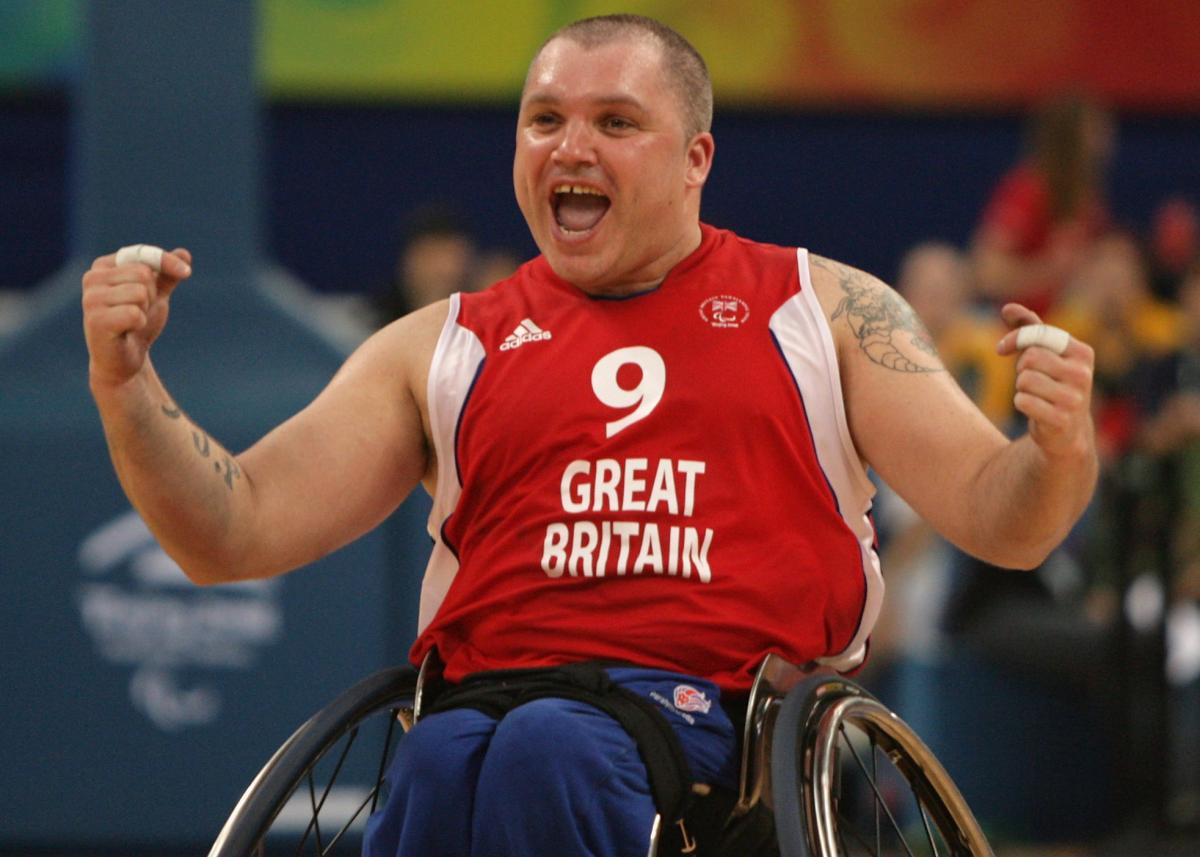 ⒸGetty Images
By Nate Williams | For the IPC
"It would be hard to imagine there will be another Paralympics that good. It ticked every box. I never dreamt it would be that good and for it to be my last it was a good memory for me."
Great Britain's wheelchair basketball captain Jon Pollock announced his retirement this month after 20 years of service to the sport.
The double-Paralympic bronze medallist is best known for his sensational shooting skills from all over the floor, but especially from beyond the three-point line.
A precise playmaker and passionate leader of the Great Britain team, Pollock attended the last four Paralympic Games and played for professional clubs in Italy, Spain and Australia.
However, the 35 year-old believes it was the right time to retire.
"My mindset throughout my career has always been about self- motivation," Pollock said.
"When I lose that self-motivation to drive myself with the thought in the back of my mind that somewhere in the world, someone is training to be better than me, it is time to leave the game. I always said I would get to four Paralympic Games in a career and I did it. To have had five would have been nice, but it just wasn't there."
Climb to the top
Since picking up a ball and realising his talent, Pollock has always been driven and dedicated to being one of the best. He also picked up a lot of friends on his climb to the top.
"Who would of thought a 14 year-old lad from Wigan would have friends in Australia, America, Canada, France, you name it and I've got friends in those countries," he said.
"Besides all that, for 20 years of my life, since leaving high school I've woke up with a challenge and that challenge was to be better than anyone who crossed my path."
Pollock was first selected to Great Britain's national team for the Sydney 2000 Games.
He recalls one game against the eventual bronze-medallists USA which made him noticeable and a threat amongst the world's elite teams.
"I heard there was 5,000 people cueing up for Great Britain versus USA," Pollock said. "That was the game that broke me out onto the world scene. That was the moment people were saying in the pre-game talk 'you've got to stop Jon Pollock.'"
"I went out in that game, came off the bench in the second half, and I think I hit six threes to help the game go into overtime."
Since then, Pollock has clashed footplates with some of the greatest players wheelchair basketball has to offer in some memorable Paralympic rivalries, including Canada's Patrick Anderson and the Netherlands' Gertjan van der Linden.
"In a 20-year lifespan in the game of wheelchair basketball, I've come across some of the greats. Patrick Anderson – there is nobody that can touch that guy. He is the Michael Jordan of our game and I don't think we will ever see another player like him.
"To leave the game knowing I've been up against the best that was great but in my eyes, van der Linden was the best and always will be. He holds all the records on the statistics at Paralympics and Patrick Anderson may have been to more Paralympics than van der Linden but he still doesn't top the charts. He does with gold medals but he doesn't on the statistics side because van der Linden was a phenomenon of the game."
What's next?
During Pollock's time as an influential point guard on the international stage, Great Britain never fell outside the top five teams in the world rankings.
His best performance he said was a semi-final tie at the 2002 World Championships against Australia in Japan, where Great Britain claimed a silver medal.
"We were not the favourites and we were down by double digits during the second half and I was on the bench after not having the best of games," Pollock said. "Then, at the start of the final quarter, I hit four three pointers including a hook shot from the halfway line and we ended up winning the game by two or three points."
After all his achievements, Pollock is glad that his career ended at London 2012, which he labelled as a Paralympics that would be hard to beat.
"It was the best Paralympics I had been to bar none, " he said.
"It would be hard to imagine there will be another Paralympics that good. It ticked every box. I never dreamt it would be that good and for it to be my last it was a good memory for me."
Now, Pollock intends to turn over to coaching by rebuilding a team back home in Wigan and one day take over the Great Britain head coach position currently vacated by Murray Tresender.
"I don't have the qualifications right now to be an international head coach for a national team, but I've got four years to build up my coaching skills," Pollock said.
"I told the world after Rio, I'm going for an international head coach job."