Spanish wheelchair basketball bouncing back
After making their first Paralympic appearance in 16 years, Spain are now aiming for further success at the Wheelchair Basketball European Championships.
11 Jun 2013
Imagen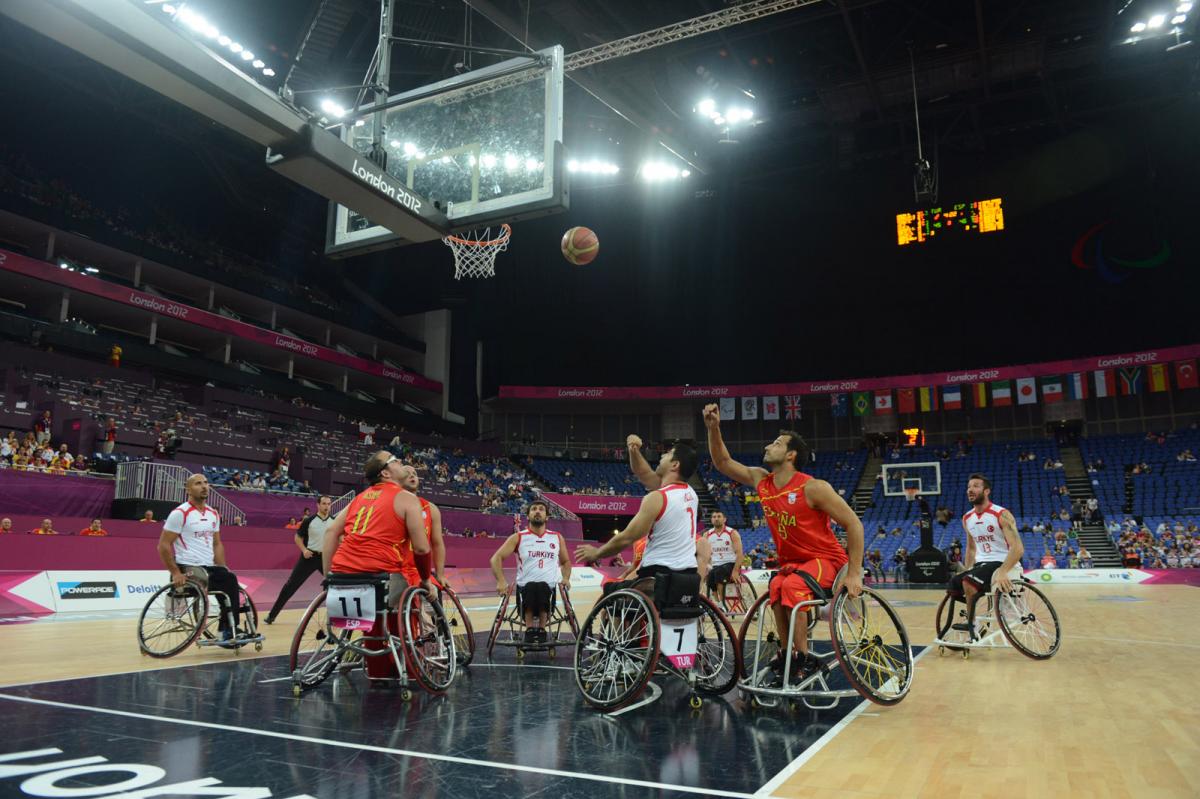 ⒸIPC
By Joel Mackenzie | For the IPC
"If we don´t go to the World Championships next year, we lose one year and that could be very bad for our team."
Following a Paralympic year, you'd be forgiven for thinking teams took a year off to recover after four years of hard work and preparation.
But this is not the case at all.
As quickly as the last four years came have come and gone, wheelchair basketball teams around already preparing themselves the 2014 IWBF Wheelchair Basketball World Championships.
Teams must qualify for the World Championships through their respective zones, and for the Spanish men's team, that's exactly what they'll be aiming to do when they hit the court from 28 June-7 July in Frankfurt, Germany for the IWBF Wheelchair Basketball European Championships.
After 16 years of not qualifying for a Paralympic Games, Spain took fifth place at London 2012 – their best-ever finish at a Paralympics.
They now head into the European Championships with higher expectations and a more professional approach to major tournaments.
For many years, the Spanish wheelchair basketball leagues have been a breeding ground for player development and attracted many of the top players in the world.
But what has made the biggest impact between Paralympic showings for Spain has been changes made off the court from their National Federation and an appointment of new team staff.
"Now we have camps during the year and we play friendly games before going to the competitions, which is very important" said Spanish forward Asier Garcia Pereiro.
"In the past, we just picked 12 players without training or playing friendly games and went into major championships making it impossible to obtain results. The difference now is the organisation and the support that we have from the National Federation."
Such is the strength of wheelchair basketball in Europe that 2010 World Championship silver medallists France were unable to qualify for London 2012; Great Britain, Spain, Germany, Poland, Turkey and Italy all qualified ahead of them.
Pereiro said Spain are under no illusions that these European Championships will be extremely challenging, but that they understand the repercussions for the team if they do not qualify.
"If we don´t go to the World Championships next year, we lose one year and that could be very bad for our team," he said.
With a number of retirements of key players since London, Spain must now focus on getting their young players some international experience.
Spain's biggest strength is their passion for the game and team mentality. Despite their lack of international experience heading into the 2013 European Championships, Pereiro insists they have podium potential.
"Our first objective is to qualify for the World Championships next year, but our expectations are to be fighting for the medals," he said.