Team Jamaica determined to make a big impact
Trio hoping for field success at the London 2012 Paralympic Games.
04 Sep 2012
Imagen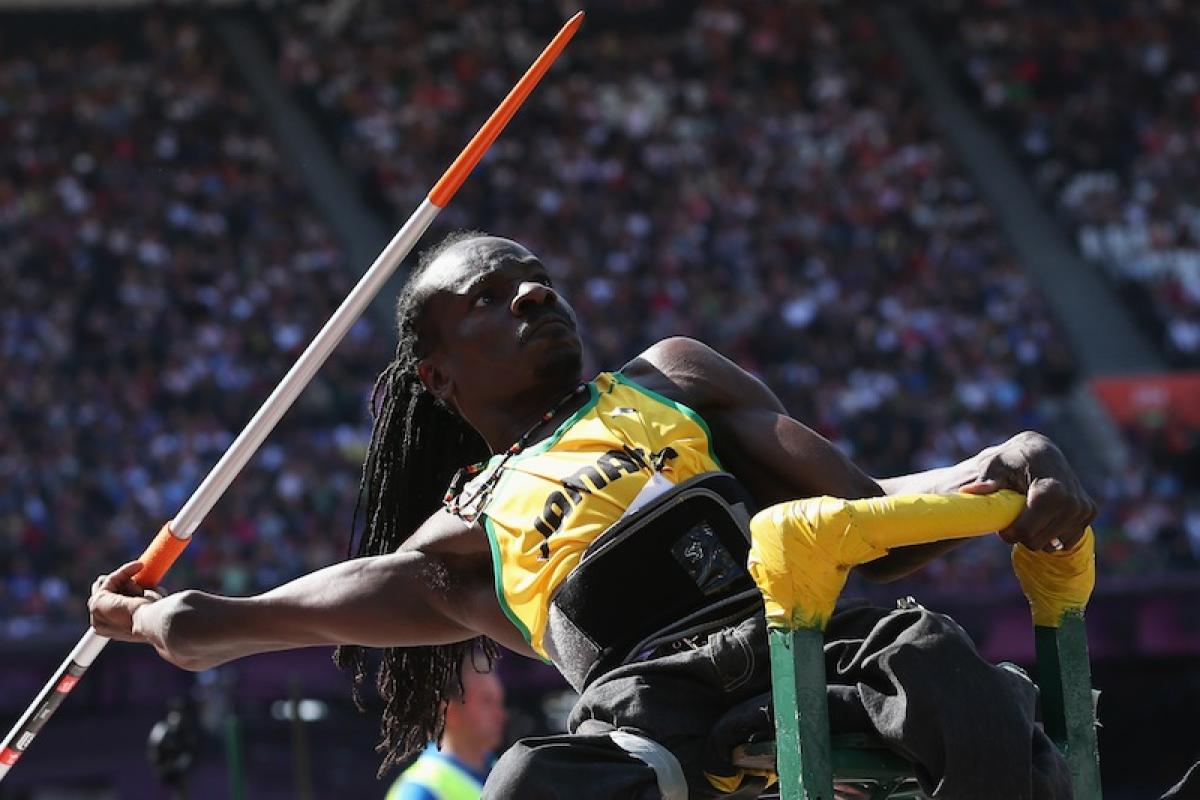 ⒸGetty
"I want to build upon the success that our able bodied athletes achieved and to be a part of the big cake that represents the togetherness and the ability of the Jamaican community."
Jamaica's Olympic team dominated yet again on the track, but now the focus is on the field, where Jamaica's Paralympic trio aims to continue their country's success.
The Paralympic team of black, gold and green hope to show that they are not just a nation of track athletes.
Team Jamaica consists of experienced athletes Alphanso Cunningham, Tanto Campbell and Sylvia Grant.
The youngest member of the group, Tanto Campbell, 26, from Kingston, had the privilege to carry his nation's flag at the Opening Ceremony.
"It was a great honour," he said. "I was really proud to represent the whole of Jamaica.
"I think we were one of the last countries to leave the stadium, as everyone wanted to talk and have their photo taken with us."
He will be competing in the men's discus F54/55/56 and has no particular medal in mind. He just hopes to 'surprise' himself.
"My main dream is to break the world record," he said. "I am constantly surprising myself. I want to build upon the success that our able bodied athletes achieved and to be a part of the big cake that represents the togetherness and the ability of the Jamaican community."
'Just win a medal', are the words of support from his twin brother, Toto, who is also a Para-athlete.
At the 2004 Paralympic Games in Athens, Alphanso Cunningham won gold in the men's discus F53.
Now 32, the native of St. Katrin will be competing in both the men's discus F51/52/53 and the javelin F52/53, and has set his sights on a podium place after missing out in Beijing in 2008.
Cunningham said: "Hopefully great things are going to happen. I don't want to be going home empty handed."
Cunningham highlighted the amount of admiration there is between the athletes and even those who are his fiercest rivals.
"Everyone has respect for everyone, and being acknowledged by your rivals shows you that they recognise your ability and that they see you as a threat."
Sylvia Grant, 49, from Portland, might be the sole female representative of team Jamaica, but she is the most experienced. She is about to make her seventh Paralympic appearance when she competes in the women's discus F57/58.
She said: "My first Paralympic Games was in 1988 and it is my favorite sporting moment of my career as I won gold on my on debut."
Grant, who is easy to spot with black, gold and green braids in her hair, seems to show no signs of slowing down, and has even set her sights on Rio 2016.
"I love sport too much to leave it and I still feel young," she said. "I am looking into changing my sport to powerlifting and competing in Rio in 2016."
Although the team is small compared to other countries, they have been together since 2003 and formed a unified group.
"We are always clowning around with each other," said Cunningham. "It is a very fun group and we always encourage each other."
Campbell added: "Our coach [Jefferson Davis] makes sure we stay relaxed and also pushes us hard in training to get the best of us."
At the 2008 Paralympic Games in Beijing, Jamaica only managed one medal. This time, their preparations have been different.
The team set up their training camp at Bedford University, and it is the first Paralympic Games that they have had their own camp and facilities.
Suzanne Harris-Henry, Secretary General of the Jamaica Paralympic Association, said: "It is the first time we have had a proper training camp, as well as our own photographer and journalist, so not only are the athletes more prepared this time around, they are getting the spotlight they deserve.
"Our athletes are not able to train full-time as they also have to work, so having a training camp is key."