Two years on, stars from Asian Para Games go down memory lane
Indonesia 2018 left a lasting impression for many medallists 
06 Oct 2020
Imagen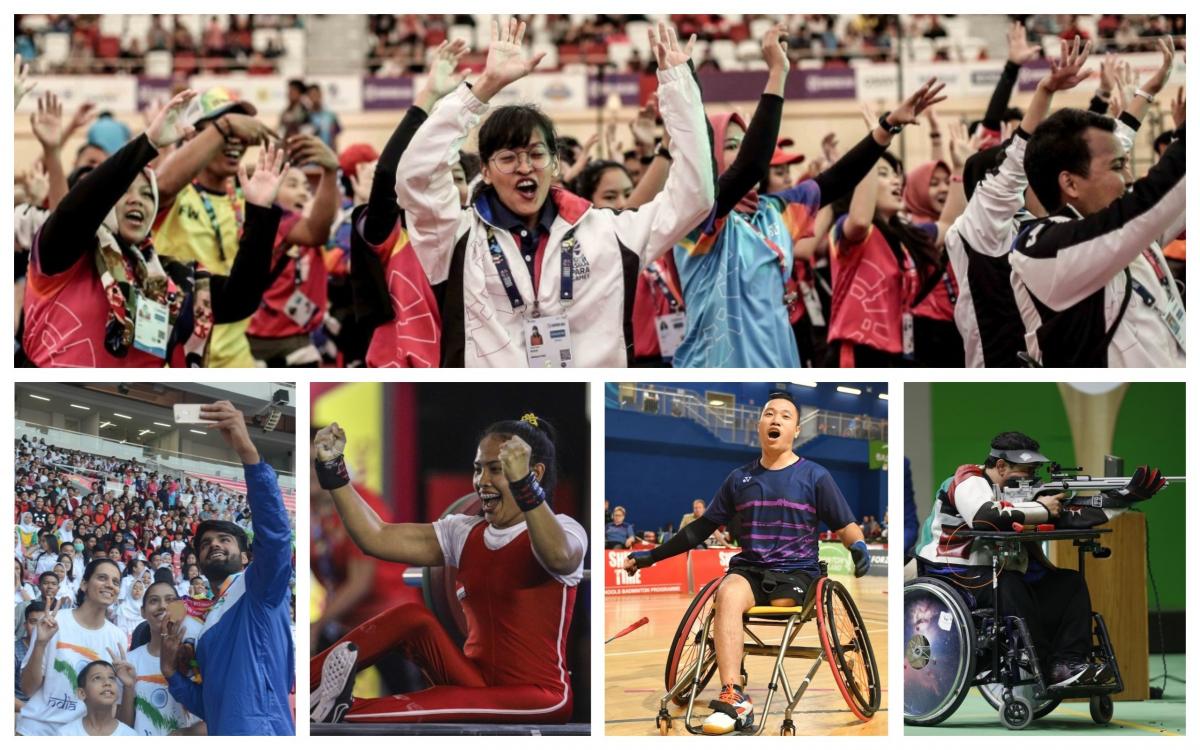 By Priyanka Sharma, Asian Paralympic Committee | For the IPC
With the spectacular Indonesia 2018 Asian Para Games marking its two-year anniversary on 6 October, the region's top athletes went down memory lane from the event that witnessed several records fall and history celebrated. 
From the record number of around 3,000 athletes to unified Korea team marching for the first time at a Para sport event, the list goes on.
Biggest achievement thus far

Among those star performers was Sandeep Chaudhary, who opened India's medal count with a world-record winning performance in the men's javelin F42-44/61-64. For Chaudhary, who threw 60.01m, the gold was a career highlight. 
"After missing out of medals at the Rio 2016 Paralympic Games and the London 2017 World Para Athletics Championships, the Asian Para Games gold with the world record was my first biggest achievement," said the 23-year-old, who went on to become a world champion the following year at Dubai 2019. "I also feel very proud to bring home the first gold medal for India at the Asian Para Games in javelin. Having said that, the medal has brought bigger responsibility to work hard, win a medal at the Paralympics and inspire others. And I am working hard towards my dream." 
Similarly, for Pakistan's Paralympic medallist Haider Ali, the Games will remain "special" as he won all the three medals, including double gold in the men's discus and javelin F37. 
"It was one of my career best performances and the Asian Para Games medals will stay among top of my list of achievements," Ali commented. "I also became world No. 1 in discus F37 with the medal, which was also an Asian record. The feeling was special as Pakistan anthem was played and flag being raised at the medal ceremony.  
"These moments inspire me every day as I prepare for the Tokyo 2020 Games. I want to make Pakistan proud again with a medal at the Paralympics."
Host nation glory

Indonesian powerlifter Ni Nengah Widiasih said it was a "unforgettable" moment to stand on the podium in front of home fans. Widiasih had clinched a silver medal in the women's 41 kg category at the Games.
"It was a memorable moment because for the first time competing in my country, I could live up to the hopes and expectations of my fans. Every time I remember and look back to the Games, it gives the feeling of becoming stronger and greater in future competitions. And I am continuing to train harder to be a champion again," said the Bali-born lifter.
Meanwhile, Hong Kong Para badminton star Chan Ho Yuen achieved his "curse-breaking moment" with the silver medal in men's singles WH2 for his first medal in three Asian Para Games. 
Chan, who lost to Kim Jungjun, said he even was left with tears after losing the final only to find his Korean rival comforting him.
"In my Para badminton life, I have never missed a medal in any competition," Chan said. "I have 63 international medals for Hong Kong so far. The only competition that I didn't win any medals are the 2010 Asian Para Games in Guangzhou and 2014 Incheon. 
"So finally, the Indonesia 2018 helped me break my curse and give me my moment of glory – a silver medal."
Amazing Volunteers

Reigning world champion Manasi Joshi, who settled for the women's bronze SL3, thanked the organisers and volunteers for the hospitability and efforts in putting on a memorable Games.
"The Asian Para Games is always going to be in my heart etched with love," Joshi said. 
From the Istora stadium being packed with people shouting, screaming and "supporting their favourite player, to dancing and singing on Bollywood tunes with the volunteers of Indonesia 2018 in the Games village, it was a very well organised and well-prepared event. I am following a few volunteers who made sure to see my match even though they were assigned different stadiums and gifted me with goodies when I left." 
Breakthrough moment

Much like Joshi, India's gold medallist archer Harvinder Singh praised the volunteers and described the event as the "turning point of his career." 
"The atmosphere was world class and especially the volunteers who were very helpful," said Singh, who won India's first Para archery gold at an Asian Para Games. "Moreover, it was a big learning experience as I won it in one of the tough times of my life. So, that moment always inspires me to overcome hurdles in future."
Club thrower Ekta Bhyan also from India was a bit emotional while remembering the Asian Para Games.
"The memory of winning the gold medal in Jakarta is one of the closest memories to my heart," she said. "It was a great boost up to work harder for the Paralympics. Being a quadriplegic, the gold has brought a lot of motivation and confidence to win accolades for my country on an international platform."
Tough competition

The UAE's rifle shooting star Abdullah Sultan Alaryani, who took a gold and silver in Jakarta, said the competitions were tough, making his medals even more special.
"I am proud and happy I could overcome it and win two medals for UAE," he said.
His compatriot and shot put athlete Sara Al-Senaani added that her campaign will always motivate her to aim for big strides in future. 
"Before going to Jakarta, I used to tell my physiotherapist that I would like to achieve 5.30m distance, and I worked on my target with my coach," she recalled. "I managed to achieve the third place with a distance of 5.28 which was even better than my Rio result."