India's Harvinder Singh motivated by golden success
Archer became a household name after his gold medal a year ago
29 Oct 2019
Imagen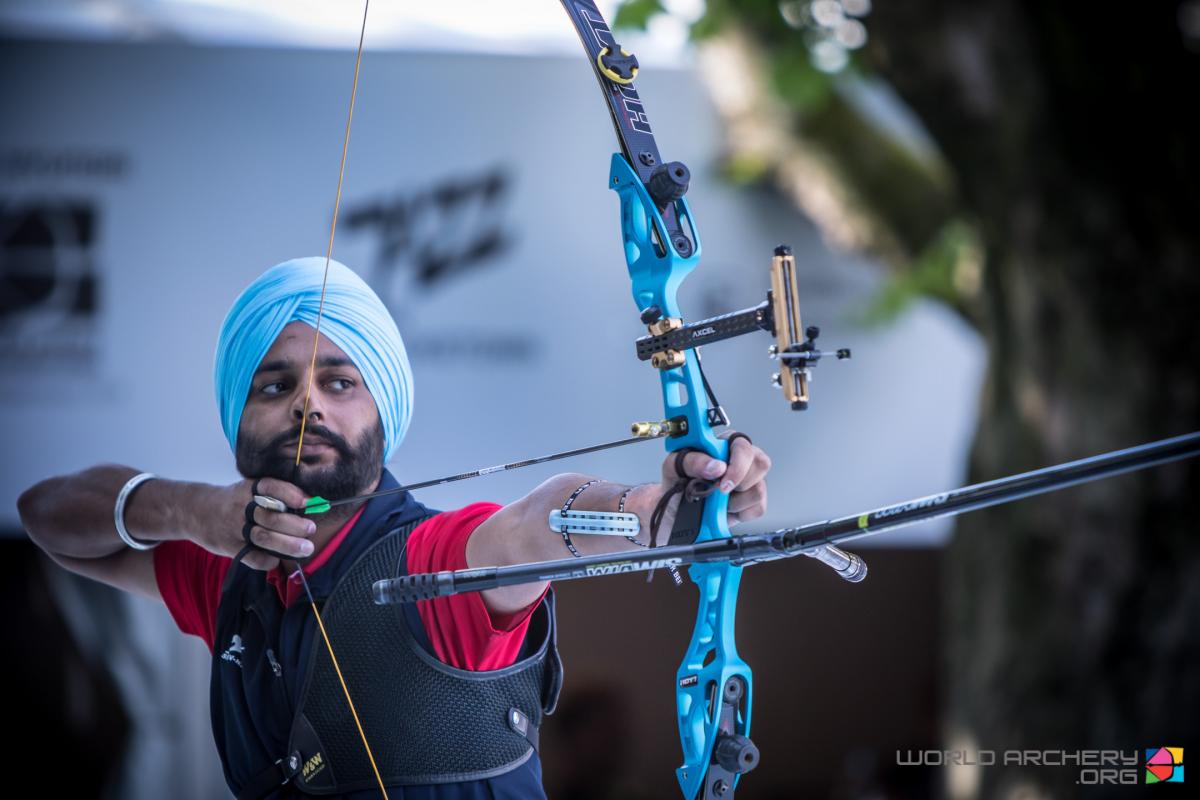 ⒸDean Alberga / DUTCHTARGET
By Lena Smirnova | For the IPC
India's ace Para archer Harvinder Singh's life turned on its head when he struck gold this time a year ago at the 2018 Asian Para Games in Jakarta, Indonesia. 
Getting off a plane from Indonesia, the 28-year-old from a remote village Kaithal in Haryana, was shocked to discover an airport full of people eager to greet him.  
The experience inspired him to set his goals higher, with sights to qualify for the Tokyo 2020 Paralympic Games. The process will be more challenging than anticipated, as he missed out on medaling at this month's Asian Para Archery Championships – which is also a qualifier for Tokyo 2020 – in Bangkok, Thailand. But apart for success on the range, he hopes to change the perception of his countrymen toward people with disabilities.
"That gold medal at the Asian Para Games totally changed my life because earlier a physically disabled man or boy was seen differently," said Singh, an economics scholar from the Punjabi University.
 "When people looked at me before they said that 'Yes, he is disabled,' but now they changed that to 'Yes, he is differently abled and he is doing something different for our country,'" he added. 
Humble beginnings
Singh was born in a middle-class farming family and at the age of one and a half, fell ill due to dengue fever. His parents took him to a local doctor who administered him with an injection. However, it had an adverse effect and Singh's leg inexplicably stopped working properly. 
"Then I accepted my fate because if I'm happy, then I do not need more treatment," Singh said. "I told my parents that I do not need more treatment, I am OK and I accept my disability." 
Singh went on to university and is currently pursuing a doctorate degree in economics.
It was in university in 2010 that Singh first saw archers training. Two years later he caught a broadcast of the sport from the London 2012 Paralympics, which motivated him to go to the target range himself. 
"It was very difficult," Singh said of balancing archery training with his studies. 
"When we have the morning [training] session, I practice on the ground, then I would go to the library. Because of the air conditioning the muscles pain a lot, so I usually had to pick up my bag and go to my room without AC and then study. I also had to study many times late in the night, then in the evening session there will be practice."
Singh trains twice a day, and studies in the afternoons and late evenings.
"It is really difficult to manage this but actually I like these hurdles," Singh said. "Challenges are just a part of life and we come to know how strong we are when we face challenges."
Unexpected setback
The 2018 Asian Para Games was the third international competition for Singh, who made his debut on the world stage a year before. Schoolwork, as always, was not far from his mind – Singh was busy submitting his thesis synopsis 15 days before the start of competition. 
The university workload, however, was a minor challenge compared to the emotional lows Singh experienced in the weeks leading up to the Asian Games.
"I lost my mother just 20 days before the competition, so I felt a lot of pressure, mentally," he recalled. "When I got that gold medal, I dedicated that medal to my mother."
Singh became the first athlete from India to win a gold medal in Para archery at a major competition after Jakarta 2018.
"I have lost many things in my life, even my mother, so I had to take a medal from there and luckily I won," Singh said. "All that is because of my hard work and the blessings of my mother."
On his return at the airport, he saw the waiting area filled with his family, coaches and fellow archers from the university ground. The following day he also got the opportunity to meet India's prime minister Narendra Modi.
When Singh finally made his way home, the whole village came out to greet him.
"It took six hours to go 10 kilometers because of the packed roads. It was like a festival," he recalled.
"Now when my father goes somewhere, all the people recognise that he is the father of that boy. It is a very proud moment for a father when he is recognised by the name of his boy or girl, and I am feeling proud that I was that boy and that my father is recognised by my name."
The milestone victory has meant more government support, which allowed Singh to support his family financially and devote more time to training. 
Now targeting qualification and a medal at his first Paralympic Games, Singh said his victory in Jakarta a year ago has also helped to break stereotypes about disability in India. 
"My relatives do not have any problem with my disability, but the people in the cities, in the villages, they have a different thinking," Singh said. "Now when I got this gold medal from the Asian Para Games, the thinking has totally changed because they say, 'yes, that is that boy who won the gold medal', and they tell their children to do something different like this."