South African archer Shaun Anderson 'does not know how' to quit
Archer returns to range after second major accident that took away his ability to walk
20 Sep 2019
Imagen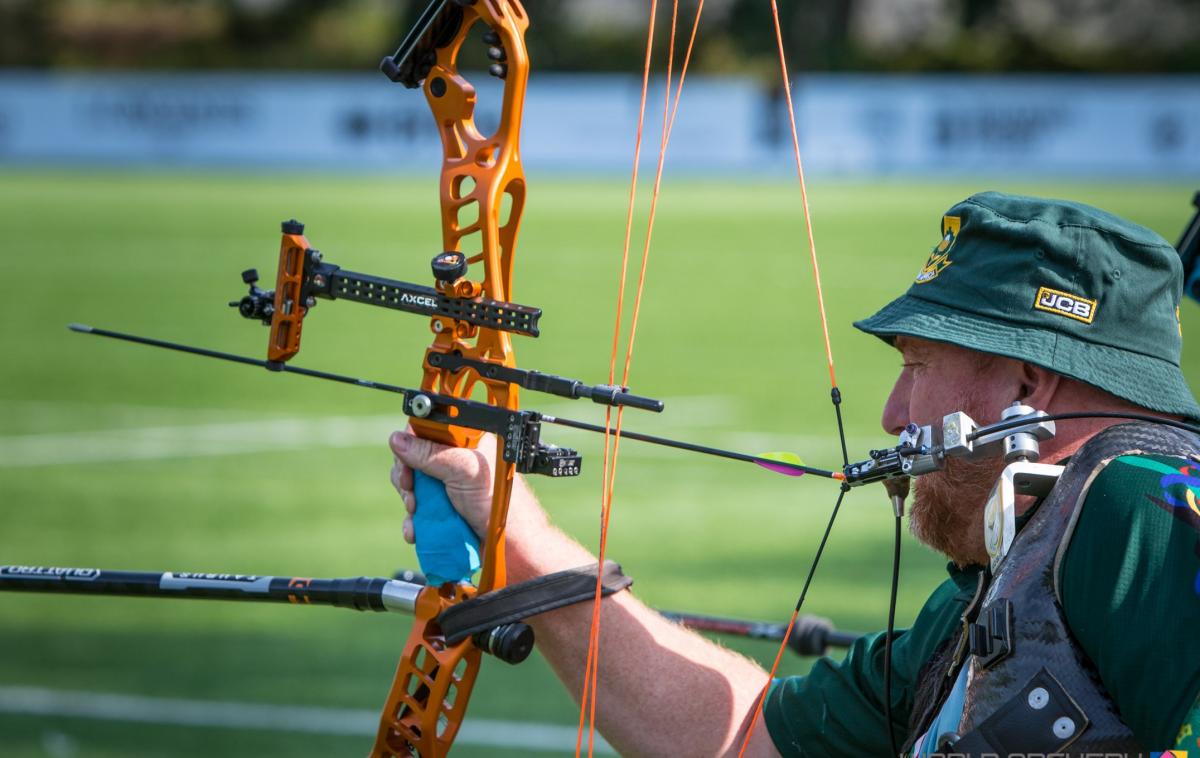 ⒸWorld Archery
By Lena Smirnova | For the IPC
A day after getting out of rehab, unable to walk and unsure of his future, Para archer Shaun Anderson sat on the front stoop of the charred remains of his family home. His wife and two children sat next to him.
"We managed to save two bottles of red wine and a bit of crackers," Anderson says. "We sat on the stoop, me and my wife along with my kids. We were all drinking wine and were crying and we were like, 'How much more can we get through?' That was really tough. It was like, 'What else?'" 
Anderson's left arm was amputated after a motorcycle accident in 2004. Not one to wallow in self-pity, he took up Para archery and charted his way into the Paralympic Games. 
But his latest accident, which took his ability to walk, and the house fire had posed the biggest challenge yet and left even this eternal optimist scrambling for hope -- a hope he did find that brought him back to competition at the 2019 World Para Archery Championships in 's-Hertogenbosch, Netherlands in June.
Turbulent times
One of his top motivations for getting into archery eight years ago was hearing staff at an archery shop say that he could not shoot with one arm. 
"When they said, 'You can't do it', I just replied, 'Don't tell me I can't do something'," Anderson said. "There's no such word as 'can't' in my vocabulary."
Not only did Anderson learn to shoot, but he got good enough to qualify for the Rio 2016 Paralympic Games, where he reached the Round of 32 in the men's compound open. 
In 2017, after several back-to-back international competitions, the Paralympic archer finally took a break and went on his first family holiday in four years. 
He rented a deep sea boat to enjoy some fishing off the coast of South Africa, but on the way out, the skipper misread the water and the boat was hit by a massive wave. 
There were eight people on the boat: his wife, daughter and son, now 18 and 16 years old, his daughter's boyfriend, and three members of another family. As all the passengers went into shock, Anderson sprung into action. 
"They were so rattled and so scared, I had to convince them [to jump into the sea]," he said.
Once he got everyone off the boat, Anderson tried getting off himself, but slipped, fell into the water and the boat came down on him. 
"Nobody knew about my legs until the lifeguards got to everybody. When I saw they took my wife, after that my body shut down. I don't remember much after that," Anderson said. 
Waking up in hospital, Anderson discovered he could no longer walk. The doctors gave him a six and then a 12-month period to see if he would walk again. Time passed, Anderson did his exercises, but his ability to walk did not return.
As hard as it was for the Paralympian to accept that his body no longer worked the same way, it was even harder to accept that he now needed to ask others for help.
"I'm always the one who wants to help everybody else," Anderson said. 
"But I wouldn't change anything. If I had to do it over, I would do it again the same way. I've never been somebody to step back when there's help to be needed. Even in a wheelchair, I'll see other guys in wheelchairs and I'll say, 'You need help? Do you want to hold on? I'll take you'. That's who I am. I've always been that."
Rebuilding from scratch
Misfortune continued to trail Anderson even after he got out of rehab. The morning after his sign out, he and his family came back from breakfast out to find their house in flames.
"The good thing that came out of the house burning down was all the house was able to be rigged and fitted for me," Anderson said. "After four months of building we realised this was a blessing in disguise."
Much like his burnt house, Anderson has had to rebuild himself as an athlete since his accident, learning how to shoot in a wheelchair and adjusting to his new W1 class. 
In June this year, he returned to his first major event since the 2017 World Championships in Beijing. 
"I'm too stupid. I can't quit. I don't know how. I've never quit in my life," Anderson said.