USA Wheelchair Basketball Sneaking up on Rivals
After failing to make the podium at the last two Paralympics, a veteran-heavy USA men's Wheelchair Basketball team thinks it has what it takes to medal in London.
17 Jun 2012
Imagen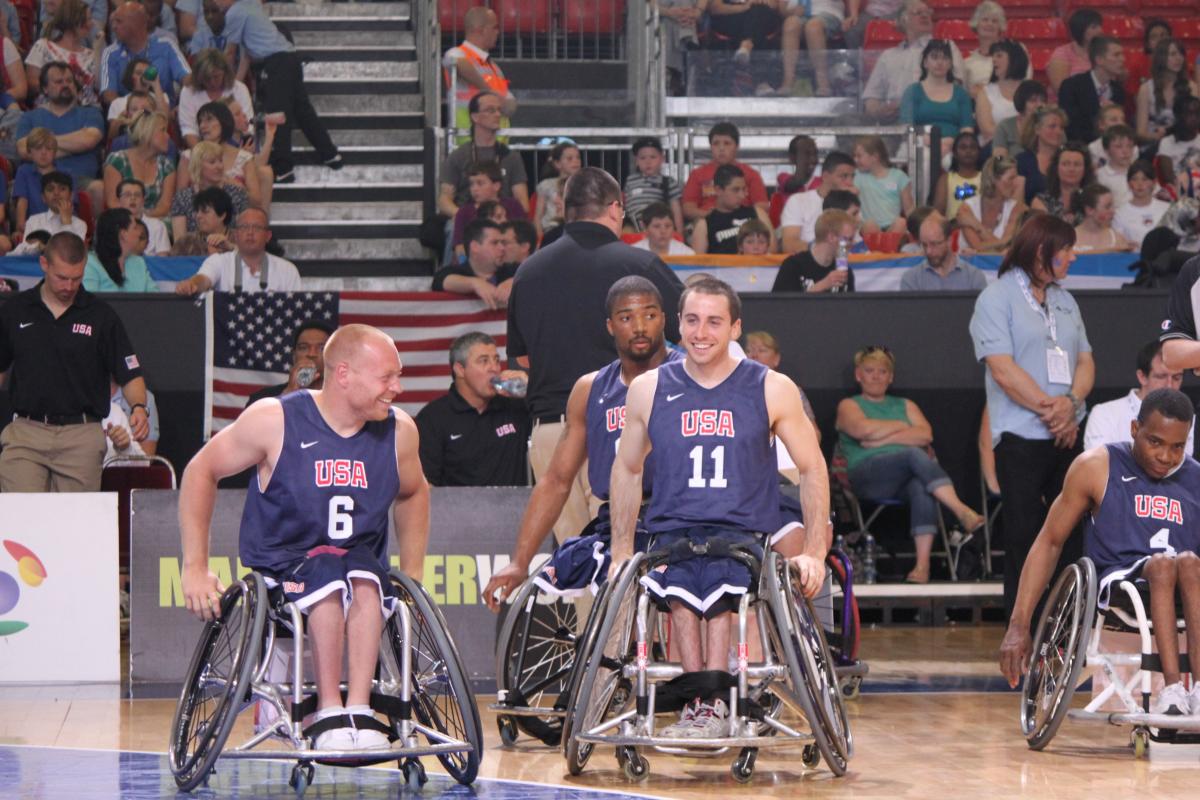 ⒸIPC
By IPC
"When you play for the USA, it's gold or bust."
While USA's women's Wheelchair Basketball team was winning its last two Paralympic golds, the American men's squad was experiencing turnover and bringing in fresh faces.
But now, as the team approaches the London 2012 Paralympic Games, many of those faces are being considered veterans.
The Athens 2004 and Beijing 2008 Paralympics are the only Games where the USA's men's team failed to medal, aside from Barcelona 1992.
The squad won five of the first Paralympic golds from 1960-1988 and won bronze medals at Atlanta 1996 and Sydney 2000.
Many Americans consider the 2000's a lull for the programme.
A lull they now hope is over.
"Our team is older and more experienced now," said Jason Nelms, who played at the last two Paralympics.
"We were younger in Athens and in Beijing we were still learning, and now I think we've matured to the point where everybody's ready to take it to the next level.
"I think maybe sometimes that's the best place to be, to be overlooked. You can sneak up on people then."
Building the foundation
USA captain Paul Schulte remembers what it is like to be on the podium at the Paralympics.
He is one of the lone members remaining from the American squad that captured silver at the Sydney 2000 Games, and he is involved in the Paralympic Movement as much as anyone.
When Schulte is not on the court, he is working as a design engineer to produce a signature line of chairs for Wheelchair Basketball.
Schulte said he now feels a responsibility on his shoulders this year as a veteran player, and one who is looked up to by many of his teammates.
"I think when you get a little bit older you recognize that you don't just want to win, you want to come home with honour," Schulte said. "You want to come home knowing that you represented your country in the right way. That's the most pressure I feel on my shoulders.
"It's been an interesting journey for me because I began with being the youngest player on the US team at 18, and now at 33 I'm co-captain of the team and a bit older. I've gotten to see a big transition.
"It's just as special as the very first team I made, and it's interesting to see the level of talent on the team increasing and increasing."
It is not as if the American players did not believe in themselves before, they just insist many of the players were new to the game at the same time and the squad was building for the future.
"They've been unbelievable experiences," Nelms said of past Games. "I wouldn't trade them for anything in the world."
Heading to London
Now, while, USA has a lot more experience under their belt, the team does not necessarily have one go-to player that will carry the squad at London 2012.
Schulte and Nelms, along with Josh Turek, Steve Serio, Joe Chambers and Nate Hinze are all sharp shooters and ball handlers, and on any given day any one of them can sit atop the stat sheet, as proven at May's BT Paralympic World Cup in Manchester, where the team took first place.
Serio, a self-proclaimed basketball junkie who has been playing the game since he was 14, noted the competition in 2012 is way beyond what it was when he first took up the sport.
"I think it's unlike anything anybody's ever seen," Serio said. "It's physical, it's fast, everybody's so talented at this level, and the teams have been together for so long that we're all so close."
Nobody quite knows what to expect from USA in London, as a different player has been leading the team at every tournament the last couple of years.
But those on the team are all on the same page when it comes to expectations.
"I think it's always that when you play for the USA, it's gold or bust," Turek said. "The expectations are high, and they should be. I feel like we have no excuses now. We have all the talent we need. We have the right combination of players. It's just a matter of putting egos aside and everybody playing for the team."