USA Women's Wheelchair Basketball Has High Expectations
The two-time defending Paralympic champions, as well as the reigning world champions, have a target on their back heading into London 2012.
21 May 2012
Imagen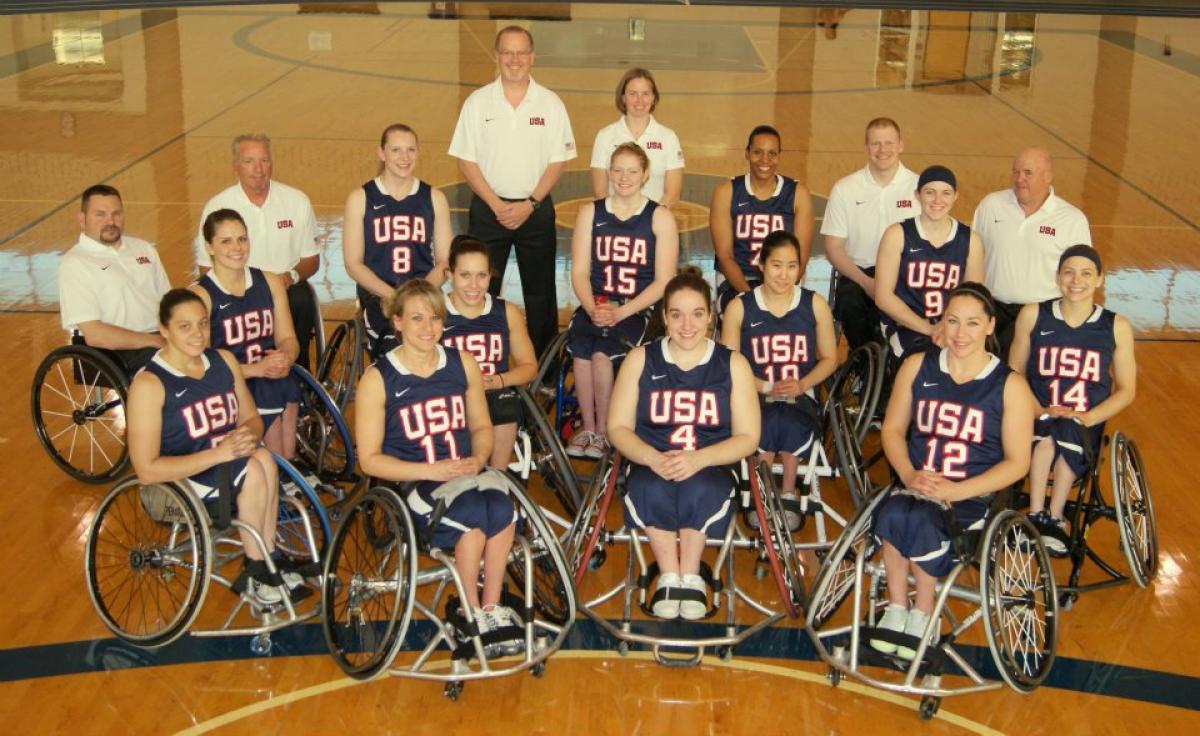 ⒸNWBA
"There could be a lot of pressure on us, because the rest of the world is incredibly tired of our success."
USA's women's Wheelchair Basketball team – winners of the last two Paralympic golds and reigning world champions – has a large target on its back with 100 days to go until London 2012.
The Americans do not want to get too confident, but they believe they have the right mix on their roster to take home the triple crown.
"There could be a lot of pressure on us, because the rest of the world is incredibly tired of our success," head coach David Kiley said. "That motivates us because we've got something that they want and we're going to get out there and prove it."
Captain and veteran Sarah Castle could not agree more with her coach.
"I think we have a pretty big target on our back," Castle said. "But I think it's a good thing. I think it motivates us to try to be better and it's caused an evolution of the women's Wheelchair Basketball game to be faster and to go outside the box a little bit."
The last time the team finished second at a major tournament was the 2006 World Championships, though the faces representing USA in 2012 will look a bit different.
"This isn't the same team that won the World Championships or the Paralympics in 2004 or 2008," Castle said. "We're a fairly new team with a few returning veterans from the 2008 team. This will be a lot of our team's first Paralympic experience, so we have a hunger for winning as well. It's not like we've all been there, done that. It's a new revitalized energy and it's a really exciting team."
Humor on the court
On the surface, USA's squad is known for being goofy and having fun on the court under a laid-back leadership from Kiley.
The team certainly knows how to put on a show for spectators, or even for themselves during practice for that matter.
"We find everything funny," Castle said.
"Part of it is just having a good time and remembering to have fun. You're going to get in the game and you're going to be serious and focused. Getting ready is about having fun and remembering all the good things of how you got there and why you got there."
The players like to torture Kiley by blasting '80s and '90s boy band songs during training or game warm-ups.
"I'm dancing on the court being kind of ridiculous, but I think it's important," Castle said. "Having fun makes a game more fluid."
With 20 players selected in January for the London 2012 roster, the team has everything from veteran leadership to a 16-year-old where "everything is cool for her."
Castle, who has been going to the Paralympics now for more than a decade in either Swimming or Wheelchair Basketball, definitely fulfills that veteran role.
"I call it insanity," Castle joked of her long Paralympic career. "It's really about every four years putting new life in check and trying to come up with something new."
Getting down to business
Despite all the jokes and giggles, Kiley believes his players are almost too nice sometimes.
"When they get to Europe, I need to have somebody on that squad to become a sniper, somebody who's not afraid to get in their teammates' grill and push them to clean it up or fire them up," he said.
Kiley noted that the Wheelchair Basketball game has become much more physical in recent years and that the Americans need to stray from their finesse game just a little bit to keep up with the competition.
"It's like eat or be eaten," he said. "They need to learn pretty fast and apply on the fly."
While Becca Murray typically leads USA in scoring, and is helped out by Desiree Miller and Alana Nichols, Castle argues she is more of a defensive specialist herself, keeping the team in check in the backcourt.
"If I never had to play offense, I wouldn't. To me the game is more fun when you press the whole game." Castle said.
"We think defensively because there's the whole idea that defense wins championships. I've heard that consistently since I was a kid before I even played Wheelchair Basketball."
Perhaps that is why Castle is a team captain for Kiley.
"We're just incredibly grounded in defensive standards, and we're just incredibly deep with our bench," the said the fourth-year head coach, who will be at the helm for the first time at the Paralympics.
USA is fresh off a decent performance at the Four-Nations Tournament in Frankfurt and with just 100 days to go until London 2012 will now head to Manchester to face Australia, Germany and Great Britain in the BT Paralympic World Cup.
Castle's partner in crime, fellow captain Andrea Woodson-Smith, has been deemed the veteran on the offensive side of the ball on this European trip, despite not having competed at a Paralympics before.
Woodson-Smith, whose husband is also a competitive Wheelchair Basketball player, definitely has the mindset of a leader who knows what she is doing.
"We're just looking to see where we are at this point and what areas we need to improve on going into London," she said of the competitions in Frankfurt and Manchester.
Castle, meanwhile, knows everything that is at stake, no matter what perspective her teammates may be taking into the Paralympic Games.
"For some it's the first. For some it's the last. For some it may be one in the middle," Castle said. "But we're all really looking forward to an extremely fun and exciting experience in London."
Related Images