Venezuelans self-funding para-dressage team
A pair of Venezuelans have built a para-dressage programme from the ground up, and now they're ready to be among the elite.
16 Aug 2013
Imagen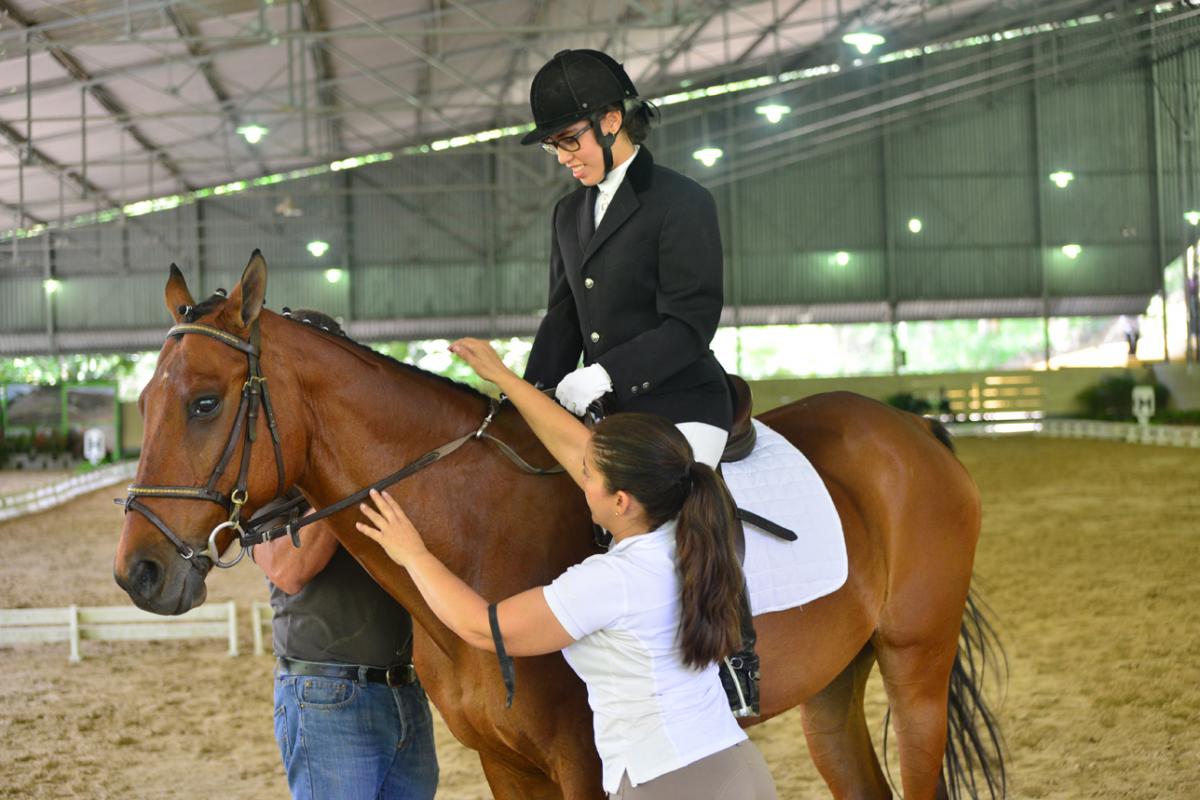 By Rob Howell | For the IPC
"We must now be realistic and work towards more achievable goals. It's a shame but, without funding, we are not going anywhere."
In a sport currently dominated by European athletes, competitors from South America are always a welcome sight to equestrian.
In recent Paralympic Games, Mexico, Peru, Brazil and Argentina have all been represented, and now, thanks to the work of freelance photographer Raul Sojo and his physiotherapist wife, Elisabeth Brecht, spectators at future Games could soon see riders from Venezuela rising through the ranks.
Sojo and Brecht are at the forefront of developing para-dressage in their country, and along the way they have overcome several challenges to meet their goal of developing a national team of riders.
Pursuing a passion
Brecht's work as a physiotherapist was the trigger for the pair's involvement in the sport, combined with their joint love of horses and riding.
Sojo explained: "A dressage judge in Venezuela told us about the Federation Equestre Internationale (FEI) classifier's course in Buenos Aires, Argentina. Knowing how hard it is to find physiotherapists who know as much about horses as my wife, she insisted Elisabeth take the course.
"Elisabeth then suggested I went, too. I didn't want to be just a spectator on her course, so I found out there were also courses for officials and trainers and took a para- equestrian steward's course.
"Shortly after that, I was diagnosed with a spinal tumour and had an operation which left me with a small handicap. Now, I have to use special stirrups and that made me realise that such things can happen to anybody. You continue to be the same person though, but with a disability."
After their training, Sojo and Brecht pursued their new interest in the sport and recruited people with an impairment who were interested in riding.
News of their work reached retired Army General Ruben Rojas Perez, President of the Venezuelan Equestrian Federation (Federacion Venezolana de Deportes Ecuestres), who called Sojo and asked him to join the federation specifically to develop para-equestrian.
From that small start, they have built up a core team of riders who compete at the FEI's three-star level (one level down from major international championships). Grade 4 athlete Manuel Penalver, for example, has competed in the USA and Mexico, as have grade 1a athletes Maria Teresa Acevedo and Carolina Greaves; and Jordan Berroteran competes in Grabe 1b.
The rest of the team (Maria Jose Guevara Grade 2 and Pablo Moser Grade Ia) have yet to compete outside their home country, but hope to take part in a competition in Chile in November.
Finding the funds
Para-dressage is an expensive sport, though, and that, Sojo admitted, is his biggest challenge.
"Normally our riders don´t pay for transport, feed, and equipment," he said. "So we must pay ourselves. You have to consider that a horse for grades 3 or 4 must be a very good one, and they are expensive.
"On the other hand, grade Ia riders' tests are focused on the walk, so a horse with a good walk and that is calm enough to do a test is what it takes for Ia, and that's not so expensive."
This year is the first in which the Venezuelan national federation has organised a full calendar of national para-dressage events. A
As part of his voluntary position on the federation's board, Sojo – accompanied accompanied by Brecht – worked with the organisers of the country's equestrian competitions to add para-dressage to their schedules.
That proved a successful venture, as those organisers agreed to waive entry fees for para-riders and, in some cases, gave discounts on stables as well.
"Much of that was down to General Rojas Perez," added Sojo. "He is the one that encouraged us to do all we have done and who said that no fees should be charged to disabled riders. He also provides trophies and is very conscious of the problems disabled people face, especially in third world countries."
In just a little over three years, Rio will host the 2016 Paralympic Games, a target that sits firmly in Sojo's mind.
Venezuelan national policy says that 0.5 per cent of a company's profits go to developing sport in the country.
Sadly, though, para-dressage does not receive any of those funds so dreams for Rio would need to be completely self-funded or supported by donations.
Sojo said: "Of course we are working towards taking a team to Rio and we had high expectations of getting funds to get horses and train overseas. None of that happened so we must now be realistic and work towards more achievable goals.
It's a shame but, without funding, we are not going anywhere."
One gets a sense, however, that all is not yet lost.
The couple, who have both been horses since they were children, are clearly determined to make para-dressage a sport in which their country can compete internationally at the highest level.
"It's all uphill for us now," Sojo said. "Latin America is way behind in (both para and able-bodied) dressage. Europe has a much higher level so we can´t be ashamed of what we have done so far.
"We just have to keep on working."
Related Images