When even breathing effects your score
Volunteer writer Jake Wright decided he would try his hand at shooting, finding that even normal bodily reflexes can have a dramatic effect on your result.
20 Jun 2013
Imagen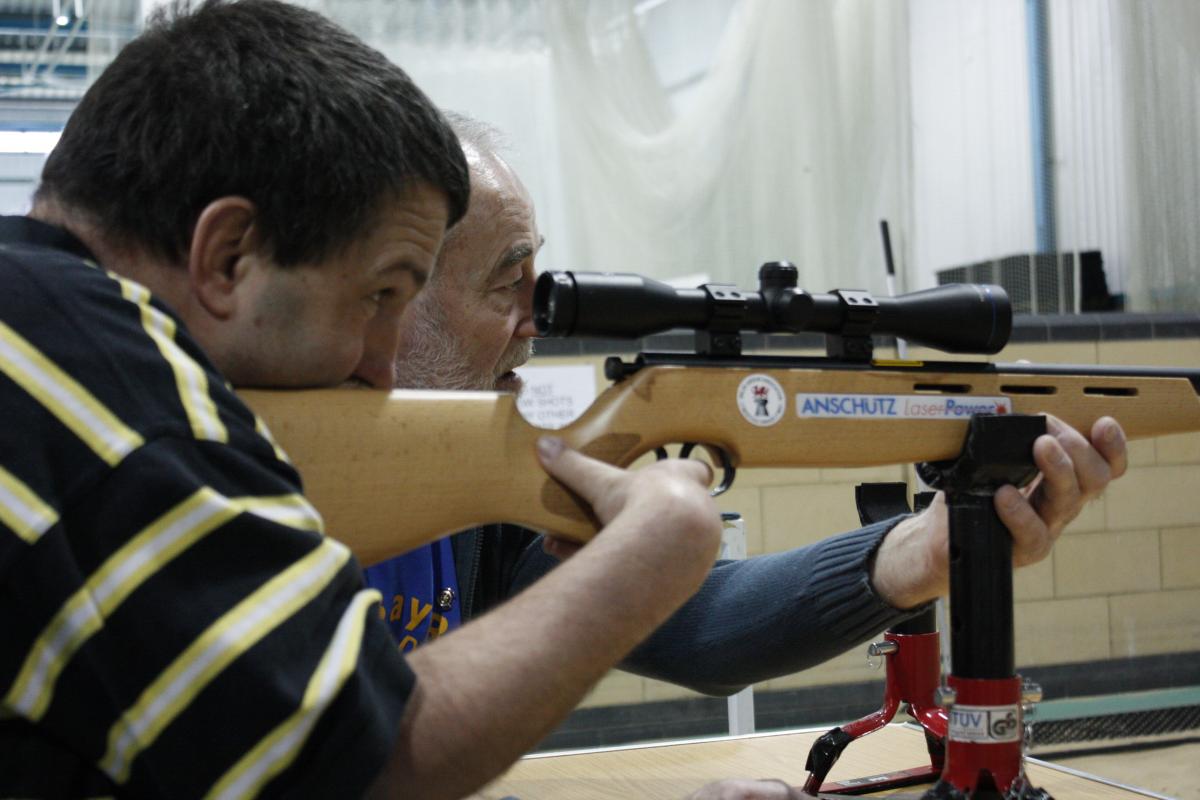 ⒸIPC
By Jake Wright
"I never imagined how difficult the sport could be, how a body reflex, like breathing, could affect the outcome of the result and how much mental and physical effort it takes to control the body."
Over 120 shooters will be making their way to Stoke Mandeville Stadium on the 2-4 July, for the third instalment of the 2013 International Paralympic Committee (IPC) Shooting World Cup and the return of para-sport to the home of the Paralympic Movement. Our volunteer writer, Jake Wright, went to see what he could find out about the sport of accuracy and control.
After working as a volunteer writer to cover shooting for the IPC since March 2013, I was given the opportunity to earn my marksmanship stripes and experience the adrenaline rush of competitive shooting at Disability Sport Wales' 'Wheelchair Spectacular' held on the 17-18 May 2013 at the National Indoor Athletics Centre (NIAC) in Cardiff.
Run in association with Sport Wales and the Welsh government, the Spectacular, gave adults and children, with or without impairments, the opportunity to try a multitude of Paralympic sports; from sledge hockey, to boccia, to wheelchair basketball.
Shooting has been part of the Paralympic games since 1976 in Toronto, testing elite athletes on their accuracy and controlled use of pistols and rifles to fire a series of shots at stationary targets.
Athletes compete in rifle and pistol events from distances of 10, 25 and 50m in men's, women's and mixed competitions. There are two categories, or 'Sport Classes', of competition: SH1 - which features athletes with more severe lower limb than upper limb impairments, so they are able to support the weight of the rifle or pistol themselves; and SH2 - which features athletes with more severe upper limb impairments, which means they require the use of a stand to support the weight of the rifle (i.e. pistol shooting in SH2 class).
Making my way towards the shooting range temporarily set up on the triple and long jump sand pit, shooting coach John Kelman, with the 3 Counties Air Target club based in Carmarthen presented me his hand and a rifle.
"I'm going to give you the rifle in a minute," said John, agonisingly moving the rifle from the reach of my outstretched hands, only to bring it back towards his chest to demonstrate further instructions.
The rifle, blue in colour and light in weight, hosted a rear sight which, John explained, as he put the rifle into my shoulder, is a laser diopter sight, "when you look through it, you should see a red dot – all you need to do is put the red dot on the centre of the target and squeeze the trigger -it's as simple as that," he said.
As we were indoors the range was a laser set-up -live ammunition in the form of pellets and bullets are normally used in Paralympic and other shooting competitions - the targets flashed from red to green when you hit a bull's eye and to my surprise, my first two tugs on the trigger produced two direct hits – frustratingly I was to find out that this was to do with the rifle rather than my innate technique.
"Right, time to give you a more complicated rifle, that one is a lot more forgiving and you are about to find out why", said John as he handed me a wood, beech in colour, rifle with a long black barrel and a list of instructions.
"This is a match rifle with the diopter sights on the rear and at the front of the rifle – put your cheek three to four inches away from the scope; your support hand's pulling there, put the gun firmly into your shoulder and rest the palm of your hand under the barrel; line the two sights up at the centre of the target, now slowly with the tip of your finger build up a pressure on the trigger."
With the rifle poised in my hands I made two lucky shots, prompting John to quip that it was no wonder the IPC had asked me to cover shooting, but my beginners luck began to wear out and I missed more than ten shots in a row.
Although my frustration was beginning to show, my appreciation of the complexity of the sport and the levels of fitness needed to shoot successfully grew substantially.
My arms were aching from holding and keeping the rifle still; my breathing, which I was instructed to use to my advantage - expelling air from the lungs caused the rifle to lower and vice versa - was all over the place; I kept holding my breath to steady my shot every time I pulled the trigger and my body was beginning to fatigue.
"You've got to be in control of your body, and to be in control of your body, you've got to be an athlete," said John, "it doesn't mean you've got to run 10 miles but you've got to balance out your breathing; you take so many breathes between shots and without realising it you can disrupt your breathing pattern – if you disrupt your breathing pattern in a 60 shot match then your oxygen levels will run low effecting your concentration."
To my left was Pablo Rees, who was also giving shooting a go for the first time, but unlike me, was having no problems, I asked him 'don't you find controlling your breathing difficult?' He coolly replied "No, I breathe everyday".
As I sat there ready to take another shot, with my breathing stifled, my concentration intense - yet waning, I thought deeply about how my attitude towards shooting had changed.
I never imagined how difficult the sport could be, how a body reflex, like breathing, could affect the outcome of the result and how much mental and physical effort it takes to control the body – then imagine all of that with the noise of a crowd, the heat of the light's and the pressure of a competition and being able to consistently shoot high scores – it's unbelievably impressive and I don't think I would have ever truly got a sense of the mettle that makes a shooter, until I put that rifle in my hands and pulled that trigger.