The world comes to London and celebrates in style
Fans from the around the world have flocked to the Paralympic Games. Here are some of their experiences.
08 Sep 2012
Imagen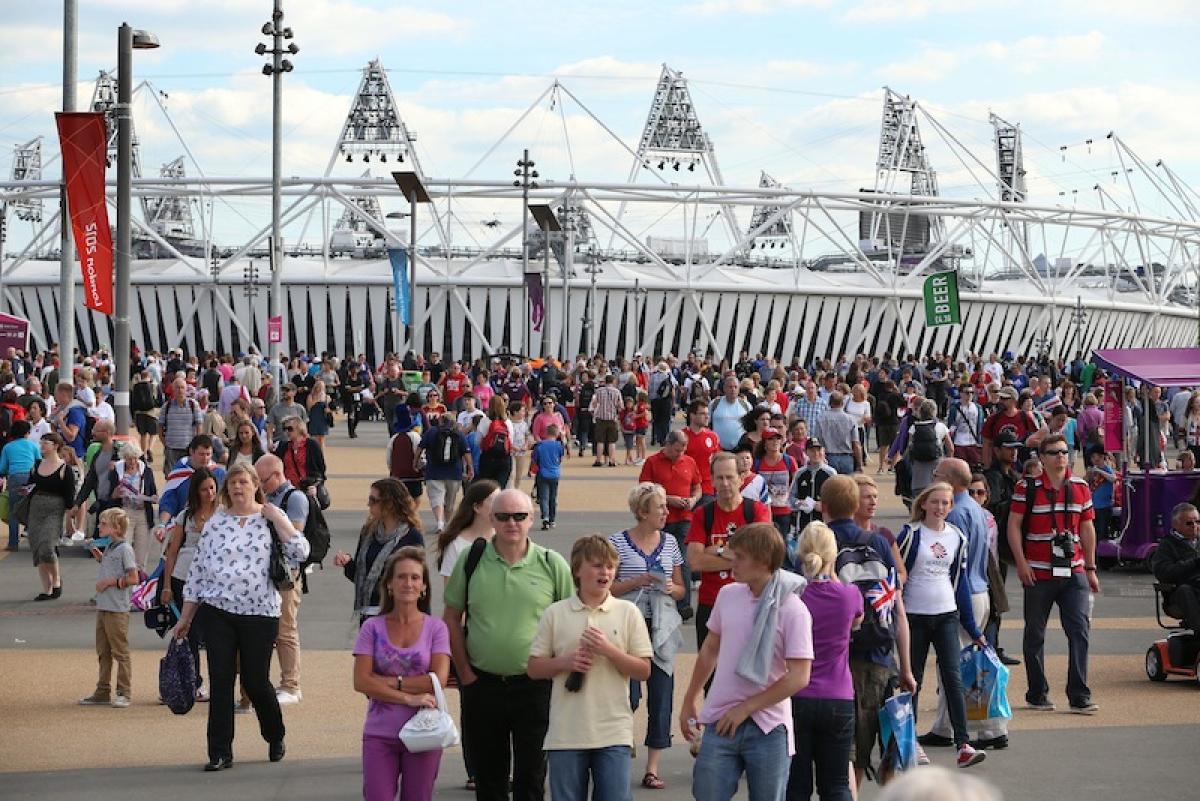 ⒸGetty
"It's very well organised, brilliant, an amazing atmosphere."
Nations across the globe are not only represented in the Paralympic stadiums – the crowds attending events have a real international profile too.
Teacher Gwenn Hamon is with youngsters from the Campus Sport Dinard sports school and college in Rennes, France.
They are spending a week in the UK and several days at the Paralympic Games, attending goalball and swimming during the day.
"We are mainly looking for French athletes," he said, describing the atmosphere in the Olympic Park as "great".
Brazilians Fernanda Orrigo and Renata Fujiwara cheered on the unsuccessful women's goalball team in the women's quarter-final event in the Copper Box arena.
Orrigo, an IT worker, has lived in the UK for 10 years and is with her Australian partner, Stephen Amstutz, who also works in IT and has been in the UK for 15 years.
Fujiwara is with her 15-month-old baby and partner Anthony Trim, a British accountant. She has been in the UK for nine years and despite having Japanese family, she is loyally supporting her national team.
The group of friends were enjoying coming into the park and being able to get tickets for sports they might not have known about, such as goalball.
"I would not have looked at that," said Trim. "It's important to learn a bit more about other sports."
Hairdresser Jeannica Jalmestal has come from SWEDEN to support her sister, Josefine, who is playing in the goalball quarterfinal against GB.
"This is such a big event," she said. "It has been great." She said the Paralympic Games had given a high profile to the sport.
Elena Winter, from RUSSIA, has lived in the UK for more than 14 years and works in London's top store, Harrods.
She has brought six-year-old daughter Emma to the Paralympic Games on the last day of the school summer holidays and the pair had enjoyed the swimming events, and had attended basketball on another day.
"It's been a very good experience," she said. "At the swimming I really enjoyed the atmosphere. People look more happy generally, it's good to see people so entertained and happy and it's good for the economy."
She has supported Russian athletes at events but feels the crowds are supportive of all nations.
South African Shameemah Williams has been in the Olympic stadium watching track and field events with her London Underground colleague, New Zealander Vicky Balderston. Williams has been in the UK for more than eight years and Balderston for 16.
Balderston had enjoyed seeing the Olympics on TV and so bought tickets for the Paralympic Games for the pair of them.
"When the Olympics were on I was really excited and searched and found a few tickets for the Paralympics, so I got what I could," she said. They had watched track and field events in the Olympic stadium. "It's amazing, incredible."
Sixteen-year-old student Mohamed Naim, from Portugal, is with family who live in Britain, and they had bought tickets for events throughout the Games.
He is wrapped in a Portuguese flag and enjoyed seeing his nation's athletes in the heat of the men's 4x100m relay T11/13. "Though they came last," his family remind him.
Walter Haag is originally from Austria but has lived in the UK for six years. He is wearing an Austrian football shirt and has tickets for the seven-a-side football in the Riverside stadium, but does not know whether he will see any Austrian athletes during the day. His countryman Gunther Matzinger was taking a gold medal in the men's 400m T46 that morning, though.
And Haag had enjoyed watching the equestrian Paralympic events on TV, where his country's Pepe Puch took a gold medal in the individual freestyle test grade 1b.
He is a consultant in renewable energy. "So I've been enjoying looking at the wind turbines in the Olympic Park," he said.
New Zealanders Roger and Lorraine Seaton are in the UK for ten weeks, visiting their daughter Suzanne Taylor, her husband Paul, and grandchildren children Oliver, six, and two-year-old Nathan. The whole family are spending the day here on the last day before Oliver returns to school.
"It's very well organised, brilliant, an amazing atmosphere," said Roger Seaton.
And Sergi Blasco, from Spain, is loving the atmosphere as he supports his friends, Paralympic athletes Joan Borrisser Roldan and Martin Parejo Maza, taking photos of them with fans in the Olympic stadium.
"It's a unique opportunity from them," he said, and the short trip from Barcelona made it possible for him to come and support them.