Imagen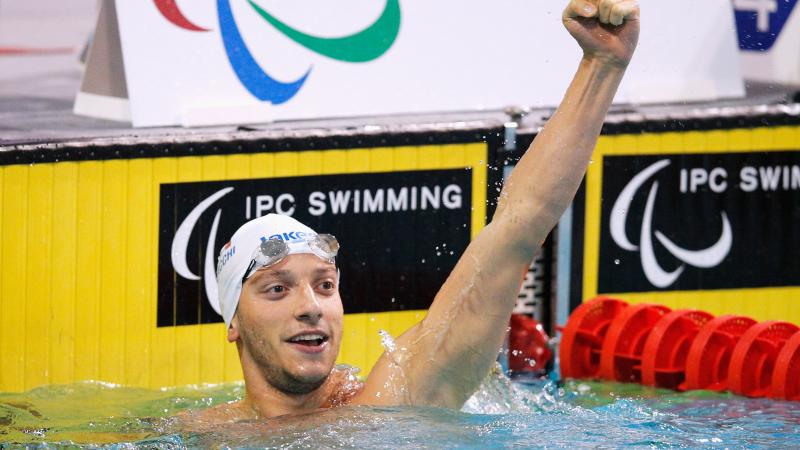 Federico Morlacchi
Swimming
Biography
Impairment information
Origin of Impairment
Congenital
Classification
S9, SB8, SM9
Further personal information
Occupation
Athlete, Medical Professional
Languages
Italian, English
Higher education
Osteopathy - Institute of Osteopathy: Milan, ITA
Sport specific information
When and where did you begin this sport?
His mother first took him swimming at age three in Luino, Italy.
Why this sport?
Doctors advised him to take up swimming to strengthen his leg muscles after being diagnosed with congenital hypoplasia in his left femur. He has also said he took up swimming to relieve back pain.
Club / Team
Polha Varese: Italy
Name of coach
Riccardo Vernole [national]; Marco Pedoja [personal]
Training Regime
He trains up to six hours a day.
General interest
Nicknames
Morelucky, Morlacci [due to his last name often being mispronounced]. (Federazione Italiana Nuoto Paralimpico YouTube channel, 02 Jun 2019; Athlete, 26 Aug 2010)
Hobbies
Travelling, reading, playing computer games, supporting Italian football club Juventus, cooking. (Athlete, 09 Sep 2019; azzurridigloria.com, 19 Nov 2020)
Memorable sporting achievement
Winning a gold medal in the SM9 200m individual medley at the 2016 Paralympic Games in Rio de Janeiro. (Athlete, 09 Sep 2019)
Most influential person in career
Coach Massimiliano Tosin. (Athlete, 09 Sep 2019)
Hero / Idol
Australian Para swimmer Matthew Cowdrey, Italian Para swimmer Simone Barlaam, US swimmer Michael Phelps.(Athlete, 09 Sep 2019; azzurridigloria.com, 19 Nov 2020)
Superstitions / Rituals / Beliefs
"Before the start of every race we [the Italian Para swimming team] all gather in a circle and we make a very loud, animalistic scream. The swimming pool trembles. It's our way of saying we are here to compete." (repubblica.it, 10 Aug 2019)
Sporting philosophy / motto
"Swimming has taught me to lose. Defeat is part of a person's life and sports as well as school teach you to react to defeats. Sport prepares you for a world that no longer has this sweetness, so you must know that in times of need you must be ready and in the unfortunate event that it goes wrong you must be ready to get up immediately." (azzurridigloria.com, 19 Nov 2020)
Awards and honours
In 2016 he received the Golden Collar for outstanding sporting achievement and ethics from the Italian Olympic Committee and Italian Paralympic Committee. (ilcorrieredelverbano.it, 26 Feb 2020)

In 2016 he received the Diamond of Fame Award as Para Athlete of the Year in Italy. (girohandbike.it, 19 Feb 2019)

In 2015 and 2016 he received the Paralympic Award at the Viareggio Sport Awards Gala in Italy. (premioviareggiosport.it, 01 Jan 2017; comitatoparalimpico.it, 14 Nov 2016)

He received the 2015 Ambassador of Luino in the World award from the mayor of Luino in Italy. (varesenews.it, 25 Nov 2015)
Ambitions
To win a gold medal at the 2020 Paralympic Games in Tokyo. (azzurridigloria.com, 19 Nov 2020)
Impairment
He has hypoplasia [incomplete tissue development] in his left leg. (Athlete, 03 Dec 2017, 26 Aug 2010)
Other information
CHANGE OF COACH
In 2020 he parted ways with coach Massimiliano Tosin who had trained him since 2006. He has since begun training with coach Marco Pedoja. "In March [2020] I bought a house near Luino, my hometown, and having taken this important step in my life, unfortunately I could not afford to continue living in Milan and training with Massimiliano. Given that I have known Marco Pedoja very well and for many years, with whom we have also been athletes together, and that I respect him a lot as a coach, the choice to rely on him was obvious." (swim4lifemagazine.it, 03 Jul 2020)

CONSIDERING RETIREMENT
In 2019 he said he is considering retiring after the 2020 Paralympic Games in Tokyo to focus on his career in osteopathy and start a family. "I believe that the period of Federico 1.0 will end with Tokyo. At age 27, it is right to give space to other things in life too. But then again, quitting or not quitting, saying it today seems a little premature." (nuoto.com, 23 Nov 2019)

SHARING GOLD
At the 2019 World Championships in London, England, he and Simone Barlaam tied for first in the S9 100m butterfly final. When he lived in Milan the pair trained together everyday for a number of years. "For a year we dreamed of such an epic end to the 100m butterfly, and incredibly it actually happened. Tied for first, I couldn't believe it. The 100m fly is a race that we are both well-suited to. Simone has his explosiveness, and I have my endurance. Simone is stronger than me and will improve further. But as long as I keep getting selected, I have experience on my side." (nuoto.com, 23 Nov 2019)

ITALIAN TEAM SPIRIT
He believes the Italian swimming squad's strong emphasis on team spirit is one of the main reasons why its teams have performed well at major tournaments, particularly in relay events. "The strength of the group is so important. It seems trivial, but in a sport like swimming, where when you enter the water there's just you and the blue line, reaching such a high level of cohesion both from both a human and a team point of view is an extraordinary feat. In our team the unity translates into the relay races - the only moment that a swimmer can enjoy the sport he loves as part of a team. At the [2018] European Championships in Dublin, we really dominated almost all the relay races." (repubblica.it, 10 Aug 2019)

BIOGRAPHY
In December 2017 he released his biography, written by author Davide Di Giuseppe, titled 'Born for the Water'. (varesenews.it, 12 Dec 2017)
Results
IPC Swimming World Championships Eindhoven 2010 (Eindhoven, Netherlands)

| Event | Medal | Unit | Date | Rank |
| --- | --- | --- | --- | --- |
| Men's 100 m Butterfly S9 | | Heat 1 | | 2 |
| Men's 50 m Freestyle S9 | | Heat 1 | | 5 |
| Men's 200 m Individual Medley SM9 | | Final Round | | 7 |
| Men's 200 m Individual Medley SM9 | | Heat 2 | | 4 |
| Men's 100 m Freestyle S9 | | Heat 2 | | 5 |
| Men's 100 m Butterfly S9 | | Final Round | | 4 |
2013 IPC Swimming World Championships (Montreal, Canada)

| Event | Medal | Unit | Date | Rank |
| --- | --- | --- | --- | --- |
| Men's 200 m Individual Medley SM9 | | Heat 1 | 2013-08-13 | 3 |
| Men's 200 m Individual Medley SM9 | | Final 1 | 2013-08-13 | 3 |
| Men's 400 m Freestyle S9 | | Heat 2 | 2013-08-16 | 4 |
| Men's 400 m Freestyle S9 | | Final 1 | 2013-08-16 | 2 |
| Men's 100 m Butterfly S9 | | Heat 2 | 2013-08-17 | 3 |
| Men's 100 m Butterfly S9 | | Final 1 | 2013-08-17 | 1 |
| Men's 100 m Backstroke S9 | | Heat 2 | 2013-08-18 | 10 |
2015 IPC Swimming World Championships (Glasgow, Great Britain)

| Event | Medal | Unit | Date | Rank |
| --- | --- | --- | --- | --- |
| Men's 100 m Breaststroke SB8 | | Final 1 | 2015-07-14 | 4 |
| Men's 100 m Freestyle S9 | | Heat 1 | 2015-07-14 | 4 |
| Men's 100 m Breaststroke SB8 | | Heat 2 | 2015-07-14 | 5 |
| Men's 100 m Freestyle S9 | | Final 1 | 2015-07-14 | 2 |
| Men's 100 m Butterfly S9 | | Heat 2 | 2015-07-17 | 1 |
| Men's 100 m Butterfly S9 | | Final 1 | 2015-07-17 | 2 |
| Men's 400 m Freestyle S9 | | Final 1 | 2015-07-18 | 2 |
| Men's 400 m Freestyle S9 | | Heat 1 | 2015-07-18 | 3 |
| Men's 200 m Individual Medley SM9 | | Heat 3 | 2015-07-19 | 5 |
| Men's 200 m Individual Medley SM9 | | Final 1 | 2015-07-19 | 1 |
Mexico City 2017 World Para Swimming Championships (Mexico City, Mexico)

| Event | Medal | Unit | Date | Rank |
| --- | --- | --- | --- | --- |
| Men's 4x100 m Freestyle 34pts | | Final 1 | 2017-12-02 | 2 |
| Men's 100 m Backstroke S9 | | Heat 1 | 2017-12-02 | 5 |
| Men's 100 m Backstroke S9 | | Final 1 | 2017-12-02 | 2 |
| Men's 100 m Freestyle S9 | | Final 1 | 2017-12-04 | 3 |
| Men's 100 m Freestyle S9 | | Heat 2 | 2017-12-04 | 5 |
| Men's 200 m Individual Medley SM9 | | Final 1 | 2017-12-04 | 1 |
| Men's 100 m Breaststroke SB8 | | Final 1 | 2017-12-05 | 3 |
| Men's 100 m Breaststroke SB8 | | Heat 1 | 2017-12-05 | 3 |
| Men's 100 m Butterfly S9 | | Final 1 | 2017-12-06 | 2 |
| Men's 100 m Butterfly S9 | | Heat 1 | 2017-12-06 | 5 |
| Men's 400 m Freestyle S9 | | Final 1 | 2017-12-07 | 1 |
| Men's 400 m Freestyle S9 | | Heat 1 | 2017-12-07 | 1 |