Imagen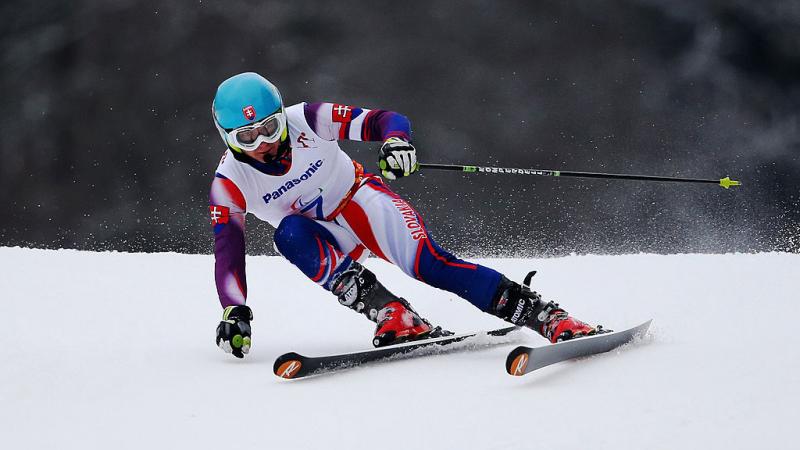 Jakub Krako
Alpine Skiing
Throughout his career Jakub Krako has achieved his best results at Paralympic Winter Games. He is someone who enjoys tough challenges and performs better when he competes on the biggest stage of all.
At PyeongChang 2018, the Slovakian once again stood out by winning one gold and three silvers in the men´s vision impaired alongside guide Branislav Brozman. He also ended second in the season´s overall World Cup standings.
One year before, he won one silver and one bronze at the World Championships in Tarvisio, Italy.
It was on Italian soil that Krako competed at his first Paralympic Winter Games at just 15-years-old in Torino, in 2006. Despite leaving without a medal, he gained necessary experience ahead of the following competitions. The best was yet to come.
In 2010, Krako took three Paralympic golds in the men´s giant slalom, slalom and super-combined visually impaired in Vancouver, Canada. He followed that up with silver in the super-G.
His success boosted his confidence and, in 2011, he won gold in the slalom at the World Championships in Sestriere, Italy.
Krako could not reach the podium at the 2013 and 2015 World Championships in La Molina, Spain, and Panorama, Canada, respectively, but showed he was again at his best at the Paralympics, this time in Sochi, Russia, in 2014. There, the Slovakian claimed gold in the super-G and silver in the slalom.
Biography
Impairment information
Type of Impairment
Vision impairment
Origin of Impairment
Congenital
Guide
Branislav Brozman, SVK
Further personal information
Family
Wife Andrejka, son Leonard [2018], daughter Sarlota [2020]
Occupation
Athlete, Coach
Languages
English, German, Slovak
Higher education
Business - University of Economics in Bratislava: Slovakia
Sport specific information
When and where did you begin this sport?
He began skiing in 1998 at the Remata ski resort in Raztocno, Slovakia.
Why this sport?
"My parents were athletic. Dad played volleyball, my mother danced in a folk ensemble and tried to guide me and my sister. I tried everything from karate to dance. Finally, I got into skiing through the Looking for Talents project. At first, I only began it as a hobby. I wanted to learn, but I started to enjoy it, and especially thanks to my dedicated mother, who was willing to drive me to training regularly, skiing became a part of my life."
Name of coach
Roman Petrik [national], SVK
General interest
Memorable sporting achievement
Winning three gold medals at the 2010 Paralympic Winter Games in Vancouver. (heroes.sk, 11 May 2021)
Injuries
In November 2019 he ruptured the anterior cruciate ligament [ACL] and lateral ligament in his right knee while training in Austria. He underwent three operations and returned to indoor training on the snow in mid-2020. (paralympic.org, 28 Feb 2021; sport.aktuality.sk, 21 May 2020; sport.sme.sk, 06 Apr 2020)

He injured his left knee at the 2015 NorAm Cup event in Kimberley, BC, Canada. Doctors advised him the injury was not serious and he went on to compete the following week at the 2015 World Championships in Panorama, BC, Canada. On his return to Slovakia an MRI scan showed he had torn a ligament at the front of the knee. He underwent surgery in June 2015, and did not return to the slopes until July 2016. (IPC, 10 Feb 2018; paralympic.org, 06 Jun 2017, 05 Nov 2015; spv.sk, 23 Mar 2016)
Sporting philosophy / motto
"Go as fast as possible, and then faster." (Athlete, 08 Mar 2014)
Awards and honours
He was flag bearer for Slovakia at the opening ceremony of the 2014 Paralympic Winter Games in Sochi. (sportky.zoznam.sk, 07 Mar 2014)
Milestones
He became the first male athlete representing Slovakia to win a gold medal at the Paralympic Winter Games when he triumphed in the visually impaired super combined event at the 2010 Games in Vancouver. He went on to also win gold in slalom and giant slalom at the 2010 Games. (SportsDeskOnline, 16 Nov 2018; jakubkrako.com, 01 Apr 2018; sazps.sk, 02 Mar 2018)
Ambitions
To compete at the 2022 Paralympic Winter Games in Beijing. (paralympic.sk, 12 Aug 2021)
Impairment
He has Stargardt disease, an inherited condition that affects vision. He was diagnosed at age six. "My retina is sick, causing problems with the regeneration of slowly dying cells. I have a narrow field of vision, which means I have black spots that I can't see through at all, and my acuity is worse. What a healthy person sees from 50 metres, I see from two." (heroes.sk, 11 May 2021; smesirovni.sk, 20 Nov 2019; IPC, 10 Feb 2018; Athlete, 08 Mar 2014)
Other information
COACHING
He combines competing in Para alpine skiing with coaching junior Para skiers. "I'm not a professional. I am employed by the Slovak Paralympic Committee and I have work responsibilities in addition to training. Together with Juraj Meder, I lead our junior Paralympic team. I train alongside them. I try to be a role model and a mentor. Combining training with work requires careful time management, but it can be done. Four or five years ago [speaking in 2021], we started with four children who didn't even know how to ski properly. We are now working with 14 young skiers who have the prospect of reaching the Paralympics." (heroes.sk, 11 May 2021)

FATHERHOOD
He says the time he spends skiing away from his family, including son Leonard and daughter Sarlota, encourages him to make the most out of his training. "I try to be with them as much as possible and enjoy every moment. It is really difficult for me to leave them because I have to train. Therefore, I try to do my best in training, so the time I spend on skis without my family is not wasted. This is my job and a lot of men have to go for their jobs to the office and spend a lot of time there. When I come back to Slovakia, I spend a lot of time with them so perhaps I miss a lot of things now, but when I come back, I will get it back for me and for my family. The most difficult thing about combining the roles of athlete and father is not training hard and being with family, but recovery. Honestly, I miss sleeping. A lot. But Leonard and Sarlota's smiles are the biggest reward for me." (paralympic.org, 28 Feb 2021)

POLITICS
In 2020 he ran in parliamentary elections for the National Council of the Slovak Republic [NRSR]. "One of my goals was to move the sport in the direction I think is right. However, I mainly wanted to focus on the problems of people with disabilities. There are many absurdities in the legislation that I hoped I would be able to rectify. Unfortunately, I did not receive the required number of votes, but I believe that I will find a way to do so in the future." (heroes.sk, 11 May 2021; regiony.zoznam.sk, 09 Jan 2020)

FURTHER EDUCATION
He has earned a PhD from the University of Economics in Bratislava in Slovakia. (regiony.zoznam.sk, 09 Jan 2020; paralympic.sk, 01 Jan 2019)
Results
IPC Alpine Skiing World Championships (Kangwonland, South Korea)

| Event | Medal | Unit | Date | Rank |
| --- | --- | --- | --- | --- |
| Men's Slalom VI | | Final | 2009-02-20 | 1 |
| Men's Giant Slalom VI | | Final | 2009-02-21 | 2 |
| Men's Super-G VI | | Final | 2009-02-23 | 3 |
| Men's Super-Combined VI | | Final | 2009-02-23 | 2 |
| Men's Super-G VI | | Run 2 | 2009-02-24 | 6 |
| Men's Downhill VI | | Final | 2009-02-28 | 5 |
2011 IPC Alpine Skiing World Championships (Sestriere, Italy)

| Event | Medal | Unit | Date | Rank |
| --- | --- | --- | --- | --- |
| Men's Downhill VI | | Final | 2011-01-16 | 5 |
| Men's Super-G VI | | Final | 2011-01-18 | 4 |
| Men's Super-Combined VI | | Final | 2011-01-19 | 2 |
| Men's Slalom VI | | Final | 2011-01-20 | 1 |
| Men's Giant Slalom VI | | Final | 2011-01-21 | 2 |
| Mixed Team Event VI/Sitting/Standing | | Final | 2011-01-23 | 3 |
IPC Alpine Skiing World Championships (La Molina, Spain)

| Event | Medal | Unit | Date | Rank |
| --- | --- | --- | --- | --- |
| Men's Downhill VI | | Race 1 | 2013-02-20 | 14 |
| Men's Super-G VI | | Race 1 | 2013-02-21 | 10 |
| Men's Slalom VI | | Race 1 | 2013-02-24 | 5 |
| Men's Super-Combined VI | | Race 1 | 2013-02-25 | 9999 |
| Men's Giant Slalom VI | | Race 1 | 2013-02-26 | 4 |
2015 IPC Alpine Skiing World Championships Panorama (Panorama, Canada)

| Event | Medal | Unit | Date | Rank |
| --- | --- | --- | --- | --- |
| Men's Super-G VI | | Race 1 | 2015-03-05 | 12 |
| Men's Giant Slalom VI | | Race 1 | 2015-03-08 | 7 |
2017 IPC Alpine skiing World Championships Tarvisio, ITA (Tarvisio, Italy)

| Event | Medal | Unit | Date | Rank |
| --- | --- | --- | --- | --- |
| Men's Downhill VI | | Race 1 | 2017-01-25 | 4 |
| Men's Super-G VI | | Race 1 | 2017-01-26 | 2 |
| Men's Super-Combined VI | | Race 1 | 2017-01-28 | 3 |
| Men's Giant Slalom VI | | Race 1 | 2017-01-30 | 9999 |
| Men's Slalom VI | | Race 1 | 2017-01-31 | 3 |
Kranjska Gora/Sella Nevea 2019 World Para Alpine Skiing Championships (Kranjska Gora/Sella Nevea, Slovenia)

| Event | Medal | Unit | Date | Rank |
| --- | --- | --- | --- | --- |
| Men's Giant Slalom VI | | Race 1 | 2019-01-21 | 6 |
| Men's Slalom VI | | Race 1 | 2019-01-23 | 9999 |
| Men's Downhill VI | | Race 1 | 2019-01-30 | 3 |
| Men's Super-Combined VI | | Race 1 | 2019-01-31 | 2 |
| Men's Super-G VI | | Race 1 (from SC) | 2019-01-31 | 2 |