Imagen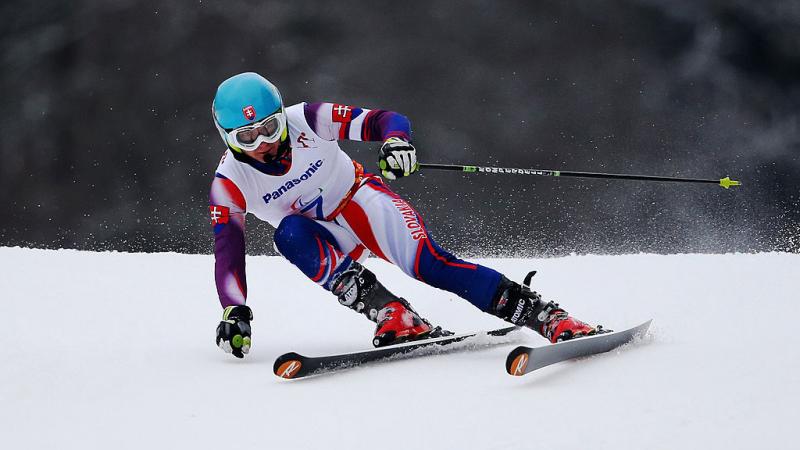 Jakub Krako
Alpine Skiing
Throughout his career Jakub Krako has achieved his best results at Paralympic Winter Games. He is someone who enjoys tough challenges and performs better when he competes on the biggest stage of all.
At PyeongChang 2018, the Slovakian once again stood out by winning one gold and three silvers in the men´s vision impaired alongside guide Branislav Brozman. He also ended second in the season´s overall World Cup standings.
One year before, he won one silver and one bronze at the World Championships in Tarvisio, Italy.
It was on Italian soil that Krako competed at his first Paralympic Winter Games at just 15-years-old in Torino, in 2006. Despite leaving without a medal, he gained necessary experience ahead of the following competitions. The best was yet to come.
In 2010, Krako took three Paralympic golds in the men´s giant slalom, slalom and super-combined visually impaired in Vancouver, Canada. He followed that up with silver in the super-G.
His success boosted his confidence and, in 2011, he won gold in the slalom at the World Championships in Sestriere, Italy.
Krako could not reach the podium at the 2013 and 2015 World Championships in La Molina, Spain, and Panorama, Canada, respectively, but showed he was again at his best at the Paralympics, this time in Sochi, Russia, in 2014. There, the Slovakian claimed gold in the super-G and silver in the slalom.
Results
IPC Alpine Skiing World Championships (Kangwonland, South Korea)

| Event | Medal | Unit | Date | Rank |
| --- | --- | --- | --- | --- |
| Men's Slalom VI | | Final | 2009-02-20 | 1 |
| Men's Giant Slalom VI | | Final | 2009-02-21 | 2 |
| Men's Super-G VI | | Final | 2009-02-23 | 3 |
| Men's Super-Combined VI | | Final | 2009-02-23 | 2 |
| Men's Super-G VI | | Run 2 | 2009-02-24 | 6 |
| Men's Downhill VI | | Final | 2009-02-28 | 5 |
2011 IPC Alpine Skiing World Championships (Sestriere, Italy)

| Event | Medal | Unit | Date | Rank |
| --- | --- | --- | --- | --- |
| Men's Downhill VI | | Final | 2011-01-16 | 5 |
| Men's Super-G VI | | Final | 2011-01-18 | 4 |
| Men's Super-Combined VI | | Final | 2011-01-19 | 2 |
| Men's Slalom VI | | Final | 2011-01-20 | 1 |
| Men's Giant Slalom VI | | Final | 2011-01-21 | 2 |
| Mixed Team Event VI/Sitting/Standing | | Final | 2011-01-23 | 3 |
IPC Alpine Skiing World Championships (La Molina, Spain)

| Event | Medal | Unit | Date | Rank |
| --- | --- | --- | --- | --- |
| Men's Downhill VI | | Race 1 | 2013-02-20 | 14 |
| Men's Super-G VI | | Race 1 | 2013-02-21 | 10 |
| Men's Slalom VI | | Race 1 | 2013-02-24 | 5 |
| Men's Super-Combined VI | | Race 1 | 2013-02-25 | 9999 |
| Men's Giant Slalom VI | | Race 1 | 2013-02-26 | 4 |
2015 IPC Alpine Skiing World Championships Panorama (Panorama, Canada)

| Event | Medal | Unit | Date | Rank |
| --- | --- | --- | --- | --- |
| Men's Super-G VI | | Race 1 | 2015-03-05 | 12 |
| Men's Giant Slalom VI | | Race 1 | 2015-03-08 | 7 |
2017 IPC Alpine skiing World Championships Tarvisio, ITA (Tarvisio, Italy)

| Event | Medal | Unit | Date | Rank |
| --- | --- | --- | --- | --- |
| Men's Downhill VI | | Race 1 | 2017-01-25 | 4 |
| Men's Super-G VI | | Race 1 | 2017-01-26 | 2 |
| Men's Super-Combined VI | | Race 1 | 2017-01-28 | 3 |
| Men's Giant Slalom VI | | Race 1 | 2017-01-30 | 9999 |
| Men's Slalom VI | | Race 1 | 2017-01-31 | 3 |
Kranjska Gora/Sella Nevea 2019 World Para Alpine Skiing Championships (Kranjska Gora/Sella Nevea, Slovenia)

| Event | Medal | Unit | Date | Rank |
| --- | --- | --- | --- | --- |
| Men's Giant Slalom VI | | Race 1 | 2019-01-21 | 6 |
| Men's Slalom VI | | Race 1 | 2019-01-23 | 9999 |
| Men's Downhill VI | | Race 1 | 2019-01-30 | 3 |
| Men's Super-G VI | | Race 1 (from SC) | 2019-01-31 | 2 |
| Men's Super-Combined VI | | Race 1 | 2019-01-31 | 2 |
Lillehammer 2021 World Para Snow Sports Championships (Lillehammer, Norway)

| Event | Medal | Unit | Date | Rank |
| --- | --- | --- | --- | --- |
| Men's Downhill VI | | Race 1 | 2022-01-14 | 3 |
| Men's Super-G VI | | Race 1 | 2022-01-15 | 5 |
| Men's Super-Combined VI | | Race 1 | 2022-01-17 | 9999 |
| Men's Super-G VI | | Race 1 (from SC) | 2022-01-17 | 5 |
| Men's Giant Slalom VI | | Race 1 | 2022-01-19 | 4 |
| Men's Slalom VI | | Race 1 | 2022-01-21 | 3 |
| Men's Parallel Event VI | | Race 1 | 2022-01-23 | 8 |