Imagen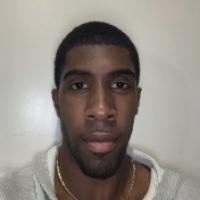 Biography
Impairment information
Origin of Impairment
Congenital
Classification
S10, SB9, SM10
Further personal information
Residence
Inglewood, CA, USA
Occupation
Athlete, Businessperson, Lifeguard, Marketing, Motivational Speaker
Languages
English, French
Higher education
Business, Physics - Hiram College: United States
Sport specific information
When and where did you begin this sport?
He began swimming as a baby, and grew up competing alongside able-bodied swimmers. In 2018 he took part in his first Para swimming competition. "I had my first Paralympic swim meet in September [2018] and I plan on taking gold in 2020 [Paralympic Games]. I'm also training in the 100m backstroke – a new event for me."
Why this sport?
He was initially reluctant to compete in Para swimming, until he met coach Wilma Wong in 2018. "Wong told me I could go to the Paralympics. In training we noticed that my dives needed improvement because my legs weren't functioning. And we finally started talking about it [Para swimming] openly. And I wish I'd started sooner. People see me and they're like, 'Wow you look so strong, I can't even imagine that there's something wrong with you'. For a long time it was a point of shame for me. I never talked about it. I knew that I didn't want to be handicapped by it, but I also did a lot of emotional and mental handicapping on myself. I felt cursed. As soon as I stopped treating it like a curse, blessings and opportunities just started flowing."
Club / Team
Boys & Girls Club: Pasadena, CA, USA
Name of coach
Wilma Wong [personal]
Training Regime
He trains in Altadena, CA, United States of America.
General interest
Most influential person in career
Coach Wilma Wong. (blackkidsswim.com, 20 Nov 2018)
Injuries
At age nine he dislocated his right shoulder while swimming. (blackkidsswim.com, 20 Nov 2018)
Sporting philosophy / motto
"The things that we think are holding us back, that are these curses on us, that we just wish weren't there, the things that we wish we could wish away are there for a reason. We need to wish that we knew how to use them." (lastandardnewspaper.com, 21 Nov 2018)
Ambitions
To win a gold medal at the 2020 Paralympic Games in Tokyo. (Facebook page, 19 Mar 2019; craftonhills.edu, 24 Sep 2018; blackkidsswim.com, 20 Nov 2018)
Impairment
He has diminished motor function in his arms and legs due to Charcot-Marie-Tooth disease. "It runs in my family. It affects my mum a little bit. It affects my uncles pretty heavily. Essentially my motor neurons in my outer extremities, from my elbow to my fingertips and from my kneecaps all the way to my toes, gives me a lot of problems." (blackkidsswim.com, 20 Nov 2018; lastandardnewspaper.com, 21 Nov 2018)
Other information
OCCUPATION
He founded his own digital marketing brand, which he uses to promote low-cost swimming lessons through Swim Up Hill, an online programme where he virtually trains students in swimming. "My mission is to teach one million people how to swim. And I now work with swim schools all across Los Angeles to help the schools facilitate more lessons for lower cost to the customer." (blackkidsswim.com, 20 Nov 2018; Linkedin profile, 01 Jan 2019)

FINDING WILMA
He believes the key to unlocking his potential as a Para swimmer came after opening up about his impairment to coach Wilma Wong. "I was able to get a small athletic scholarship to Hiram College [but in] my junior year I performed so poorly I was legitimately embarrassed. I told my parents I had to leave the school. I started looking at the best coaches in the world and I found Dave Salo at USC. I called Dave and I said 'I'm leaving college to swim with you' and he said absolutely do not do that, that's a terrible idea. And I called him for a few weeks until he got it in his head that I was coming and I was not asking for permission. So my senior year I returned to California and I never enrolled at USC, I just joined their post-grad swim team – the Trojan Elite - which has many Olympians on it. And I thought that would be the key to my success. I spent a year there reading and working. And in May I wasn't that much faster. Just one or two tenths faster. And I was insanely frustrated. I asked myself 'What am I doing wrong?' And that's when I started to realise what I needed in a coach. And I needed a personal coach. I need someone who is paying attention to me swim. I need a partner. And I found Wilma Wong through another swimmer. And she was the first one that recognised that I had Charcot-Marie-Tooth [disease]. I never told anyone because I was ashamed of it." (blackkidsswim.com, 20 Nov 2018)

EARLY DAYS
An injury to his right shoulder at age nine caused him to take a break from swimming for several years. "At nine years old I dislocated my right shoulder from swimming. The injury was a result of improper technique and a genetic disorder, Charcot-Marie-Tooth [CMT]. CMT damages the nerves in the arms and legs and, for me, reduces mobility in my legs. And I never told anyone about it for years. So my right shoulder was messed up and doctors thought they'd have to amputate my right arm. My family assumed swimming was over for me. For months, I was in children's hospital paralysed. I had to learn to write with my left hand because my right arm was completely immobilised. Eventually, I recovered. I started playing basketball and got back into swimming my sophomore year of high school." (blackkidsswim.com, 20 Nov 2018)