Imagen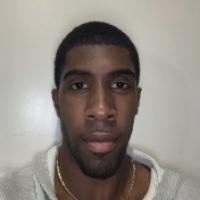 Biography
Impairment information
Origin of Impairment
Congenital
Classification
S9, SB9, SM9
Further personal information
Residence
Inglewood, CA, USA
Occupation
Athlete, Business Owner, Director, Lifeguard
Languages
English, French
Higher education
Physics - Hiram College: United States
Sport specific information
When and where did you begin this sport?
He began swimming as an infant as part of a YMCA Mommy and Me programme. He swam in his first competition at age seven, and continued to compete against non-disabled swimmers throughout his childhood, high school and college years. In 2018 he took part in his first Para swimming competition.
Why this sport?
He was initially reluctant to compete in Para swimming, until he met coach Wilma Wong in 2018, who encouraged him to open up about his impairment. "Wong told me I could go to the Paralympics. In training we noticed that my dives needed improvement because my legs weren't functioning, and we finally started talking about it [Para swimming] openly. I wish I'd started sooner. People see me and they're like, 'Wow you look so strong, I can't even imagine that there's something wrong with you.' For a long time it was a point of shame for me. I never talked about it. I knew that I didn't want to be handicapped by it, but I also did a lot of emotional and mental handicapping on myself. I felt cursed. As soon as I stopped treating it like a curse, blessings and opportunities just started flowing."
Club / Team
Swim Up Hill Victors: Los Angeles, CA, USA
Name of coach
Wilma Wong [personal]
Training Regime
He trains for five hours a day, five days a week, but only around 40 minutes of each session is spent in the pool. He trains at the Boys and Girls Club in Pasadena, California. Out of the pool he focuses on strength training, using resistance bands to do chest presses, dead lifts, and bent-over rows.
General interest
Hobbies
Reading. (denofgeek.com, 28 Aug 2021)
Most influential person in career
Coach Wilma Wong. (simplyswim.com, 22 Jul 2019; blackkidsswim.com, 20 Nov 2018)
Hero / Idol
US boxer Muhammad Ali, US swimmer Michael Phelps, US tennis player Serena Williams. (simplyswim.com, 22 Jul 2019)
Injuries
At age nine he dislocated his right shoulder while swimming. (blackkidsswim.com, 20 Nov 2018)

As a young child he was hospitalised for several weeks after catching the flu, during which time he also experienced paralysis. (teamusa.org, 22 Sep 2020)
Sporting philosophy / motto
"My disability isn't something most people can see. I don't fit the stigmatic view of disability, or what people may consider a Para athlete to be. When I joined the Paralympic movement, it allowed me to really own myself and my truth. I had really been hiding in the shadows and had never talked to anybody about my condition for 12 years, through competing at high school and college. I never wanted to be the guy who wanted to make any excuses." (teamusa.org, 22 Sep 2020)
Awards and honours
In 2021 he won the Cullen Jones Aquatic Athlete of the Year Award, presented by Diversity in Aquatics, in the United States of America. (swimuphill.com, 01 Jun 2021)
Ambitions
To compete at the 2024 and 2028 Paralympic Games. (latimes.com, 15 Dec 2021)
Impairment
In 1995, at age 10, he was taken to hospital after the right side of his body went numb. When he got to hospital he was almost entirely paralysed, and could only speak and move his head. He was diagnosed with Charcot-Marie-Tooth disease [CMT], an inherited condition that causes nerve damage. He stayed in hospital for several months while paralysed before he recovered with reduced motor function in his arms and legs. "CMT runs in my family. It affects my mum a little bit. It affects my uncles pretty heavily. Essentially, my motor neurons in my outer extremities give me a lot of problems. From my knees to my toes, it pretty much feels like I'm walking on prosthetics. From my elbows to my fingertips, I have about 30% nerve capacity there, so it just looks like I'm clumsy." (menshealth.com, 14 Jul 2021; lastandardnewspaper.com, 21 Nov 2018; blackkidsswim.com, 20 Nov 2018)
Other information
PARA SWIMMING SWITCH
After struggling to meet his own expectations in non-disabled swimming while training at Hiram College and later with the post-graduate team at the University of Southern California [USC], he began working with coach Wilma Wong, who noticed his impairment and suggested he switch to Para swimming. "I started to realise what I needed in a coach - a personal coach. I need someone who is paying attention to me, and I found Wilma Wong through another swimmer. She was the first one that recognised that I had Charcot-Marie-Tooth [disease]. I never told anyone because I was ashamed of it. She was the one who got me on the Paralympic track and helped me to ultimately open up about my disability." He had initially been against switching to Para swimming and asked Wong to keep his impairment secret, before choosing to move into Para sport after talking to his family. "I don't have to hide in plain sight anymore. Really accepting that of myself allowed me to really blossom and grow in this space." (foxla.com, 01 Feb 2022; latimes.com, 15 Dec 2021; blackkidsswim.com, 20 Nov 2018)

DISCOVERING HIS IMPAIRMENT
Prior to age 10, he knew that he struggled with some basic movements, but he was not diagnosed with Charcot-Marie-Tooth disease [CMT] until 1995. After the diagnosis, he and his family kept the condition secret, and he did not talk about it openly until after he switched to Para swimming. "As a kid, [CMT] never really manifested in me. The genes were there, but they lay dormant during the first few years of my life. My parents acknowledged CMT, but they didn't allow it to be an excuse or a crutch. Not only did I not want others to know there was anything wrong with me, I didn't want to believe it myself." (latimes.com, 15 Dec 2021; menshealth.com, 14 Jul 2021; teamusa.org, 22 Sep 2020; charcot-marie-toothnews.com, 25 Jun 2019)

SWIMMING HIATUS
He took a six-year break from swimming from age nine to 15, after dislocating his shoulder while swimming. "The injury was a result of improper technique and a genetic disorder, Charcot-Marie-Tooth [CMT]. My right shoulder was messed up and doctors thought they'd have to amputate my right arm. My family assumed swimming was over for me. For months, I was in children's hospital paralysed. I had to learn to write with my left hand because my right arm was completely immobilised. Eventually, I recovered. I started playing basketball and got back into swimming in my sophomore year of high school." (simplyswim.com, 22 Jul 2019; blackkidsswim.com, 20 Nov 2018)

OTHER ACTIVITIES
He is the founder and president of Swim Up Hill, a non-profit organisation that offers virtual swimming lessons. He founded Swim Up Hill in 2018 to reduce the number of drownings in the United States of America. "My mission is to teach one million people how to swim [annually], and I now work with swim schools all across Los Angeles to help the schools facilitate more lessons for lower cost to the customer. The drowning rates around the nation show that we have black and brown children drowning at almost three times the rate of white children, so I can help to change that." He is also the managing director of Aquatics Today, an organisation that offers advice and best practices on recreational swimming. (LinkedIn profile, 12 May 2022; teamusa.org, 22 Sep 2020; blackkidsswim.com, 20 Nov 2018)