Imagen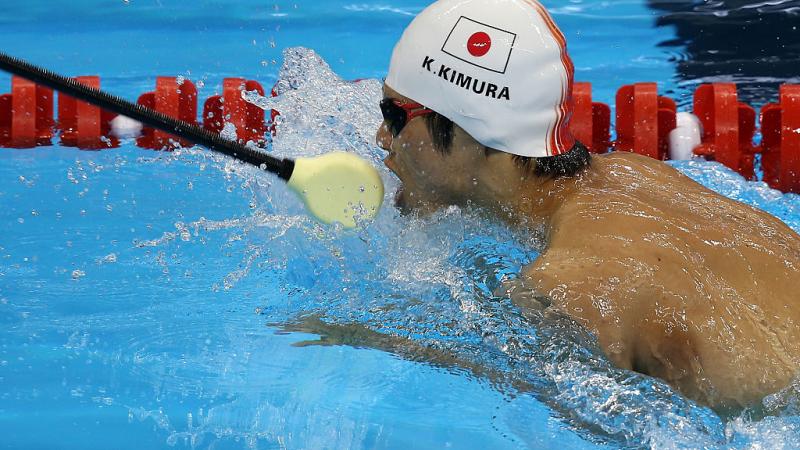 Keichi Kimura has an important long-term goal in mind.
The visually impaired Para swimmer wants to compete at his home Paralympic Games in Tokyo in 2020.
He may achieve his goal and Japan will be hoping that he can replicate the gold-medal winning success that started for Kimura in 2015.
Having competed at both Beijing 2008 and London 2012, securing silver in the 100m breaststroke S11 at the latter, in 2013 Kimura won his first world titles.
He mirrored that performance at the 2015 IPC Swimming World Championships, retaining his form in the year before the Rio 2016 Paralympic Games.
His biggest rival is also his hero. The USA's Bradley Snyder has emerged as the man to beat in the men's S11 and Kimura credits the American with being his inspiration.
Despite being in his mid-20s, Kimura already has a huge amount of competition experience.
At Rio 2016 he used that experience to his advantage. Whilst he did not beat Snyder, he still left with four medals to show he still amongst the world's best in one of the most competitive classifications.
He began swimming at the age of 10, having lost his sight at two-years-old due to a retinal condition.
Results
IPC Swimming World Championships Eindhoven 2010 (Eindhoven, Netherlands)

| Event | Medal | Unit | Date | Rank |
| --- | --- | --- | --- | --- |
| Men's 100 m Freestyle S11 | | Heat 3 | | 2 |
| Men's 100 m Freestyle S11 | | Final Round | | 3 |
| Men's 200 m Individual Medley SM11 | | Heat 2 | | 2 |
| Men's 200 m Individual Medley SM11 | | Final Round | | 3 |
| Men's 400 m Freestyle S11 | | Heat 2 | | 3 |
| Men's 400 m Freestyle S11 | | Final Round | | 6 |
| Men's 50 m Freestyle S11 | | Heat 1 | | 1 |
| Men's 50 m Freestyle S11 | | Final Round | | 4 |
| Men's 100 m Butterfly S11 | | Final Round | | 3 |
| Men's 100 m Butterfly S11 | | Heat 2 | | 4 |
| Men's 100 m Breaststroke SB11 | | Final Round | | 2 |
| Men's 100 m Breaststroke SB11 | | Heat 1 | | 1 |
2013 IPC Swimming World Championships (Montreal, Canada)

| Event | Medal | Unit | Date | Rank |
| --- | --- | --- | --- | --- |
| Men's 50 m Freestyle S11 | | Final 1 | 2013-08-13 | 2 |
| Men's 100 m Freestyle S11 | | Final 1 | 2013-08-15 | 1 |
| Men's 100 m Butterfly S11 | | Final 1 | 2013-08-16 | 3 |
| Men's 100 m Breaststroke SB11 | | Final 1 | 2013-08-17 | 1 |
| Men's 200 m Individual Medley SM11 | | Final 1 | 2013-08-18 | 3 |
2015 IPC Swimming World Championships (Glasgow, Great Britain)

| Event | Medal | Unit | Date | Rank |
| --- | --- | --- | --- | --- |
| Men's 100 m Freestyle S11 | | Heat 1 | 2015-07-13 | 4 |
| Men's 100 m Freestyle S11 | | Final 1 | 2015-07-13 | 4 |
| Men's 200 m Individual Medley SM11 | | Heat 2 | 2015-07-16 | 2 |
| Men's 200 m Individual Medley SM11 | | Final 1 | 2015-07-16 | 3 |
| Men's 50 m Freestyle S11 | | Heat 2 | 2015-07-17 | 2 |
| Men's 50 m Freestyle S11 | | Final 1 | 2015-07-17 | 2 |
| Men's 100 m Breaststroke SB11 | | Final 1 | 2015-07-18 | 1 |
| Men's 100 m Breaststroke SB11 | | Heat 2 | 2015-07-18 | 2 |
| Men's 100 m Butterfly S11 | | Final 1 | 2015-07-19 | 1 |
London 2019 World Para Swimming Championships (London, Great Britain)

| Event | Medal | Unit | Date | Rank |
| --- | --- | --- | --- | --- |
| Men's 50 m Freestyle S11 | | Heat 1 | 2019-09-09 | 4 |
| Men's 50 m Freestyle S11 | | Final 1 | 2019-09-09 | 4 |
| Men's 100 m Breaststroke SB11 | | Final 1 | 2019-09-11 | 3 |
| Men's 100 m Breaststroke SB11 | | Heat 2 | 2019-09-11 | 3 |
| Men's 200 m Individual Medley SM11 | | Final 1 | 2019-09-12 | 2 |
| Men's 200 m Individual Medley SM11 | | Heat 1 | 2019-09-12 | 3 |
| Men's 100 m Butterfly S11 | | Final 1 | 2019-09-14 | 1 |
| Mixed 4x100 m Freestyle 49pts | | Final 1 | 2019-09-14 | 7 |
| Mixed 4x100 m Freestyle 49pts | | Heat 1 | 2019-09-14 | 7 |
| Men's 100 m Butterfly S11 | | Heat 2 | 2019-09-14 | 2 |
Madeira 2022 World Para Swimming Championships (Funchal, Portugal)

| Event | Medal | Unit | Date | Rank |
| --- | --- | --- | --- | --- |
| Men's 50 m Freestyle S11 | | Heat 1 | 2022-06-12 | 5 |
| Men's 50 m Freestyle S11 | | Final 1 | 2022-06-12 | 3 |
| Men's 100 m Butterfly S11 | | Final 1 | 2022-06-13 | 1 |
| Men's 100 m Butterfly S11 | | Heat 1 | 2022-06-13 | 2 |
| Men's 100 m Breaststroke SB11 | | Final 1 | 2022-06-14 | 2 |
| Mixed 4x100 m Medley 49pts | | Final 1 | 2022-06-15 | 3 |