Imagen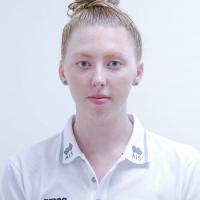 Lakeisha Patterson
Swimming
Biography
Impairment information
Type of Impairment
Cerebral Palsy
Origin of Impairment
Congenital
Classification
S9, SB8, SM9
Further personal information
Occupation
Athlete, Public Speaker
Higher education
Architecture - University of Queensland: Brisbane, QLD, AUS
Sport specific information
When and where did you begin this sport?
She began swimming at age three.
Why this sport?
She took up the sport as a form of physical therapy in order to negate body stiffness issues associated with her condition. She was later inspired to begin competing after watching the 2012 Paralympic Games in London. "I saw all these amazing athletes compete who have already overcome so many obstacles in their life and they are absolutely smashing it. I felt free in the pool and the water on my skin felt magical. I had a sense of belonging, which was a new experience."
Club / Team
Belgravia Swim Team: Australia
Name of coach
Harley Connelly [club]; Brendan Burkett [national], AUS
General interest
Nicknames
Lucky (caboolturenews.com.au, 05 Aug 2015; Facebook profile, 28 Jan 2019)
Most influential person in career
Her mother. (playersvoice.com.au, 11 Jul 2019; futurestategreats.com.au, 22 Jun 2014)
Hero / Idol
US Para swimmer Jessica Long. (commonwealthgames.com.au, 01 Jan 2017)
Superstitions / Rituals / Beliefs
During competitions she wears a ring with the word 'luck' on it. (commonwealthgames.com.au, 01 Jan 2017)
Sporting philosophy / motto
"[Growing up] the teachers and students treated me the same as everyone else. They were encouraging and generous. There was always interest in what I could do, rather than what I 'couldn't' do - focusing on my abilities over my disability. The result was that, from a young age, despite a tough beginning, I didn't feel much different to everyone else. There were challenges, for sure, and it would take me longer to do normal everyday things. But I felt encouraged and well supported. I like to say that I'm not disabled, I am 'uniquely able' and those challenges taught me to become adaptable and find innovative ways of overcoming obstacles." (playersvoice.com.au, 11 Jul 2019)
Awards and honours
She was named 2019 Paralympic Athlete of the Year by Swimming Australia. (pickstar.com.au, 18 Oct 2019)

In April 2019 she was named the University of Queensland's 2018 Sportswoman of the Year. (uq.edu.au, 16 Apr 2019)

In October 2017 she received the Mrs. Gina Rinehart Patron Award from the Queensland Academy of Sport in Australia. (qasport.qld.gov.au, 30 Oct 2017)

In January 2017 she was given the Medal of the Order of Australia [OAM] in recognition of her gold medal at the 2016 Paralympic Games in Rio de Janeiro. (paralympic.org, 28 Jan 2017)

She received the People's Choice Award at the 2015 Swimmer of the Year Awards in Australia. (qasport.qld.gov.au, 07 Sep 2015)

She was named the 2014 Junior Female Athlete of the Year by the Sporting Wheelies and Disabled Association in Brisbane, QLD, Australia. (swimming.org.au, 26 Nov 2014)
Impairment
She was born bottom first [breech birth], which caused a lack of oxygen and a stroke, and she had to be resuscitated. The trauma led to a diagnosis of cerebral palsy that predominantly affects the movement, coordination and balance on her left side. She also has epilepsy and early onset Parkinson's disease. (futurestategreats.com.au, 22 Jun 2014; quest.newspaperdirect.com, 27 Mar 2014; playersvoice.com.au, 11 Jul 2019)
Other information
OTHER ACTIVITIES
In early 2022 she was named as part of the four-person Para Athlete Leadership Group that will lead the Australian Para swimming team until after the 2024 Paralympic Games in Paris. "I am excited to build on the incredible legacy that our past Dolphins leaders have pioneered and humbled to be chosen to listen, unite, represent and take action for our team while we create an inclusive, positive, and safe environment for all." She has also worked as a gratitude officer at Paralympics Australia. "This role is responsible for reaching out to those who donate towards Paralympics Australia, and simply say thank you personally from an athlete. This role supports the fundraising team by getting to know donors and how to better engage with them." (swimswam.com, 21 Feb 2022; LinkedIn profile, 01 Nov 2020)

CYBER BULLYING
In 2019 she spoke of experiencing cyber bullying since she has become an international Para athlete. "I think it was because I came onto the scene pretty quickly, which led some people to question my ability out of jealousy. I've made a conscious effort to not engage in it. Everyone says to not think about it, but it's very hard to do. It's disheartening that some people don't care about the emotional effect they can have on others. I know it would be so much easier to quit swimming, but that would be giving in to the bullies, and quitting isn't in my vocabulary. When the times get tough, I like to remind myself why I do what I do - I swim because it's healthy for me and I love it. I love the opportunities it brings, and I love how there is always room for improvement." (playersvoice.com.au, 11 Jul 2019)

EARLY DAYS
Her parents split up when she was age five. Her mother took her and her sisters away from their father after he became abusive. "Mum was going through treatment for thyroid cancer at the time. She was doing her best to raise the three of us, including caring for me and my cerebral palsy. My condition meant I had developmental delays and was constantly visiting the hospital and doctors for physio, OT [occupational therapy] and specialist appointments. During this period, I began falling over all the time, just out of the blue, which suggested something else was going on. Soon we discovered those falls were drop seizures and I was diagnosed with epilepsy. A lot was happening. I think it all became too much for my father to handle and an abusive relationship towards my mum formed. It got to the stage where there was some abuse towards me and my sisters, too. I don't remember much of that time because I was very young and also because the epilepsy affected my memory. But I do remember what it felt like, like my whole world was falling apart and there was nothing I could do to fix it. It was a very tense time for us all. Finally, my mum made the decision. She packed us kids and the cat in the car. She had 50 Australian dollars on her. We had a little tablecloth, which became our core piece of furniture. It was our dining table and our place to do homework. We ended up staying with friends until we got our own place and started again." (theroar.com.au, 24 Aug 2021)
Results
2015 IPC Swimming World Championships (Glasgow, Great Britain)

| Event | Medal | Unit | Date | Rank |
| --- | --- | --- | --- | --- |
| Women's 100 m Freestyle S8 | | Heat 2 | 2015-07-16 | 3 |
| Women's 4x100 m Freestyle 34pts | | Final 1 | 2015-07-16 | 1 |
| Women's 100 m Freestyle S8 | | Final 1 | 2015-07-16 | 3 |
| Women's 400 m Freestyle S8 | | Heat 1 | 2015-07-17 | 2 |
| Women's 400 m Freestyle S8 | | Final 1 | 2015-07-17 | 3 |
| Women's 100 m Backstroke S8 | | Heat 1 | 2015-07-18 | 2 |
| Women's 100 m Backstroke S8 | | Final 1 | 2015-07-18 | 5 |
| Women's 50 m Freestyle S8 | | Final 1 | 2015-07-19 | 2 |
| Women's 4x100 m Medley 34pts | | Final 1 | 2015-07-19 | 2 |
| Women's 50 m Freestyle S8 | | Heat 2 | 2015-07-19 | 3 |