Imagen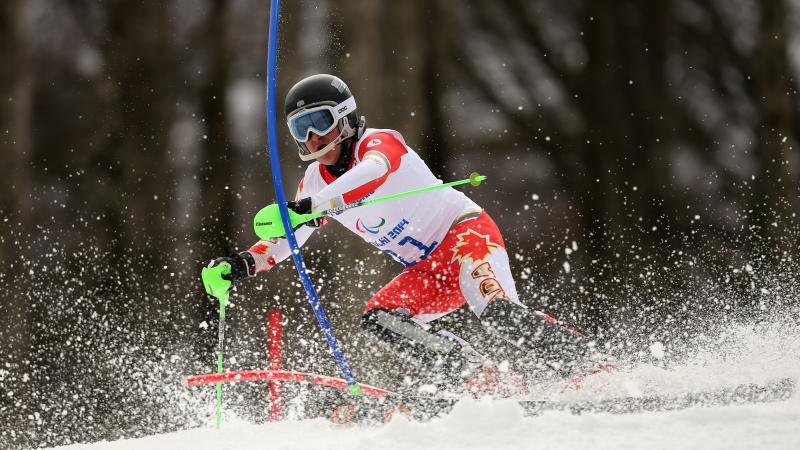 Mac Marcoux
Alpine Skiing
Mac Marcoux took to the slopes in 2016-17 with a new guide, Jack Leitch, following the retirement of his brother and guide Billy Joe. But the Canadian did not stop winning.
He claimed his second Paralympic gold in the men's super-combined vision impaired in PyeongChang, South Korea. He followed that up with bronze in the giant slalom.
Marcoux enjoyed a dominant season throughout, also sealing the Crystal Globe after ending first in the overall World Cup standings.
The previous season was also highly successful, with four gold medals won at the 2017 World Championships in Tarvisio, Italy, across speed and technical events.
They were only challenged by Italian youngster Giacamo Bertagnolli and guide Fabrizio Casal, who left with the world title in the super-combined.
Marcoux also defended his downhill World Cup title with three wins.
He began skiing at the age of four and entered his first Para alpine skiing event at 13 after being talent spotted by Alpine Canada.
Just three years later, Marcoux took the slopes of the Rosa Khutor Alpine Resort by storm, winning gold in the giant slalom with guide Robin Femy on his Paralympic debut at Sochi 2014. He also picked up two bronze medals in the downhill and super-G.
His excellent debut was even more impressive given that just weeks before Sochi, Marcoux's original guide and brother Billy Joe had to pull out of the Games with a back injury.
The pair were reunited at the 2015 World Championships on home soil in Panorama and won their first gold medal together. Sadly, they had to withdraw from the competition after Marcoux suffered an injury.
Their 2014-15 season was nonetheless crowned with an overall World Cup win. The brothers went on to finish third in the overall World Cup standings in 2015-16, as well as winning the super-G and downhill globes.
Results
IPC Alpine Skiing World Championships (La Molina, Spain)

| Event | Medal | Unit | Date | Rank |
| --- | --- | --- | --- | --- |
| Men's Downhill VI | | Race 1 | 2013-02-20 | 11 |
| Men's Super-G VI | | Race 1 | 2013-02-21 | 8 |
| Men's Slalom VI | | Race 1 | 2013-02-24 | 9999 |
| Men's Super-Combined VI | | Race 1 | 2013-02-25 | 5 |
| Men's Giant Slalom VI | | Race 1 | 2013-02-26 | 2 |
2015 IPC Alpine Skiing World Championships Panorama (Panorama, Canada)

| Event | Medal | Unit | Date | Rank |
| --- | --- | --- | --- | --- |
| Men's Downhill VI | | Race 1 | 2015-03-04 | 1 |
| Men's Super-G VI | | Race 1 | 2015-03-05 | 2 |
2017 IPC Alpine skiing World Championships Tarvisio, ITA (Tarvisio, Italy)

| Event | Medal | Unit | Date | Rank |
| --- | --- | --- | --- | --- |
| Men's Downhill VI | | Race 1 | 2017-01-25 | 1 |
| Men's Super-G VI | | Race 1 | 2017-01-26 | 1 |
| Men's Super-Combined VI | | Race 1 | 2017-01-28 | 2 |
| Men's Giant Slalom VI | | Race 1 | 2017-01-30 | 1 |
| Men's Slalom VI | | Race 1 | 2017-01-31 | 1 |