Imagen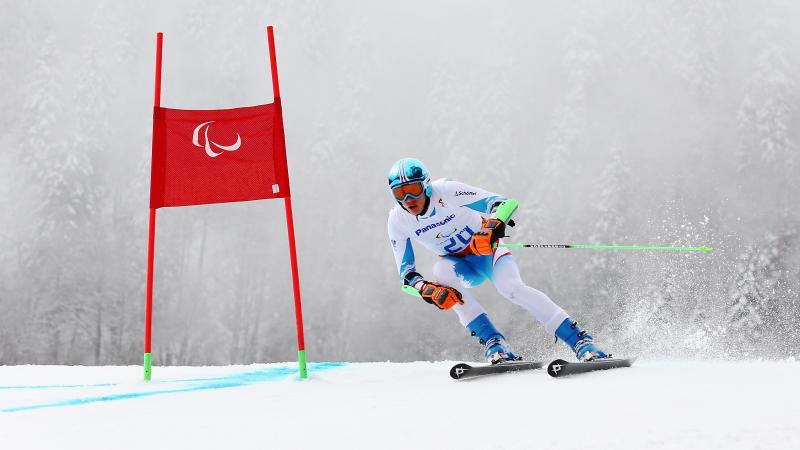 Markus Salcher
Alpine Skiing
Despite not repeating his double gold medal-performance from Sochi 2014, Markus Salcher still showed good form at PyeongChang 2018. The Austrian alpine skier claimed double bronze in the men´s downhill and super-G standing.
He also ended third in the overall World Cup standings.
A year before, Salcher enjoyed a successful World Championships in Tarvisio, Italy, just over the border from his home town of Klagenfurt. His exceptional talent for speed came to the fore, and he left with golds in super-G and downhill, regaining the titles he won in 2013.
The Austrian, born with the right side of his body paralysed, is one of the younger standing skiers on the national team.
A graduate of World Para Alpine Skiing's 2006 development camp, at age 22 the young hopeful surprised doubters in 2013-14 by finishing atop the world rankings after capturing world titles in the men's downhill and super-G.
Salcher has gone from strength to strength, climbing the world rankings since competing at Vancouver 2010.
The Austrian carries alpine skiing in his blood. His father was a coach of the Austrian team at Torino 2006 and his brother Moritz also competes in alpine skiing for an Austrian sports club.
In 2015-16, Salcher finished second in the overall men's standing World Cup, helped by wins in super-G and downhill.
In 2016-17 he improved to first place in both disciplines. He also claimed the overall men's standing World Cup.
Results
2011 IPC Alpine Skiing World Championships (Sestriere, Italy)

| Event | Medal | Unit | Date | Rank |
| --- | --- | --- | --- | --- |
| Men's Downhill Standing | | Final | 2011-01-16 | 5 |
| Men's Super-G Standing | | Final | 2011-01-18 | 9 |
| Men's Super-Combined Standing | | Final | 2011-01-19 | 9 |
| Men's Slalom Standing | | Final | 2011-01-20 | 9999 |
| Men's Giant Slalom Standing | | Final | 2011-01-21 | 6 |
| Mixed Team Event VI/Sitting/Standing | | Final | 2011-01-23 | 6 |
IPC Alpine Skiing World Championships (La Molina, Spain)

| Event | Medal | Unit | Date | Rank |
| --- | --- | --- | --- | --- |
| Men's Downhill Standing | | Race 1 | 2013-02-20 | 1 |
| Men's Super-G Standing | | Race 1 | 2013-02-21 | 1 |
| Men's Super-Combined Standing | | Race 1 | 2013-02-25 | 11 |
| Men's Giant Slalom Standing | | Race 1 | 2013-02-26 | 8 |
2015 IPC Alpine Skiing World Championships Panorama (Panorama, Canada)

| Event | Medal | Unit | Date | Rank |
| --- | --- | --- | --- | --- |
| Men's Downhill Standing | | Race 1 | 2015-03-04 | 6 |
| Men's Super-G Standing | | Race 1 | 2015-03-05 | 4 |
| Men's Super-Combined Standing | | Race 1 | 2015-03-07 | 2 |
| Men's Giant Slalom Standing | | Race 1 | 2015-03-08 | 2 |
2017 IPC Alpine skiing World Championships Tarvisio, ITA (Tarvisio, Italy)

| Event | Medal | Unit | Date | Rank |
| --- | --- | --- | --- | --- |
| Men's Downhill Standing | | Race 1 | 2017-01-25 | 1 |
| Men's Super-G Standing | | Race 1 | 2017-01-26 | 1 |
| Men's Super-Combined Standing | | Race 1 | 2017-01-28 | 3 |
| Men's Giant Slalom Standing | | Race 1 | 2017-01-30 | 7 |
Kranjska Gora/Sella Nevea 2019 World Para Alpine Skiing Championships (Kranjska Gora/Sella Nevea, Slovenia)

| Event | Medal | Unit | Date | Rank |
| --- | --- | --- | --- | --- |
| Men's Giant Slalom Standing | | Race 1 | 2019-01-21 | 11 |
| Men's Downhill Standing | | Race 1 | 2019-01-30 | 2 |
| Men's Super-G Standing | | Race 1 (from SC) | 2019-01-31 | 3 |
| Men's Super-Combined Standing | | Race 1 | 2019-01-31 | 9999 |
Lillehammer 2021 World Para Snow Sports Championships (Lillehammer, Norway)

| Event | Medal | Unit | Date | Rank |
| --- | --- | --- | --- | --- |
| Men's Downhill Standing | | Race 1 | 2022-01-14 | 1 |
| Men's Super-G Standing | | Race 1 | 2022-01-15 | 1 |
| Men's Giant Slalom Standing | | Race 1 | 2022-01-19 | 7 |
| Men's Parallel Event Standing | | Race 1 | 2022-01-23 | 9 |