Imagen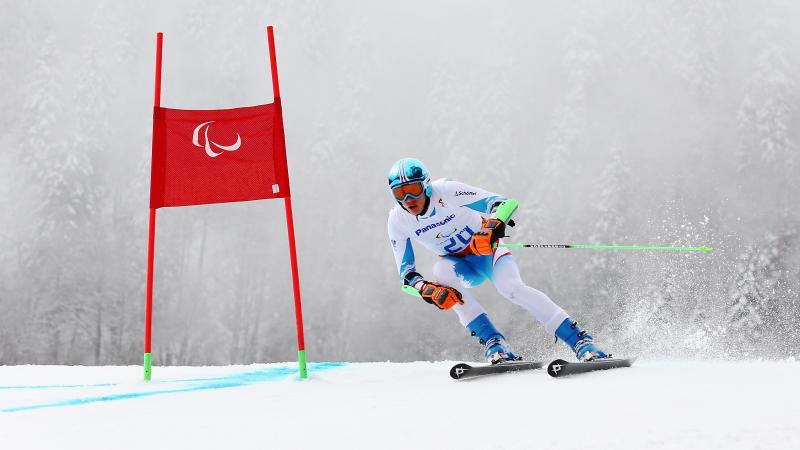 Markus Salcher
Alpine Skiing
Despite not repeating his double gold medal-performance from Sochi 2014, Markus Salcher still showed good form at PyeongChang 2018. The Austrian alpine skier claimed double bronze in the men´s downhill and super-G standing.
He also ended third in the overall World Cup standings.
A year before, Salcher enjoyed a successful World Championships in Tarvisio, Italy, just over the border from his home town of Klagenfurt. His exceptional talent for speed came to the fore, and he left with golds in super-G and downhill, regaining the titles he won in 2013.
The Austrian, born with the right side of his body paralysed, is one of the younger standing skiers on the national team.
A graduate of World Para Alpine Skiing's 2006 development camp, at age 22 the young hopeful surprised doubters in 2013-14 by finishing atop the world rankings after capturing world titles in the men's downhill and super-G.
Salcher has gone from strength to strength, climbing the world rankings since competing at Vancouver 2010.
The Austrian carries alpine skiing in his blood. His father was a coach of the Austrian team at Torino 2006 and his brother Moritz also competes in alpine skiing for an Austrian sports club.
In 2015-16, Salcher finished second in the overall men's standing World Cup, helped by wins in super-G and downhill.
In 2016-17 he improved to first place in both disciplines. He also claimed the overall men's standing World Cup.
Biography
Impairment information
Origin of Impairment
Congenital
Further personal information
Family
Partner Lisa Wieland
Residence
Klagenfurt, AUT
Occupation
Athlete, Customs Officer
Languages
English, French, German
Higher education
Media and Communications - University of Klagenfurt: Austria
Sport specific information
When and where did you begin this sport?
He first tried skiing at age two in Nassfeld, Austria.
Why this sport?
"My family is very much into skiing and my dad was coach of the local skiing team."
Club / Team
SV Tropolach: Austria
Name of coach
Markus Gutenbrunner [national], AUT
Training Regime
He builds strength through squats and work with dumbbells to compensate for his lack of fine motor skills.
General interest
Hobbies
Cycling, swimming, spending time with friends. (hasslacher.com, 19 May 2020)
Memorable sporting achievement
Winning gold in downhill at the 2014 Paralympic Winter Games in Sochi. (oepc.at, 10 Feb 2022)
Most influential person in career
His father. (paralympic.org, 10 Oct 2013)
Hero / Idol
Austrian alpine skier Matthias Mayer. (IPC, 10 Feb 2018)
Injuries
In early 2021 he sustained an ankle ligament injury that required him to wear a splint. (meinbezirk.at, 12 Apr 2021)

In 2008 he broke the tibia bone in his right leg. (IPC, 10 Feb 2018)
Sporting philosophy / motto
"It was and is because of hard work that I am so consistently among the best in the world. On the one hand it makes me proud, but on the other hand it also encourages me to keep up the good work." (oepc.at, 10 Feb 2022)
Awards and honours
He and fellow alpine skier Barbara Aigner were flag bearers for Austria at the opening ceremony of the 2022 Paralympic Winter Games in Beijing. (IPC Entries, 04 Mar 2022)

In 2018 and 2020 he was named Male Para Athlete of the Year in the Carinthia region of Austria. (meinbezirk.at, 12 Apr 2021; kleinezeitung.at, 22 Dec 2018)

He was named Male Para Athlete of the Year in Austria in 2014 and 2017. (IPC, 10 Feb 2018; paralympic.org, 31 Oct 2014)

He was flag bearer for Austria at the closing ceremony of the 2014 Paralympic Winter Games in Sochi. (sochi2014.com, 15 Mar 2014)
Famous relatives
His father was a coach of the Austrian alpine skiing team at the 2006 Paralympic Winter Games in Turin. His brother Moritz has competed in alpine skiing at club level in Austria. His partner Lisa Wieland is a popular chef and author in Austria. (meinbezirk.at, 10 Nov 2020, 21 Jan 2014; paralympic.org, 10 Oct 2013)
Ambitions
To win a medal at the 2022 Paralympic Winter Games in Beijing, and to compete at the 2026 Paralympic Winter Games in Milan-Cortina. (oepc.at, 10 Feb 2022)
Impairment
He was born with hemiplegia due to a lack of oxygen at birth. The condition affects the right side of his body. (IPC, 10 Feb 2018; paralympic.org, 10 Oct 2013; voelk.com, 25 Apr 2012)
Other information
PARALYMPIC VETERAN
He is making his fourth appearance at the Paralympic Winter Games in 2022, where he is looking to add to his tally of five medals [two gold, three bronze]. "Because the Paralympics are only every four years, it can never be 'business as usual'. The Games are always special. I'm happy to be able to compete for medals again, even if it's a bit different this time. At the previous Paralympics we always had a test event a year before, but this year there is a big question mark as to what the course will be like. Everything has become more professional [since he began competing in Para alpine skiing]. We are now integrated into the Olympic centres and can make good use of the structure. The competition is bigger, the fight for medals has become tougher. That's how it should be, because the sport is gaining in value." (oepc.at, 10 Feb 2022)

OTHER ACTIVITIES
In 2017 he began serving as an ambassador for the Laureus Sport for Good Foundation. "As an ambassador, it is important for me to make sport accessible to all groups in society. Last year [2018] I launched the project 'Be There' with a focus on barrier-free ski access in Nassfeld [Austria]. We want to equip families or school classes with accessible sports equipment. Skiing should be possible for everyone." (meinbezirk.at, 10 Nov 2020, 27 Oct 2019; IPC, 10 Feb 2018)

OCCUPATION
He works as a customs officer for the Federal Ministry of Finance in Austria. (bmf.gv.at, 05 Mar 2022)
Results
2011 IPC Alpine Skiing World Championships (Sestriere, Italy)

| Event | Medal | Unit | Date | Rank |
| --- | --- | --- | --- | --- |
| Men's Downhill Standing | | Final | 2011-01-16 | 5 |
| Men's Super-G Standing | | Final | 2011-01-18 | 9 |
| Men's Super-Combined Standing | | Final | 2011-01-19 | 9 |
| Men's Slalom Standing | | Final | 2011-01-20 | 9999 |
| Men's Giant Slalom Standing | | Final | 2011-01-21 | 6 |
| Mixed Team Event VI/Sitting/Standing | | Final | 2011-01-23 | 6 |
IPC Alpine Skiing World Championships (La Molina, Spain)

| Event | Medal | Unit | Date | Rank |
| --- | --- | --- | --- | --- |
| Men's Downhill Standing | | Race 1 | 2013-02-20 | 1 |
| Men's Super-G Standing | | Race 1 | 2013-02-21 | 1 |
| Men's Super-Combined Standing | | Race 1 | 2013-02-25 | 11 |
| Men's Giant Slalom Standing | | Race 1 | 2013-02-26 | 8 |
2015 IPC Alpine Skiing World Championships Panorama (Panorama, Canada)

| Event | Medal | Unit | Date | Rank |
| --- | --- | --- | --- | --- |
| Men's Downhill Standing | | Race 1 | 2015-03-04 | 6 |
| Men's Super-G Standing | | Race 1 | 2015-03-05 | 4 |
| Men's Super-Combined Standing | | Race 1 | 2015-03-07 | 2 |
| Men's Giant Slalom Standing | | Race 1 | 2015-03-08 | 2 |
2017 IPC Alpine skiing World Championships Tarvisio, ITA (Tarvisio, Italy)

| Event | Medal | Unit | Date | Rank |
| --- | --- | --- | --- | --- |
| Men's Downhill Standing | | Race 1 | 2017-01-25 | 1 |
| Men's Super-G Standing | | Race 1 | 2017-01-26 | 1 |
| Men's Super-Combined Standing | | Race 1 | 2017-01-28 | 3 |
| Men's Giant Slalom Standing | | Race 1 | 2017-01-30 | 7 |
Kranjska Gora/Sella Nevea 2019 World Para Alpine Skiing Championships (Kranjska Gora/Sella Nevea, Slovenia)

| Event | Medal | Unit | Date | Rank |
| --- | --- | --- | --- | --- |
| Men's Giant Slalom Standing | | Race 1 | 2019-01-21 | 11 |
| Men's Downhill Standing | | Race 1 | 2019-01-30 | 2 |
| Men's Super-G Standing | | Race 1 (from SC) | 2019-01-31 | 3 |
| Men's Super-Combined Standing | | Race 1 | 2019-01-31 | 9999 |