Markus Salcher ends World Cup drought with super-G gold
Austrian upset Arthur Bauchet for first World Cup in more than a year
18 Feb 2020
Imagen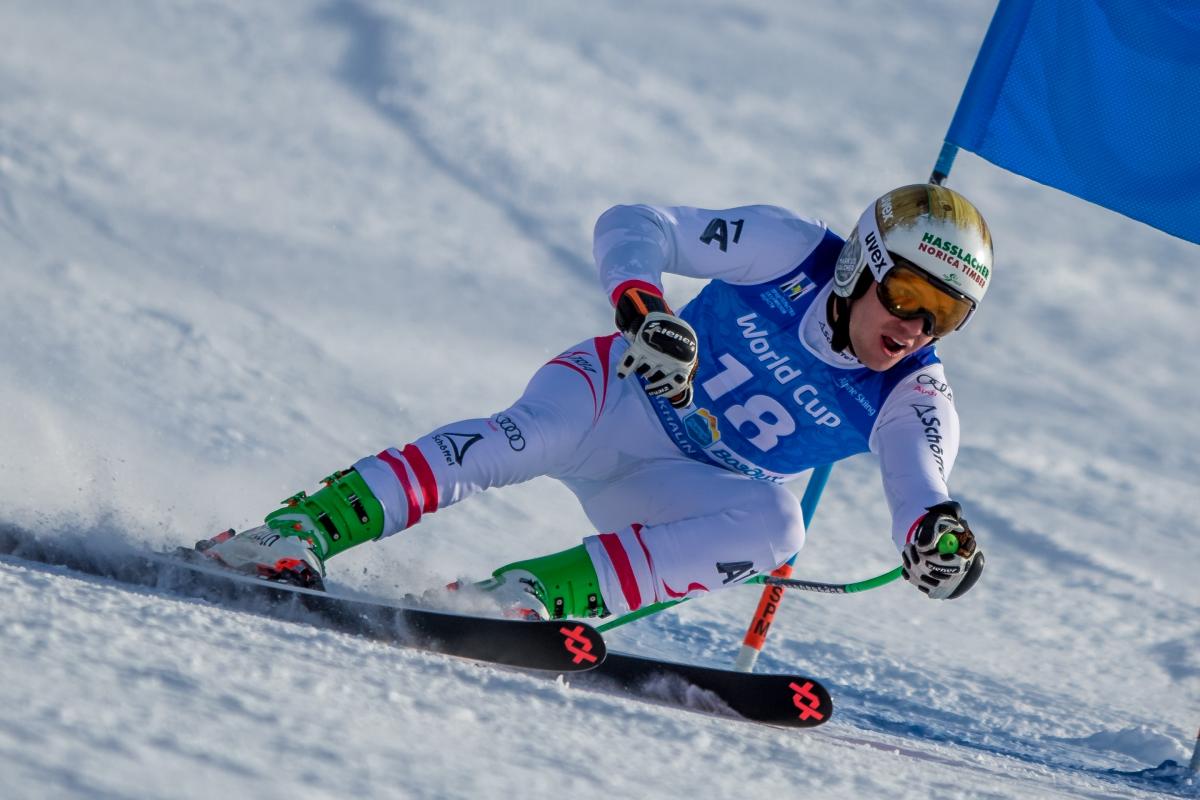 ⒸSakhalin 2020 World Para Alpine Skiing World Cup
By Lena Smirnova | For World Para Snow Sports
Markus Salcher's victory scream was like a release of many emotions, as the Austrian stole the super-G show at the World Para Alpine Skiing World Cup in Juzhno-Sakhalinsk, Russia. 
Two days of the speed discipline from Sunday to Monday saw Salcher's name light up at the top of the outdoor display board for the first time in more than a year. To top it off, Salcher's time was more than a second ahead of his fiercest rival, France's Arthur Bauchet. 
"First I didn't see exactly my time," Salcher said about his first super-G race on Sunday. "I saw the position 'one,' but I couldn't imagine…Then I saw the time and it's unbelievable. It's over one year without a World Cup victory, so it's a great feeling."
The speed specialist finished runner-up to Bauchet in all downhill races earlier in Sakhalin, as well as silver and bronze in the super-G races in January's World Cup opener. 
"Maybe I got the course better in my mind," Salcher said of upgrading his downhill silvers. "It was a challenging course because after two jumps it was turny and you had to have it in your mind."
Salcher's second super-G win was a statement, proving he can master the course despite the snowy and windy conditions, while Bauchet crashed out midway through.
"I had to test the nets and OK, they're really good," Bauchet joked. 
Taking advantage
The USA's Andrew Kurka managed to stay on course in the men's sitting, winning the first super-G race. His main competitor, Norway's Jesper Pedersen, missed both super-G events due to illness but is expected to return for the technical disciplines. Until then, Kurka picked up valuable ranking points and tested an approach contrary to his all-or-nothing mentality. 
"When there's such a small field, sometimes it's best just to get down," Kurka said. "For me, full gas, a lot of the times, isn't always the best situation and I'm relearning that.
"Right now my focus isn't victories this year and it's not victories next year," he added. "If I start at 80 per cent now and I build to what my personal and safe 100 per cent is by the next Games (at Beijing 2022), I think I'll be prime and I'll be ready. I'm building back to being the best version of myself, even if that means sometimes going 80 per cent on a course."
That approach remains a work in progress as Kurka crashed out of the second super-G race. Murat Pelit was the only sit-skier to complete the course, which earned the Swiss athlete his first career World Cup victory.
"I tried to come down and finish my race without injury," Pelit said. "The conditions were hard today for skiing. I didn't really see well and the feeling on snow was really hard."
Nothing out of the ordinary
While the vast majority of the athletes in Sakhalin struggled with the tough race conditions on the second day, Russia's Ivan Frantsev relished them. A native of Kamchatka Peninsula, which is even further east than Sakhalin, Frantsev is used to the heavy snowfall and wind. 
"I always said that I like this weather," explained the vision impaired skier. "I am used to these conditions because I am from Kamchatka."
Using the weather as their advantage, Frantsev and his guide German Agranovskii finished a mere 0.09 seconds ahead of the super-G world champion Giacomo Bertagnolli of Italy in what was the Russian pair's first World Cup in two seasons.
Fellow Russians Iullia Mosova and her guide Denis Perevozchikov took gold on the second day in the women's equivalent. 
Furthermore in the women's races, France's Marie Bochet and the USA's Laurie Stephens extended their winning streaks in the standing and sitting races, respectively. 
Bochet won her first race with a large margin over Switzerland's Bigna Schmidt. But her second race was only 0.27 seconds ahead of Russia's Varvara Voronchikhina. Stephens was unrivalled in her own descents.
Home hopes dashed
One of the biggest medal hopes in Sakhalin, Russia's Aleksei Bugaev, crashed out of the running before the super-G racing even started. The local team's star athlete was inspecting the course when he was accidentally knocked over by sit-skier Andrew Kurka.
"The top portion of the course is pure ice and as I was coming out of the gate, I wasn't quite ready for it and slid down the course and I actually ended up sliding into another competitor and that's made me very sad," Kurka said. "I don't want to talk about it because I'll start crying."
Bugaev returned to Moscow on Monday where he will undergo surgery on his shoulder. He will miss the rest of the season. 
Writing to World Para Alpine Skiing, Bugaev promised that he will "come back stronger," while Kurka extended the Russian an invitation to visit his home in Alaska.
Full results and video feed from the two super-G races in Sakhalin are available on the World Para Alpine Skiing website. The racing continues on 19 February with the giant slalom and runs until 21 February.