'Old man' Alyabyev looking for medal breakthrough in Sakhalin
Russia's Far East to host a blitz of speed and technical races
11 Feb 2020
Imagen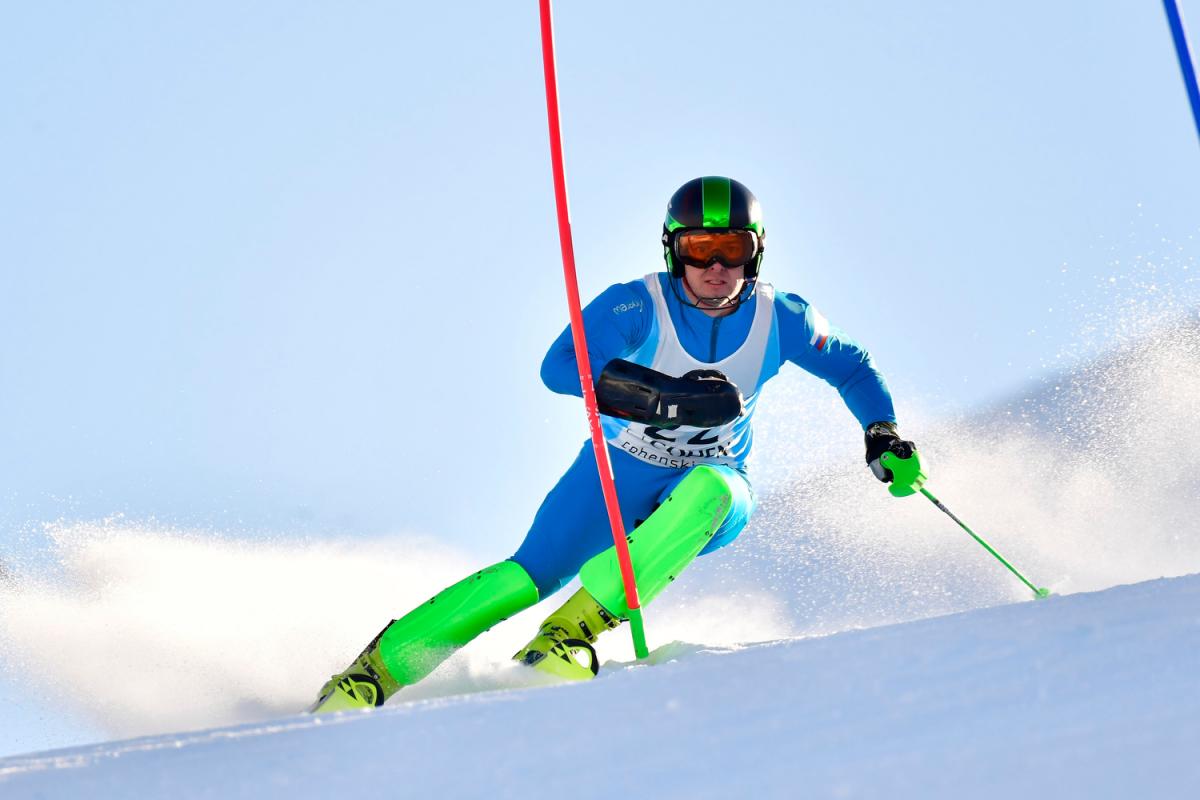 ⒸLuc Percival
By Lena Smirnova | For World Para Alpine Skiing
Alexander Alyabyev lives 9,000 kilometres or an eight-hour flight from Russia's Far East island region of Sakhalin, but when he stays there, he might as well be a native.
The Para alpine skier from the Moscow region gets greeted by local businessmen in the elevator. The hotel staff recognise him and he knows every bump on the course that will host the season's fourth World Para Alpine Skiing World Cup.
Juzhno-Sakhalinsk, the region's capital, will hold three downhill, two super-G, and single giant slalom, slalom and parallel events from 9-21 February.
Alyabyev is among the top competitors in the men's standing class and will be looking to get his first World Cup medal of the season on the friendly, albeit freezing slopes.
"It is always better to race at home. You know where you are, you know the slope," said Alyabyev, who represents ski clubs from Moscow and Sakhalin. "It is essential to get a good result here, not to give up."
Russian roller coaster
Alyabyev grew up surrounded by alpine skiing. His mother was a competitive racer and his brother made it on the national team. He first stood on skis at the age of three and it was then that he caught his hand in a chairlift mechanism and lost the fingers on his right hand.
At age 14, Alyabyev was spontaneously thrust into a race at the national Para alpine championships in his home region and came away with a surprising third place. Soon he was invited to the national Paralympic team and has been skiing competitively for 16 years since.
"I showed up. I got into the top three without training," he recalled. "I was just thinking, 'let me try', so I tried and it just pulled me in."
Since Alyabyev grew up skiing in the Moscow region, where the hills are 400 metres in height at most, his main specialty is technical events. He won bronze in slalom at the Sochi 2014 Paralympic Winter Games and a silver in the same discipline at the 2015 World Para Alpine Skiing Championships. 
This year had a rocky start for the 30-year-old. Unable to compete on the World Cup circuit in the 2019-20 season along with fellow Russian skiers, Alyabyev has found it challenging to replicate his training prowess on race day.
"I have psychological shifts sometimes, when things either go well or they don't. At the start of the season, I did not feel the skis. Everything seemed to be fine, but I could not get the skis to go fast," he said. "In training I ski well, but at the start of the race, I am all twisted up and I do not understand at all what is happening."
The comforts of competing in Sakhalin where the Russian team has had multiple training stints could be just the thing to take Alyabyev onto the podium for the first time this season.
No country for old men
All of the strongest skiers in the men's standing class will be on the slopes in Sakhalin, including France's Arthur Bauchet, Paralympic silver medallist in downhill and super-G, and Austria's Markus Salcher, the bronze medallist in the same races.
In the technical events, Alyabyev's main challenge is expected to come from his roommate Aleksei Bugaev, Finland's Santeri Kiiveri, and USA's Thomas Walsh, the slalom Crystal Globe winner from last season.
Alyabyev and Bugaev have similar impairments and are both skiing without factors. Because of their similarities, they also make great training partners - although for Alyabyev, who is eight years senior, this means hearing a lot of quips about his age.
"He is my motivator. He always supports me. He says, 'come on, you're old, come on!' All the time," Alyabyev said. "In training he yells, 'get it together, old man!' and I say, 'I am going to quit!' 'Where are you going to go? Keep training!'"
Baby, it's cold outside
One of the biggest challenges to the athletes competing in Sakhalin will be the region's bitingly cold temperatures, which have dipped to as low as -26 Celsius ahead of the opening races.
Luckily for Alyabyev, he has found an effective, though strange, counterattack against the Russian elements. He washes his feet in cold water, dries them and then puts on his ski boots. According to the athlete, this technique is the perfect way to keep feet warm on frosty race days.
Norway's Jesper Pedersen and USA's Andrew Kurka are also not ones to panic when temperatures take a plunge, through both sit skiers were left equally impressed by the magnitude of the Russian winter after their first training sessions.
"Such cold is rather common in Norway, though I did not expect it to be like this in Sakhalin," Pedersen said.
"I live in Alaska, still even there such severe frost is very rare. However, I'm very pleased with the course," added Kurka, Paralympic downhill champion from PyeongChang 2018.
For Kurka, the World Cup in Sakhalin will be a long-awaited chance to race his signature downhill again. The previous season only had one downhill race, which resigned the speed specialist to tackling technical courses with limited success.
The spotlight will be back on Kurka in Sakhalin as he tries to beat the overall Crystal Globe winner Pedersen to the fastest time.
In the women's events, star French skier Marie Bochet will race against Russian youngsters Varvara Voronchikhina and Anastasiia Khorosheva, who also have a home advantage in Sakhalin along with a remarkable resistance to the cold.
"I am from Siberia so you can't surprise me with temperatures like this. It's a bit chilly where I am from," Voronchikhina said. "This is not the coldest that we have had, especially in Russia. When we were training in the Urals last year, it was -30 and a bit."
In the men's visually impaired class, Italy's Giacomo Bertagnolli will need to fend off Slovakia's Miroslav Haraus in the speed events and Russia's Valerii Redkozubov in the technical disciplines to keep his lead in the overall rankings.
Live results of the Sakhalin races will be available on the World Para Alpine Skiing website, with the live feed also shown on the website, World Para Snow Sports Facebook page and Paralympic YouTube channel.