Fearless Kurka rides fine line between daredevil and hotel host
Paralympic downhill champion relishes life lived on the edge
07 Feb 2020
Imagen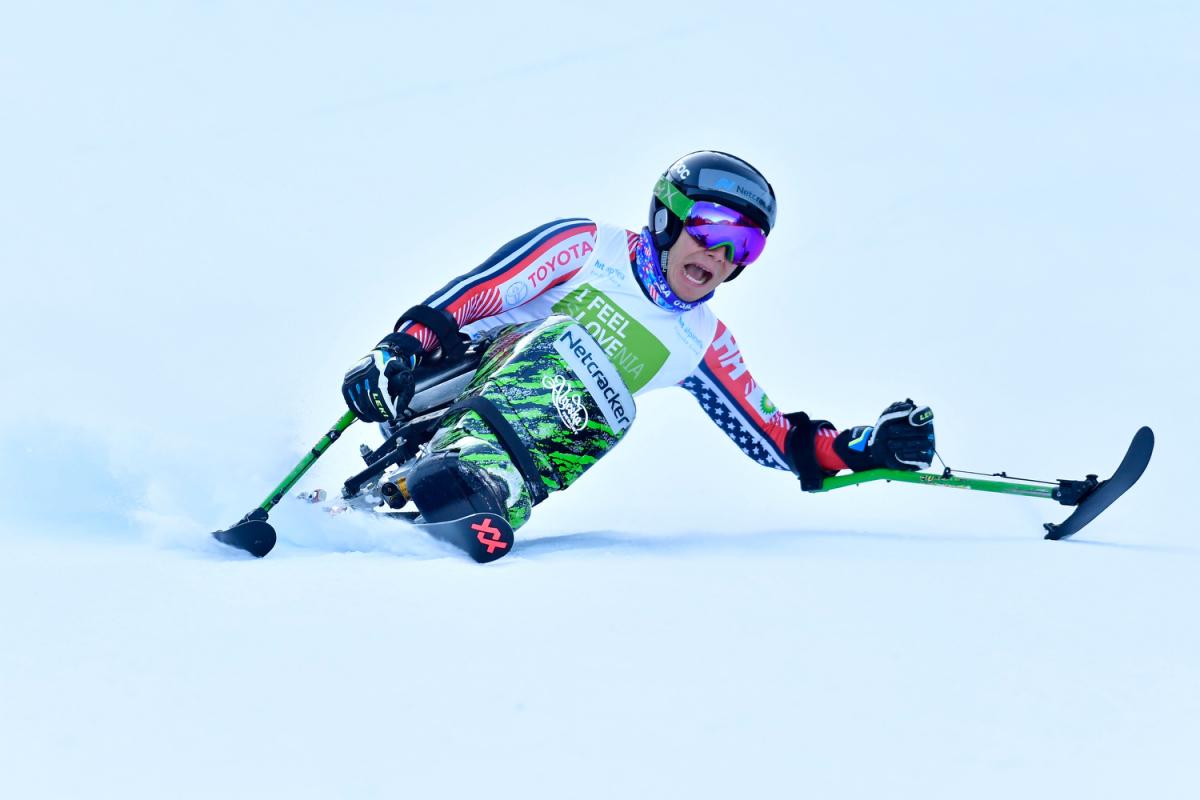 ⒸLuc Percival
By Lena Smirnova | For World Para Alpine Skiing
Sit skier Andrew Kurka lists off his most severe injuries with the casualness of a shopper going over a Sunday grocery list: "I have broken my back three times. I have broken my right femur, my right shoulder, both ankles, multiple ribs. Concussions, skull fractures - it's part of the game."
Injuries are indeed "part of the game" for the Paralympic downhill champion. Kurka, who turns 28 in January, is notorious on the slopes for his all-or-nothing attitude, and it is this fine balance between the two that often means the difference between not finishing a race and making the perfect run.
Alaskan audacity
Kurka takes a no-bars approach to alpine skiing. While this often ends up with him flipping madly on the slopes to gasps from other competitors, when his runs do work, they are golden.
"Some say the ability to overcome the fear is what makes them good. For me, I just do not have the fear," said Kurka, who started skiing 10 years ago.
"The first portion of my career was scattered with a lot of injuries because of that fearless mentality that I have always had. I have never had an issue going off jumps. I never had an issue going as fast as possible. I have always been the 'I will either do it and win' or 'I will do it and lose' type of person. That's always been black and white for me. Victory or loss.
"A lot of people in my life, they call me crazy and I know it is, but for some reason that's just the way I choose to live. I can't imagine living with fear."
This all-or-nothing approach to a sport where athletes hurl down steep slopes at speeds of over 100 kilometres per hour has put Kurka in hospital multiple times. But true to his character, whenever he wakes up on a hospital bed, Kurka's first thought is, 'let's do that again'.
"I say, 'well, that obviously was not my best'," he said. "When I am waking up, when I am recovering from that, I always feel the need to redeem myself.
"I am pretty sure my mom has grey hair because of me."
While many skiers are uncomfortable with fast speeds, Kurka relishes the speed disciplines. In addition to winning gold in downhill and silver in super-G at the 2018 Paralympic Winter Games, Kurka finished the 2018-19 World Para Alpine Skiing season as third overall in super-G. He is particularly excited for the 2019-20 World Cup season, which is heavy on speed events, unlike the previous season.
But while Kurka has no issue hurtling down a slope at full speed, he admits his recklessness is a disadvantage in the technical events.
"It gives me a disadvantage because I do not have the same experience that a lot of my competitors do, especially those that have been disabled for a lot longer or those who were born with their disability," Kurka said.
"There's a natural advantage behind that, but my advantage comes with my fearlessness in speed. That's really what it comes down to."
Hothead host
While Kurka is rash on the slopes, he makes up for it in his life outside of sport. The Para alpine skier used the bonus he received for winning gold and silver medals at PyeongChang 2018 to buy his first property in Alaska.
His goal is to build a bed-and-breakfast that would host people with impairments and give them a chance to try out local activities.
"I want a bed-and-breakfast where I am able to take people like myself, who are disabled or adaptive, fishing and I want to be able to take them to go ice climbing, do a lot of the fun outdoor activities that I do that a lot of people with disabilities don't get a chance to do," Kurka said. "I want to be a part of that."
Kurka built the first two cabins on the property this summer and has already hosted some friends to get early feedback on the project.
He plans to fully open the bed-and-breakfast a year after the next Paralympic Winter Games, to be held in Beijing in 2022, and start holding camps for people with impairments. According to Kurka's estimates, the hotel will be able to host at least 10 people when it is complete.
The athlete has also set up an air strip on the property and plans to get a hangar and plane, to add to the boat he already owns. All his winnings from Beijing 2022, where Kurka is aiming for several gold medals, will go to fund the project.
"I already have it all lined up. I just need the funding to do it and going into the next Games is when I am planning on finding all of that," Kurka said. "I am putting all of my own money into it. I call it my retirement plan."
The balancing act between being a daredevil on the slopes and running a serene bed-and-breakfast in the Alaskan wild comes naturally to Kurka.
"I am a big advocate for a peaceful life," he said. "In the personal portion of my life, I always want to give back a lot of what I do and with my bed-and-breakfast, I am able to give back. Sport is inherently a selfish thing. It is. That's the way it is. You are 100 percent focused on yourself, the best that you can do, focused on beating others, it's a purely selfish act in life. But the other portion of my life makes up for that.
"I am discovering that other portion that I need in my life, the other bit of Andrew Kurka that really, truly matters."