Milestone medals mark three days of high-flying downhill racing in Sakhalin
First speed races of the season held in the Russia's Far East island region
14 Feb 2020
Imagen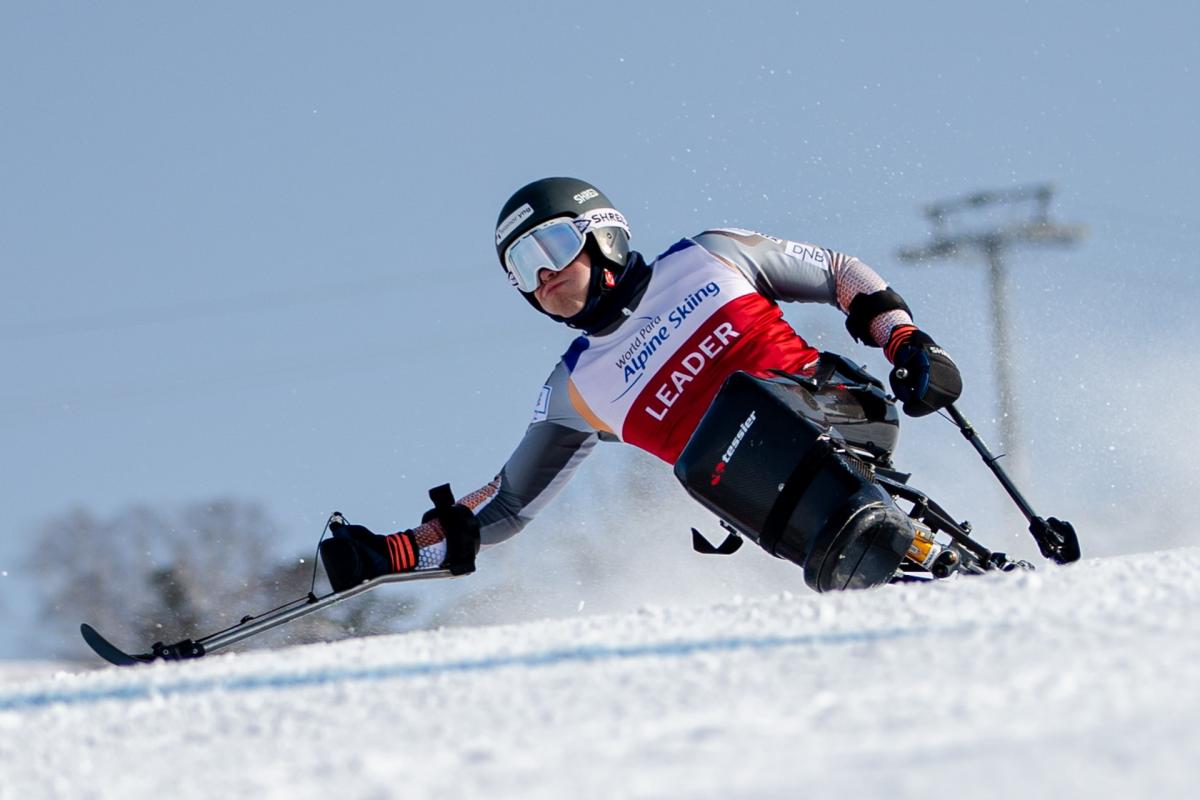 ⒸSakhalin 2020 World Para Alpine Skiing World Cup
By Lena Smirnova | For World Para Alpine Skiing
The Sakhalin 2020 World Para Alpine Skiing World Cup got off to an explosive start as athletes flew high through a jumpy downhill course.
Norway's Jesper Pedersen celebrated his career's first ever downhill medal in Juzhno-Sakhalinsk. Being the only sit skier to survive the course on the first day, he converted the opportunity to gold.
"It was fun. We jumped lots and we got some hard landings, but I managed to survive," Pedersen said. "It's not much you can do when you're in a sit ski and jump, so you just have to sit there and wait for the landing and hope that you land on your ski."
Pedersen's main opposition, Paralympic downhill champion Andrew Kurka, went out early in the first two races as his binding broke on the jump landings. The USA sit skier took it easier in the third race and the strategy paid off with his first victory and medal of the season.
"My body is very sore, especially from that last crash. That first jump today I had to scrap a little bit of speed just so I could get down the course," Kurka said. "I never thought of pulling out of the race. My coaches would have to pull me out. I don't quit. There's no way I would ever pull out of a race. I would crash six more times rather than quit."
Murat Pelit also celebrated a first in Sakhalin. After crashing in the first race, the Swiss skier seemed to be on the brink of repeating the same fate on the second day of racing. Pelit's sit ski flipped on the snow, but the athlete made a last-second recovery to regain his balance and cross the finish line.
The silver medal Pelit earned for his efforts was his first ever medal at the World Cup.
In the women's sitting class, USA's Laurie Stephens was an image of consistency as she made it across the finish line in every race and earned three gold medals.
Vive la France!
Arthur Bauchet and Marie Bochet made La Marseillaise the song of the week in Juzhno-Sakhalinsk by sweeping gold in the men's and women's standing class races.
Bauchet successfully fended off the toughest competition in the men's standing class, which included Paralympic bronze medallist in downhill, Markus Salcher, and the star of the Russian team, Aleksei Bugaev, who has trained on Sakhalin's slopes on multiple occasions.
"Even third place, considering that there are a lot of strong guys here, I think is a good and respectable result," Bugaev said. "I don't tend to evaluate myself based on the result as much as my skiing and the effort I made."
Meanwhile, Bochet was back to her winning ways in the women's standing class after a rocky start to the season in January. The French skier began her trip to Juzhno-Sakhalinsk by celebrating her birthday in the city, and even received cake and local artisanal cheese as gifts from the competition organisers - a nod to her own family history in cheese making.
Despite not competing in downhill since last year's World Para Alpine Skiing Championships, Bochet was in top form in Russia.
"It was a very long time that we don't race downhill and it's always difficult to train in this discipline so there's always anxiety, nerves at the start of the race, but this one is nice because it's not so difficult," Bochet said. "It has some big jumps so it's good training for me because I have some problems with that."
Russia's Varvara Voronchikhina took three silvers behind Bochet in what was her competitive debut in downhill. To add to the challenge of competing in a new discipline, the Russian youngster crashed in official training a few days earlier and was feeling discomfort in her leg.
"This is my debut in downhill," Voronchikhina said. "It's a home slope, it is familiar to me and it is not such a difficult one, so I decided to go for it."
For Bigna Schmidt, who came to Sakhalin fresh from finishing her university exams, three bronze medals in downhill was cause for celebration. The Swiss skier has not done downhill in the last two seasons and earned her first ever World Cup podium in a speed event in Juzhno-Sakhalinsk.
"[In the first race] I was not happy, and I felt a little bit strange because I skied bad and I was on the podium. I was not that excited for the medal, but today it's way better," Schmidt said. "There's still some stuff to improve and not everything was really good, but at least I have a faster time and a smaller gap to Marie, so it's getting better."
Volare, Giacomo
In the men's visually impaired class, it was a battle between lightweight Giacomo Bertagnolli and the stocky Miroslav Haraus.
Slovakia's Haraus and his guide Maros Hudik beat Bertagnolli and guide Andrea Ravelli by 0.52 seconds in the first race in Sakhalin, but on the second day the Italians were 1.44 seconds faster. In the third race, they brushed past the Slovakians with a 0.41-second gap.
"I really love the jumps," Bertagnolli said of his high-flying runs. "Every day I try to jump farther, even if it's bad because if you jump farther, you lose time. But I like jumps. I like the sensation of flying."
Russia's Ivan Frantsev and guide German Agranovskii wrapped up the podium with three bronze medals in their first World Cup races this season.
Full results from the downhill races in Juzhno-Sakhalinsk are available on the World Para Alpine Skiing website.
The skiers will next compete in two super-G races, which take place on 16-17 February, and will be live on World Para Snow Sports Facebook page and the World Para Alpine Skiing website.