Imagen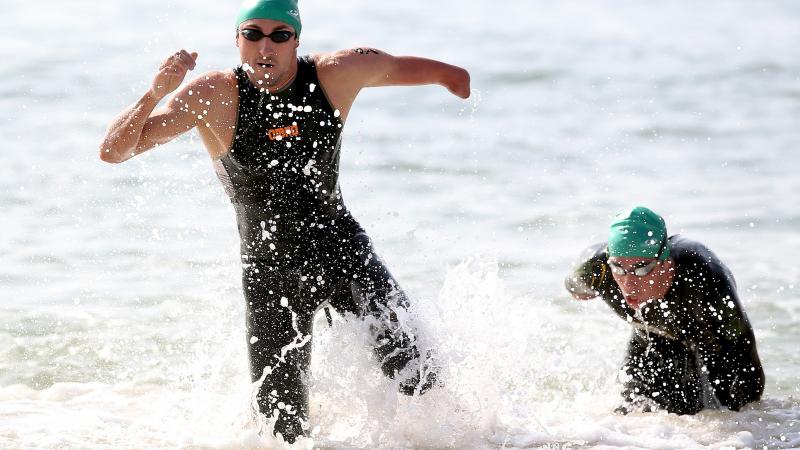 Martin Schulz
Swimming | Triathlon
Germany's Martin Schulz has dominated the PT4 class for the past two years, winning every single triathlon race he competed in between June 2013 and September 2015.
Having won world titles in 2013 in London, Great Britain, and 2014 in Edmonton, Canada, and being a four-time European champion, Schulz went into the 2015 World Championships in Chicago, USA, as the heavy favourite for gold.
The 25-year-old had a 28-second lead on Canada's Stefan Daniel after the 750m swim in Lake Michigan. After a malfunction on the second lap of the bike, Daniel took the lead. Schulz continued to battle back, and the two athletes entered transition two after the 20km bike shoulder-to-shoulder. Schulz bolted onto the 5km run course first. But after the opening of three laps, the Canadian led the way in the deepest triathlon field. Daniel never looked back, and celebrated after rounding Chicago's iconic Buckingham Fountain for the final time with 100m to go.
Schulz, who was born without a left forearm, competed in his first triathlon at age 15.
His training regime includes five to six days a week working on the swimming portion, five to four days running, four to three days cycling and regular strength training.
A former swimmer, Schulz's main goal is to improve his running and cycling in order to climb back to the top of the podium at the Rio 2016 Paralympic Games.
Results
IPC Swimming World Championships Durban 2006 (Durban, South Africa)

| Event | Medal | Unit | Date | Rank |
| --- | --- | --- | --- | --- |
| Men's 50 m Freestyle S9 | | Heats | | 15 |
| Men's 400 m Freestyle S9 | | Heats | | 18 |
| Men's 200 m Individual Medley SM9 | | Final Round | | 8 |
| Men's 200 m Individual Medley SM9 | | Heats | | 8 |
| Men's 100 m Freestyle S9 | | Heats | | 18 |
| Men's 100 m Butterfly S9 | | Heats | | 13 |
| Men's 100 m Backstroke S9 | | Heats | | 16 |
IPC Swimming World Championships Eindhoven 2010 (Eindhoven, Netherlands)

| Event | Medal | Unit | Date | Rank |
| --- | --- | --- | --- | --- |
| Men's 50 m Freestyle S9 | | Heat 2 | | 5 |
| Men's 4x100 m Medley 34pts | | Final Round | | 6 |
| Men's 4x100 m Medley 34pts | | Heat 2 | | 4 |
| Men's 4x100 m Freestyle 34pts | | Final Round | | 9999 |
| Men's 4x100 m Freestyle 34pts | | Heat 1 | | 4 |
| Men's 200 m Individual Medley SM9 | | Heat 2 | | 7 |
| Men's 100 m Butterfly S9 | | Heat 1 | | 6 |
| Men's 100 m Breaststroke SB8 | | Final Round | | 6 |
| Men's 100 m Breaststroke SB8 | | Heat 2 | | 3 |
| Men's 100 m Backstroke S9 | | Heat 1 | | 7 |