Imagen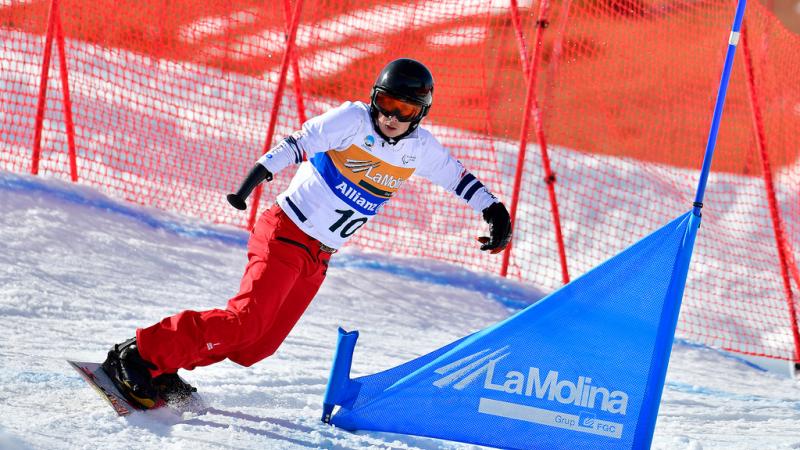 Maxime Montaggioni
Snowboard
Maxime Montaggioni was a hot favourite for Paralympic gold but his dreams were crushed when he got injured during training at PyeongChang 2018. But he seems to have put that disappointment behind him with an outstanding return to competition during the 2018-19 season.
Montaggioni has made a statement return to the sport since his PyeongChang 2018 accident by sweeping both snowboard-cross races at the 2019 World Cup in Big White, Canada. He went three for four at the next World Cup in La Molina, Spain; also taking top honours in banked slalom.
The Frenchman caused a shock at the 2017 World Championships when he upset USA's gold-medal favourite Mike Minor in banked slalom. He then went head-to-head with Minor for the boarder-cross title but came up short.
The following season was Montaggioni's strongest as he came away with the overall World Cup crystal globe in the men's SB-UL category that set him up for success in PyeongChang. But it was not meant to be.
Montaggioni was born without his right hand and remembered being teased by other kids. It was when he was around 14 years old that he realised he had to live with his impairment. He picked up taekwondo a few years ago and fell in love with snowboard-cross because of the adrenaline rush, and he stuck with the sport.
Results
2017 IPC Snowboard World Championships Big White, CAN (Big White, Canada)

| Event | Medal | Unit | Date | Rank |
| --- | --- | --- | --- | --- |
| Men's Snowboard Cross SB-UL | | Race 1 | 2017-02-04 | 2 |
| Men's Banked Slalom SB-UL | | Race 1 | 2017-02-07 | 1 |
Pyha 2019 World Para Snowboard Championships (Pyha, Finland)

| Event | Medal | Unit | Date | Rank |
| --- | --- | --- | --- | --- |
| Men's Banked Slalom SB-UL | | Race 1 | 2019-03-27 | 1 |
| Men's Snowboard Cross SB-UL | | Race 1 | 2019-03-30 | 1 |
Lillehammer 2021 World Para Snow Sports Championships (Lillehammer, Norway)

| Event | Medal | Unit | Date | Rank |
| --- | --- | --- | --- | --- |
| Men's Banked Slalom SB-UL | | Race 2 | 2022-01-14 | 1 |
| Men's Snowboard Cross SB-UL | | Race 2 | 2022-01-21 | 1 |